Inside ACE's weekly free-food 'stress-busting' event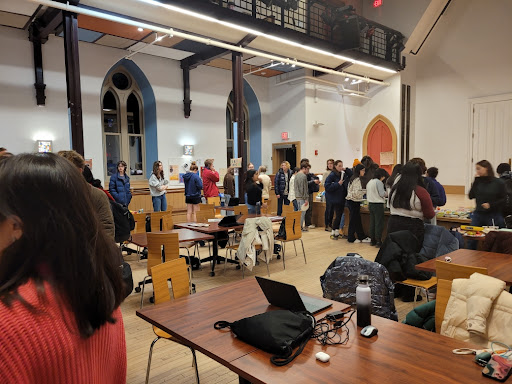 Every Wednesday evening, students make their way to Goodrich Hall in hopes of securing a spot close to the front of an ever-growing line — but not only for an iced matcha latte from Goodrich Coffee Bar. Sitting on benches against the wall, these students multitask on their laptops while patiently waiting to get hold of a wide array of snacks set out on the stage.
All-Campus Entertainment (ACE) hosts the weekly Stressbusters — an event that intends, as its name suggests, to relieve students' stress through free snacks and coffee. Members of ACE purchase a large variety of treats from Walmart, such as bottled Starbucks Frappuccinos, an assortment of chips, fresh fruit, and Dove chocolates. While attendees eat, they can also grab a free drink from Goodrich Coffee Bar on ACE's tab. 
"I think it's a really nice place to be because there's no other place in the world where people will stand in line for half an hour to get a Mott's apple juice," said Giulianna Bruce '25, who frequents Stressbusters. The date of the first Stressbuster is unclear, but mentions of it date back to 2007 on Willipedia, the information database operated by Williams Students Online.
Emily Villegas Garcia '26, who organizes Stressbusters alongside Vanya Funez '26 and Sam Samuel '26, said that the weekly event was the reason she joined the ACE board. "I saw the people who organized it last semester, and I was like, 'Wow, I really want to do that,'" she said. "I think for me, one of the big things was just seeing how big of a deal it is here," Funez added. 
So, how do Stressbusters happen? After grabbing the keys for a van from Facilities, the three organizers drive to Walmart at around 6 p.m. to pick up the snacks, Funez explained. "We divided up [who got which snacks]," she said. "I focus on fruits and pastries, Emily typically does candies and cookies, and Sam will go and grab drinks and chips."
After the students grab three carts worth of items, the employees at the Walmart — who often recognize Villegas Garcia, Funez, and Samuel — check them out. "We've sort of built a community with the Walmart people," Funez said. "They know us, [and] they know our checkout area because we're always in the same place." The Walmart security guard doesn't even check their receipt, since they come so consistently, she added. 
Once back at the College, they set up all of the snacks and drinks in Goodrich to look presentable for students to grab. 
Every student has their top picks for snacks. Sam Bishop '25 often goes for the Dove chocolates. Sebastian Tabit '25 characterized the fruit gummies as "pretty nifty," while Julia Clark '25 opts for the berries. "It's nice because I can't get that at a dining hall," she said.  
"It's a lot of just watching what people take or what they don't take," Villegas Garcia said, describing the way that the organizers determine which items to purchase each week. "[One] week, people will really love the strawberry milk, so we'll get more, and then the next week people don't like it." 
Students are also only allowed to grab only one drink per person, which Funez announces before the event begins. "[When] people don't realize they can get one drink, they get five," Samuel said. "And if every single person gets five, then at some point, we're gonna go through the drinks really fast."
Other than the free snacks, students also enjoy free coffee drinks from Goodrich Coffee Bar. "Stressbusters is one of the shifts that I look forward to most all week because we get special perks being Goodrich baristas," said George Rogers '25, who works as a barista during the event each week. "We can access the Stressbusters goodies early before everyone gets there, which is kind of amazing."
Last semester, Stressbusters took place on Mondays, but according to ACE Social Media Manager Andrew Oh '25, it was moved to accommodate Goodrich's specialty nights, which now happen on Mondays. Nevertheless, Stressbusters continues to attract sizable numbers each week. 
Whether Stressbusters actually  "busts" students' stress is still up for debate. "I think Stressbusters actually inflates stress, because there's so many people," said Bruce. 
"I feel like no," said Kunal Pal '25, when asked if his stress is typically alleviated at the event each week. "But that's also because I just make stupid choices with what [schoolwork] I do at Stressbusters." 
The same is true for the organizers. "The fun, destressing part for me is definitely in the car [to Walmart], when we choose a different artist, and we listen to [songs]," Samuel said.