One in Two Thousand: Beza Lulseged '25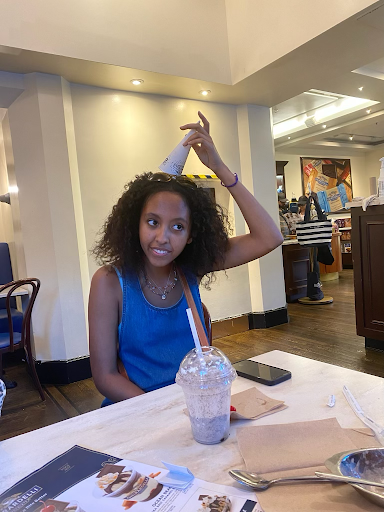 Each week, the Record (using a script in R) randomly selects a student at the College for our One in Two Thousand feature, excluding current Record board members. This week, Beza Lulseged '25 discussed sleeper-hit songs, her zine, and Images Cinema. This interview has been edited for length and clarity.
Izzy Polanco (IP): Could you start by telling me about your involvement in WCFM, the student-run radio station at the College?
Beza Lulseged (BL): I'm currently co-archives manager [with Sam Alexander '25] and co-community organizer with Chris [Gontarek '25] and Isaac [Leslie '25]. I've been on the board since last spring, and it's been really fun. I have been enjoying it, especially this past fall semester because I feel more comfortable.
IP: Do you have a show right now? 
BL: I do have a show right now. It's called The Right Trousers — inspired by Wallace and Gromit — and not to be confused with the wrong trousers. [Laughs.] It's on Mondays from 10 to 11 p.m. 
IP: What's the structure of the show?
BL: The problem is that there's no structure.  [Laughs.] There are so many weeks where I'll text family members, "Tune in!" And then there are some weeks where I'm like, "I think I'm going to talk for an hour about, like, everything, so maybe I will not ask you [to listen]."
I didn't do my show last week, but I planned to do a show on March 13. I found an album by this group called The Delfonics, who I'd never heard of before. There was a song by The Delfonics that was on my [Spotify] Discover Weekly — my Discover Weekly has been pretty good for the last three weeks. Sometimes, I just have a moment with a song where I'll listen to it, and I'll transcend, and I only listen to that song for three days. So that happened with The Delfonics song. I haven't listened to the whole album yet and it's only half an hour long. I feel like I talk a decent amount on my show, so I was going to listen to the whole album for the first time tonight on air. I'm really excited about it.
IP: Do you have any other sleeper-hit songs that have been serendipitously recommended to you by Discover Weekly on Spotify? 
BL: There's a soul artist Irma Thomas — but this wasn't from Discover Weekly. I discovered her music from the outro of the first episode of The Sopranos' second season. It started playing "Time Is on My Side" by Irma Thomas, and I immediately forgot the entirety of the episode. This was last week. I am now on episode 10.
IP: What draws you to The Sopranos?
BL: My friends from home have been talking about it so much since December, and I was like, "There's no way it's that good." And then Rolling Stone released its list, "The 100 Greatest TV Shows of All Time," and Atlanta was up there. I was like, "Yay. That's one of my favorite shows of all time." And then number one was The Sopranos. So I was just like, "I'll give it a try if it's the greatest ever." And it's so silly. I thought I was gonna get tired of it, but I'm having a great time. I didn't realize that I was really invested in mafia-style television or movies. I enjoyed The Godfather, of course, but I thought that was going to be the extent of my mob ties. [Laughs.]
IP: You made a zine last year, right? 
BL: Yeah, I did. Since my junior year of high school, I've published my own magazine called February Feeling. I released one issue that summer, one before coming to the College, and I released my third issue last summer. 
IP: What was that like?
BL: It's really fun. It's always a 50-50 chance of whether or not I'll make another issue. There was a point where I really thought that the issue I released before coming to the College was going to be my last one. But then I came here, and there were people that knew about it [from Instagram]. I thought, "Maybe I could do a freshman year one." I don't know if I'm going to release another issue. If it's very heavy on my mind for one week, then I'll start making it. 
IP: Do you have any big spring break plans?
BL: I'm going to L.A. I initially wasn't going to go home, but after this week of doing so much work, I think I'd just like to be home. Not having to do anything is going to be really nice — just going to the movies and going to the park. I'm very excited. 
IP: What's your favorite thing about L.A.? Is there anything that you're nostalgic for?
BL: After being at the College, I definitely know that I will not be living in a small town when I am older. I'm definitely more appreciative of cities and taller buildings. And maybe I'm nostalgic for the weather, too. 
There are also parts about Williamstown that I feel like are similar to L.A. Going to Images has honestly made me very nostalgic for a theater in L.A. called BRAIN DEAD STUDIOS on Fairfax Avenue. It shows cool movies and old films. Going to Images and having the opportunity to imitate those experiences has been really nice. 
IP: Is there a screening at Images that you've really liked recently? 
BL: The most recent movie that I watched was One Fine Morning. I liked it. I didn't super love it, but my favorite screening at Images was when they screened Fargo. It was one night only at the end of my freshman fall. I had never seen it before, and I was like, "Hey, let's go do this." Now it's one of my favorite movies of all time — it just was so good.
IP: Anything else that you want the College community to know about?
BL: Well, I actually got a new Nina Simone poster, and I'm really excited to decorate my room with it. That's all I want the College community to know.