Two-sport athletes describe unique recruitment, balancing schedules, dual community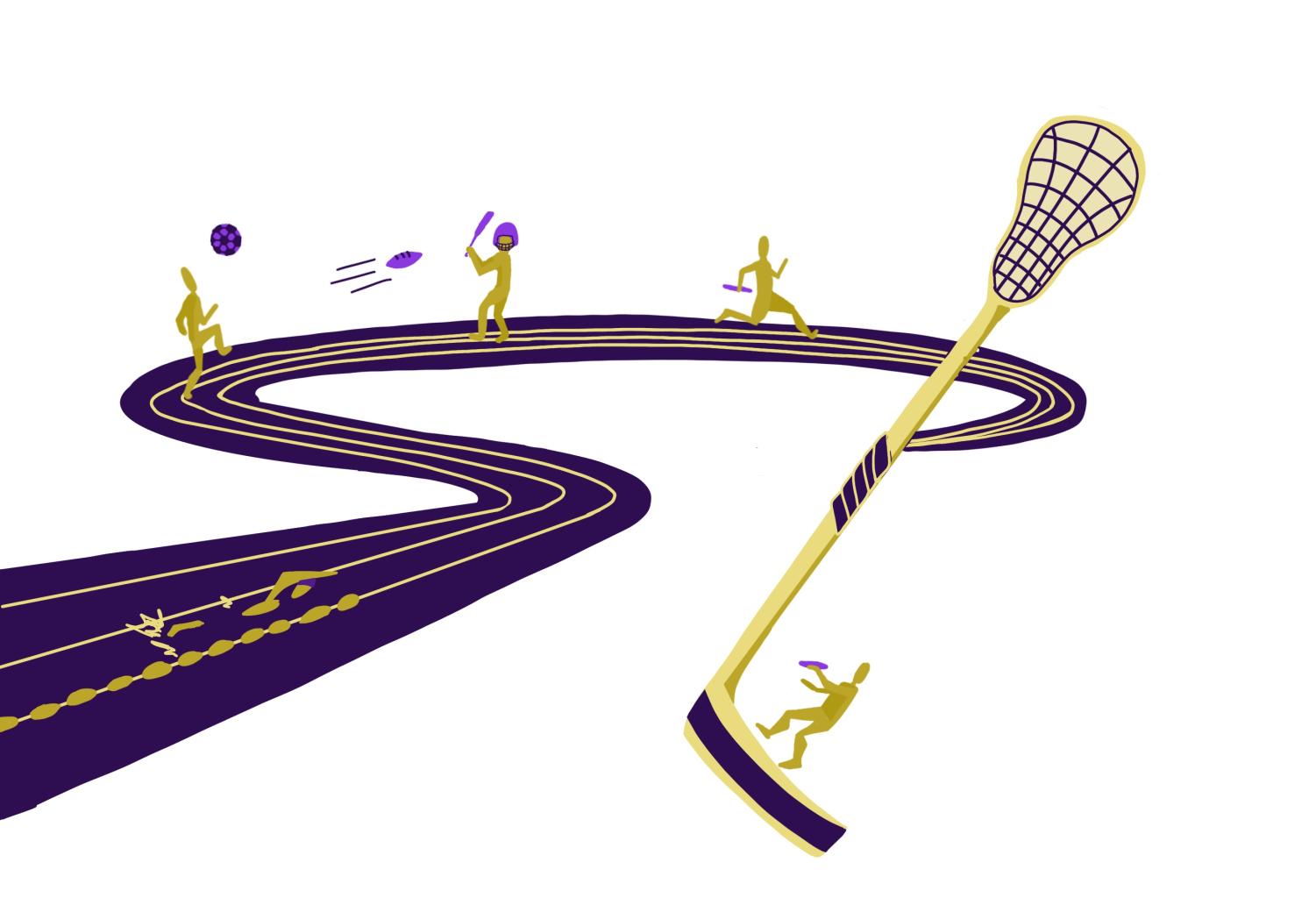 When Paige Nelson '26 started the college athletic recruitment process  in high school, she did not think she would be able to simultaneously play varsity soccer and lacrosse — both sports she had been playing since elementary school. 
In an interview with the Record, Nelson said that at first, she was looking at Div. I schools. "I wouldn't be able to play both [sports] realistically at a Div. I college," she said. "I was putting more marbles into my soccer basket than lacrosse [during the recruitment process], because I wanted to make sure I could at least do one of them."
Nelson, however, said she had decided from the beginning that she wanted to use athletics to get into the best school that she could, prompting her to look into the NESCAC. "I knew that NESCAC [schools] were obviously super strong academically — and also athletically — and so I thought it would be a good fit," she said. In December 2021, she was accepted to Williams through early decision, recruited by the soccer team.
But the following May, Nelson received a call from Coach Alice Lee of the lacrosse team, with whom she had been in contact earlier in the recruitment process. "She checked back in and was like, 'Is this anything you would ever want to do?'" Nelson remembered. "I was like, 'Of course! I love lacrosse. I would love to play both [sports] in college.'" Nelson now plays on both the women's soccer and women's lacrosse teams.
Blakeley Buckingham '25, a member of women's soccer and women's track and field, said she was also drawn to the College because of the opportunity to play multiple varsity sports. Buckingham has played soccer since she was five, but joined her middle and high school's cross country and track teams to stay in shape for soccer, where she discovered a love for running as well. 
"At all other schools I looked at, it was either soccer or track scenarios," Buckingham said. "Williams was the only school I was considering where I could do both, which was a huge draw and a large reason I came here."
Being a part of two varsity athletic teams has a unique set of challenges — namely when practices overlap, such as when both teams are out of season but hold unofficial captains' practices. 
Buckingham said, however, that her coaches are understanding of her commitments. "When I can, I'll go to the off-season soccer practices or pickup games, but for the most part I'm fully focused on track," she said, describing her practice schedule during the spring outdoor track season. "The understanding with both coaches is that when I'm in soccer season, I'm all in for soccer — and vice versa for track."
The same is true for Teddy Massingham '26, who is a member of the football and baseball teams. "Coaches are very understanding," he said. "They know that doing two [sports] is difficult, and they respect that."
It can also be challenging to balance social commitments to each team, according to Christina Halloran '24, a member of women's ice hockey and lacrosse. "Some nights, especially in the fall, the hockey team is having a team event and the lacrosse team is having a team event, and I have to choose one or try to go to both," she said. "I try to balance both and make time for both teams."
Despite the considerable time commitment, being a dual-sport athlete can also help build additional friendships. Massingham said he appreciates having twice the number of teammates of a single-sport athlete. "I've built a brotherhood with both teams," he said. "It's been great."
"It's been great to be able to see two different team cultures, meet a bunch of different people, and overall have a lot of people on campus to be good friends with," Buckingham added. 
If anything, the biggest challenge can be the physical component of playing two different sports, especially when switching between seasons. "I have to miss the beginning of the lacrosse season and then go right to lacrosse [from the hockey season]," Halloran said. "It's hard mentally and physically."
Massingham also commented on the physical nature of playing two sports and how he has learned to prioritize his health. "I make it [to practice] when I can, but if it's too much — my body's beat up — I obviously have to take some rest," Massingham said. "You have to know yourself, know what you can and can't do, and make your decisions off of that."
Reflecting on her experience, Buckingham said she would advocate for prospective multi-sport athletes to come to the College. "Williams does a really good job of accommodating — in general — people with multiple interests, and there's a huge emphasis on being well-rounded," she said. "I think that the fact that there are a lot of double-sport athletes speaks to the fact that it is something that is encouraged and welcome."