Women's lacrosse enjoys early success, looks ahead to season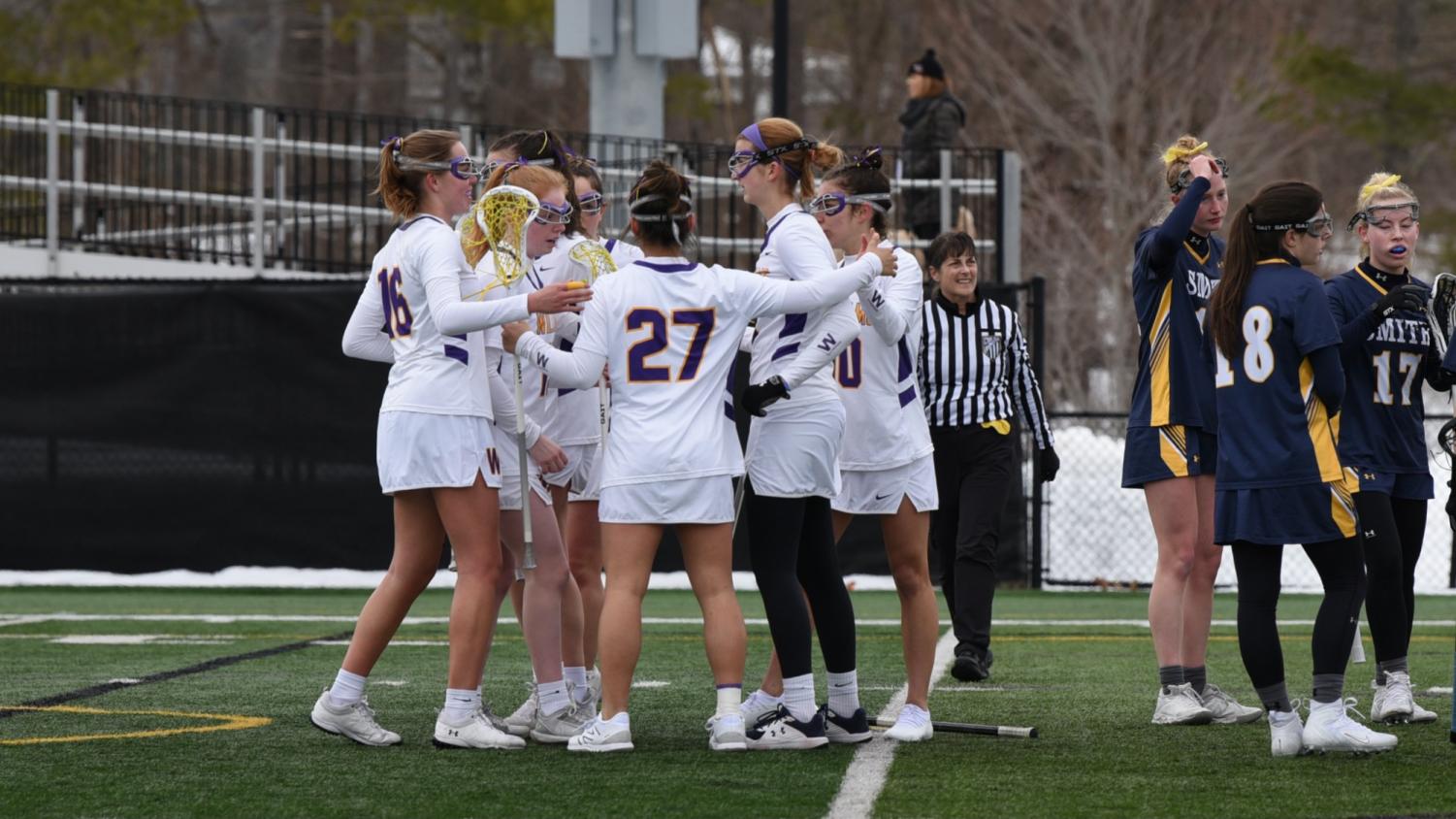 This past weekend, women's lacrosse (3-1, 1-1 in the NESCAC) continued its win streak, defeating seventh-ranked Colby (0-3, 0-2 in the NESCAC) 10-8. The Ephs have now achieved three consecutive victories ­—  having bested Smith and Skidmore in addition to Colby — following their 11-10 defeat by 21st-ranked Trinity to open the season.
This was the first time the Ephs have defeated Colby since 2014. Co-captain Caitlyn Joyce '23 said that earning this big win early on will inspire the success the team will need to keep their momentum going forward "[It was] awesome to get one of those wins early in the season [where] we put the pieces together and [played] a hard 60-minute game," Joyce said. "That's going to hold so much weight both individually and collectively as a team." 
Co-captain Isabel Arvelo '23 agreed, adding that a newfound level of game experience has catalyzed a higher level of success for the Ephs, especially following two years of restricted and interrupted play due to COVID-19. "Last year, we had three [class years] who were going through their first full college season," Arvelo said. "[Now] there's a lot more experience and maturity on the field, and [more] understanding of what a season is like and what it takes [to succeed]."
According to Joyce, this added experience has translated to a more personal connection within the program. "The biggest difference is that this year, everyone is coming back, and they all have little individual things, like really wanting to beat [a specific] team, and our [first-years] are mixing into that [dynamic] as well," Joyce said. 
Using the fall and winter seasons to develop relationships was instrumental in the strengthening of team bonds, Joyce noted. "We've always done captains' practices, and we can plan what drills we want to do, and when we want to have them," Joyce said. "If we don't want to practice [one] day, [we do] a fun team bonding event … we've gone bowling, we ran a 5k together, we went up to the mansion [at Mount Hope Farm], and got Dunkin' one day." 
Katy McCullough '26 attributes the team's closeness to the welcoming environment fostered by the upperclassmen. "The upperclassmen were a huge part in making [the] transition [from high school] easier," McCullough wrote to the Record. "They welcomed all of us with open arms and have been more than generous with their support and advice."
First-year contributions have been frequent for the Ephs so far  — the team has nine first-years on the roster, which is the most of any one class — and many of them are playing big minutes early on in their careers. "The underclassmen have stepped up in a really big way this year," Arvelo said. "I'm so proud of each and every one of them." 
Lauren Morganlander '26 and Franny Donohue '26 provided the Ephs with two goals each against Colby, and Meaghan Day '26 worked all game to gain possession, consistently winning draw controls.
Joyce also praised the talent and work ethic of the first-year class. "[The first years] all come to practice every day so happy and so ready to work," Joyce said. "They have so much talent across every position, [and] it's been so exciting seeing them find confidence and play well on the field." 
This season's first-year chemistry has been bolstered by their pre-existing relationships, built throughout their high school and club careers. McCullough played club lacrosse in high school with other first-years Kiki Higgins '26, Anna Miller '26, Paige Nelson '26, and Day. McCullough also played on the same high school team as Day and Higgins. "It's built in chemistry and camaraderie on the field," McCullough wrote. "But the friendships we've built over the years sustain off the field [too]."
Looking forward, the Ephs are keeping their expectations for themselves high, aspiring to qualify for the NCAA Tournament for the first time since 2014. "We're all very optimistic that we could make a run in NESCACs, make the [NCAA] tournament, and then make another run within [that] tournament as well," Joyce said.
While the team's ultimate goal is to play in both tournaments, the players also like to keep day-to-day goals in mind, according to Arvelo. "We like to set daily goals before every game — those are tangible goals that we reflect on after the game to see how well we're meeting our daily goals," she said.
However, the road won't get any easier, with the Ephs scheduled to square off against Middlebury, Tufts, Wesleyan, Bowdoin, and Hamilton throughout the course of the season — all of who were ranked in the top 25 teams of the national preseason coaches' poll. They'll also face off against Amherst and Colorado College, which both received votes towards the rankings, though they ended up outside the top 25. 
But the Ephs are starting to garner recognition for their hot start, finding themselves ranked 24th in the latest national coaches poll. Arvelo says the Ephs welcome the opportunity to prove themselves in the face of increasingly challenging opponents and heightened expectations. "The added pressure is a privilege," Arvelo said. "We say that everyone's always sleeping on us, nobody respects Williams, so it's nice to finally prove to ourselves what we're capable of."