Think you know snow? How over 100 people work to make campus navigable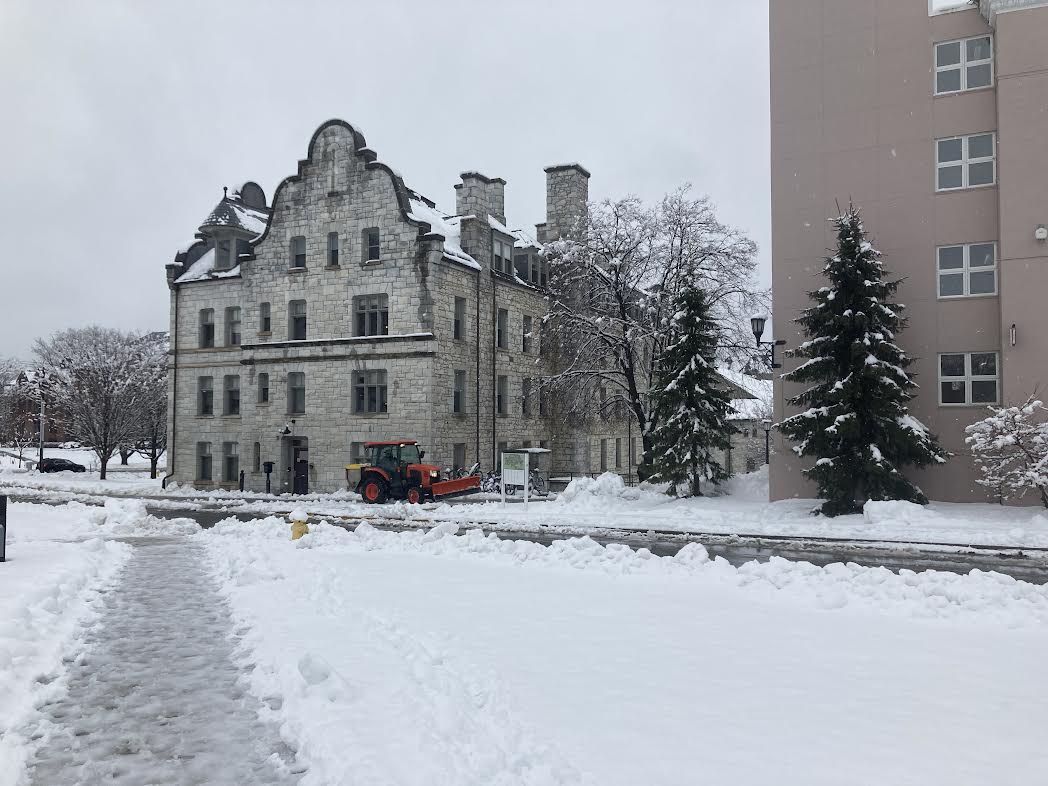 Snowfall can be a bit of a nuisance. For some members of the College's staff, it sparks a full-blown mobilization. On nights when snow or ice accumulates, groundskeepers and other facilities staff often start work at 4 a.m., clearing roads, paths, parking lots, and other essential surfaces. Throughout the day, they are assisted by dozens of custodial and trades staff, who clean stairs, walkways, and entryways. 
In many cases, by the time students emerge from their dorms in the morning, much of the work is already done. This means that the groundskeepers and others involved in the mammoth task of snow removal are up at odd hours — and in far-from-ideal conditions.
Timothy Roberts, the manager of the College's horticulture and grounds crews, told me that when snowy weather appears in the forecast, members of his staff will be on-call late in the night, ready to work early mornings. "Our goal is to get campus open by 7 [a.m.]," he said. "That's plowed, sanded, and salted if needed."
If the storm is big, he said, the workday can start as early as 2 a.m. Such major events necessitate calling in a group of 12 employees, whom he called his "A team," to clear a large amount of College property that encompasses not only campus as we may think of it, but also College-owned properties including the Pine Cobble development.
One statistic provided by Roberts captured the scale of his team's operations. "Over the last five years, we have used, on average, about 660 tons of salt [per year]," he said. (By my back-of-the-envelope calculations, this is roughly equivalent to the combined weight of 250 Ford F-150 pickup trucks.) 
Sometimes, the snow removal team will apply a salt-sand mixture for extra traction, but Roberts said he has sought to scale back its use, as it can entail more cleanup and environmental risks from introducing excessive silt into nearby rivers.
Landscape Gardener Lisa Remillard said that freezing rain and icy conditions can produce especially difficult conditions — both for those clearing and for students getting around campus. The morning I spoke with her, she was on break after a predawn snow removal shift. "You just get people with the wrong footwear in the wintertime," she said, gesturing towards my trail runners. "Boots are better."
Her colleague, Groundskeeper Felicity Purzycki, added that this work, especially before sunrise, is sometimes complicated by risky behavior by students. "I think a lot of the students don't understand how dangerous it is," she said. "Walking around a moving vehicle with poor visibility on slippery slopes is probably not the best choice for them to make."
"We see it all the time," Groundskeeper Andy Bernardy said. "It's amazing, the times of day or night that you see people, and it's like, 'Where did they come from?' We see people on bicycles in the middle of a snowstorm. They just come out of nowhere."
In addition to the efforts of gardeners and groundskeepers, up to 78 custodians are charged with helping to clear snow from stairs and building entrances as needed throughout the day. According to Custodial Services Manager Thomas Eastland, he and his colleagues will check the weather as frequently as every two hours during the week to determine when to clean up particular areas.
"It takes probably over 100 people to get the campus up and open," Purzycki said.
Roberts has worked at the College for 32 years, the first 20 of which he spent as a groundskeeper before becoming a foreman and then grounds manager. "It's hard work," he said. "The plowing part of it is hard. It's a long, drawn-out process when you're in that truck for three, four, five hours. My hats are off to those guys."