Luxury shoe designer Stuart Weitzman delivers presentation, recounts taking 'the road less traveled'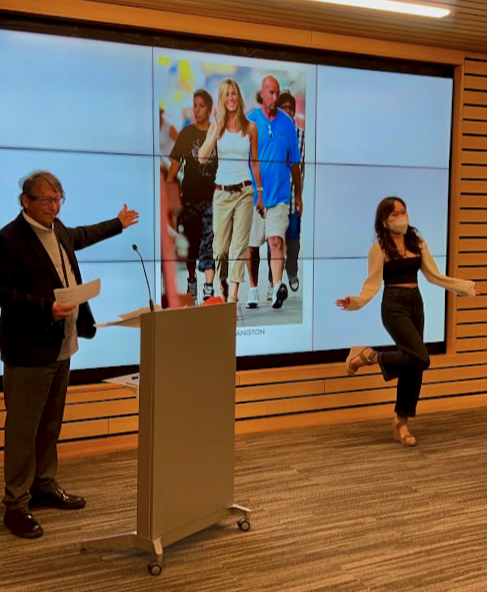 Stuart Weitzman visited the College on Feb. 28 to deliver a presentation titled "Stuart Weitzman: An Entrepreneur's Journey On a Road Less Traveled," which focused on his career spanning more than 50 years in the fashion industry, the internationally known luxury shoe brand that bears his name, and the importance of philanthropy. The event was organized by the '68 Center for Career Exploration.
The College was the now-retired entrepreneur's latest stop on a belt of visits to colleges around the country. According to Scott LaChapelle, the associate director of external relations at the '68 Center for Career Exploration, over 100 students pre-registered on Handshake for the event — more than any event since the College began keeping event records on Handshake in 2017.
Weitzman emphasized that his presentation was designed to be "a show." He guffawed at the medium of bullet points. "I hate them — how can you read and listen at the same time?" he said in an interview with the Record. "A picture is worth a thousand words, and there's a story and experiences with each one."
The designer commanded the attention of the room and exhibited photos of his iconic designs. He regaled anecdotes of favorite moments throughout his career, from his first red carpet spotlight with Aretha Franklin — who credited Weitzman as her shoe designer while accepting the Award for Favorite Soul Album at the 1983 American Music Awards — to designing black leather boots for Jill Biden to wear on the 2020 campaign trail that read "Vote" on their side in metallic trim.
But Weitzman did not always intend to enter the fashion industry, he explained. After graduating from the Wharton School of Business at the University of Pennsylvania and accumulating business experience on Wall Street, Weitzman had a job lined up at Goldman Sachs.
Weitzman's earliest designs were commissioned for a friend's father's shoe brand, he said. "In order to tell the story, I need a piece of paper," he said in an interview with the Record. He sketched a silhouette of a pump — and tore it apart. Weitzman's very first sketch was so detailed that his friend's father thought that Weitzman had copied it from a magazine and slashed it in front of Weitzman.
That summer, Weitzman spotted one of the shoes that he designed in the window of the New York I. Miller store, the foremost shoe store at the time. Not only was the shoe boasted in the frontmost showroom, but the design was sold out and back-ordered.
"I called Goldman Sachs and said that I'd like to take a gap year," he said. But Weitzman never returned to investment banking. "That's how I got in the shoe business — otherwise, I'd be bored to death trying to figure out [stock] options."
For Weitzman, risk-taking like this has been fundamental to the entrepreneurial ethos he's maintained throughout his career — one maxim in a series of "Stuisms" that he shared with students during the presentation. "I want to inspire students to really love what they do," he said. "It may not be the first thing you find. It may not be the second, but you've just got to go after it." Imagination, Weitzman explained, is another foundation in his business model. When his fledgling company was contending with established luxury brands like Yves Saint Laurent and Prada for attention in fashion magazines, it was creativity that earned the Stuart Weitzman brand long-standing notoriety, he said.
In an early campaign for the brand, its acclaimed "Signs of Spring" advertisement campaign featured elaborate magazine foldouts of watercolor butterflies and birds — whose wings were patterned with pumps — alongside the brand name. "You could drop a magazine to the floor, and it would flip open to 'Stuart Weitzman,'" he said. "There were hundreds of them, and one of us. It was the beginning of taking the road less traveled."
What followed was a career of entrepreneurial and artistic successes established on this type of problem-solving. According to Weitzman, his famous "million-dollar sandals" were sparked by his frustration that shoes were relegated to mere accessories at red carpet events.
At the 2002 Academy Awards, Weitzman bedecked Mulholland Drive actress Laura Elena Harring in platform sandals encrusted with 464 total diamonds. Harring also donned a necklace with the elusive Archduke Joseph Diamond, draped over a strapless Armani gown — but it was Weitzman's shoe that seized the spotlight, appearing on over 150 front-page fashion sections in the days following, Weitzman said. "No one even asked her about the diamond," he said. "We went global thanks to that shoe."
Throughout his career, Weitzman and his team of editors became known for innovative and star-studded advertisement campaigns used to launch his iconic shoes. To reach younger audiences, the company introduced Kate Moss as a face of the brand to debut the Highland and Lowland boots, which exhibit the brand's signature thigh-high silhouette. To revitalize the Nudist, already a signature red carpet sandal, they posed Gigi Hadid, Lily Aldridge, and Joan Smalls as muses, emulating Antonio Canova's "The Three Graces" sculptures — naked, except for the two-inch sandal.
"I'm obsessed with shoes," Weitzman said, echoing one of the company's advertising slogans, "a little obsessed with shoes." "Shoes are part of culture probably more than anything else." His proposal to his now-wife Jane Gershon Weitzman featured a satin pump, whose inside lining read: "Made expressly for Ms. Stuart Weitzman."
"She got the shoes, she got the ring, and she got me," he said.
The shoes' wearability, too, has always been a priority for the company. "The Nudist sandal took three hours to design, and two and a half months to engineer," he said. "The business side is integral. Function is the critical piece."
Weitzman also emphasized the importance of philanthropy in his career. In 2017, his brand collaborated with Gigi Hadid and Pencils of Promise to launch the Gigi Mules line — suede sandals bejeweled with the evil eye symbol — as part of the "Look Good, Do Good" charity campaign that benefitted six schools in Ghana, Guatemala, and Laos. "Be a part of your community," he urged students. "It is not enough to simply give back."
Now retired, Weitzman said that he looks forward to continuing devoting his time to philanthropy. Last summer, Weitzman competed in the Maccabiah Games — returning home with a bronze medal in ping pong — and sponsored 476 Ukrainian athletes and their families to attend the games.
"I used to think of all the things I hadn't done that I wished I did, or hadn't done enough of," he said in the interview. He raised the cuff of his dress pants to reveal a gash. "The only one I haven't conquered is rollerblading," he quipped.
Hailey Brown '24, who aspires to enter the fashion marketing industry, opened Weitzman's presentation by speaking about her own entrepreneurial venture. Brown was diagnosed with alopecia at three years old and sews headscarves tailored for women with hair loss to celebrate self-expression.
"[The presentation] left me feeling energized and hopeful for my future," she said in an interview with the Record. "I feel like a lot of Williams students are understandably really anxious about their future… But when he was speaking, it was like the future is a beautiful entity that I can't wait to go do."
Weitzman ended the presentation by emphasizing the importance of taking risks and remaining authentic. "If you have a great idea, go for it," he said. "I would much rather be looked at than overlooked. Don't let anyone shut you down."