Professor Julie Cassiday lectures on Russian masculinities, connection to war in Ukraine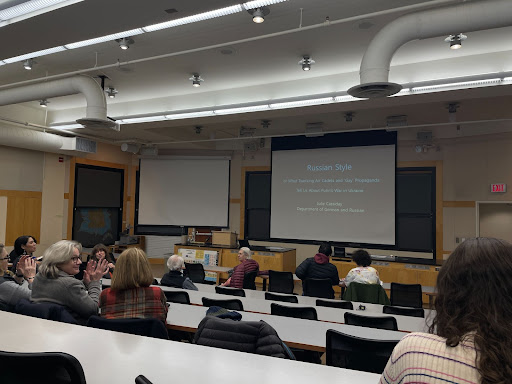 Professor of Russian Julie Cassiday delivered a lecture last Thursday that connected shifting cultural trends of Russian gender and sexuality to the country's invasion of Ukraine. The talk was the second of this year's iteration of the six-part Faculty Lecture Series, a program created in 1911 in which two professors from each academic division discuss their research in six separate talks. Cassiday presented research from her book Russian Style: Performing Gender in Putin's Russia, which is slated to come out this November.
"To start this talk today, I'd like to show you a short video that hit the internet in January of 2018," Cassiday said to open her hour-long presentation. She then played a two-minute clip, in which a group of Russian cadets dance suggestively to the Benny Benassi song "Satisfaction."
The viral response to the video, Cassiday argued, exemplifies the hypermasculine culture that Russia's president Vladimir Putin has cultivated over the last two decades.
She drew connections between hypermasculinity — which she said was evident in the shirtless images of Putin that emerged in the 2000s, as well as Russian bans on "gay propaganda" that criminalize expressing or promoting queer relationships in the country — to Russia's invasion of Ukraine last year.
Throughout the lecture, Cassiday deconstructed Putin's political agenda. "At first glance, the war in Ukraine appeared to strengthen Putin's iron grip on his own country and the region," she said. "Yet the gulf between what Putin predicted would happen at the war's start and where it actually stands today points to the inherent fragility of his hypermasculine politics," she said, referencing Russia's loss of allies and the country's domestic unrest in the last year following the start of the war.
Cassiday began collecting research for her book about a decade ago. "At that point, I didn't realize that I'd be writing a book," she said in an interview with the Record. "I simply was giving papers at academic conferences on topics that interested me, and over 10 years, it slowly evolved into a larger project."
The subject of the book was partially inspired by a panel hosted by Cassiday and a long-term collaborator of hers — Emily Johnson, a professor of Russian at the University of Oklahoma. "It was probably the late 2000s, there were all those topless photos of Putin coming out, [and Johnson] and I were looking at those and laughing about it and saying, 'We should do a conference panel on what people had begun to call the cult of Vladimir Putin.'"
Some of the material in Cassiday's upcoming book was developed through an English class she taught on gender and sexuality in post-Soviet Russia. "I am profoundly grateful to the students in those courses," she said. "It was really great having college-aged students looking at these [materials] and telling me about how they were affected by them, what connections they saw, and what made them laugh."
The lecture series allows for professors to share their research to the College community, and this was the first time Cassiday participated. "I knew going in — because of the timing of this manuscript, a book project — that this would be a great year for me to do a faculty lecture," she said.
Cassiday said she enjoyed sharing her work with the community. "It was exciting," she said. "I got a little nervous, because this is a community I've been a part of for a really long time, and I really value the attention and the time and the feedback of my students and my colleagues."