Tropical Edge explores colonial histories in the Philippines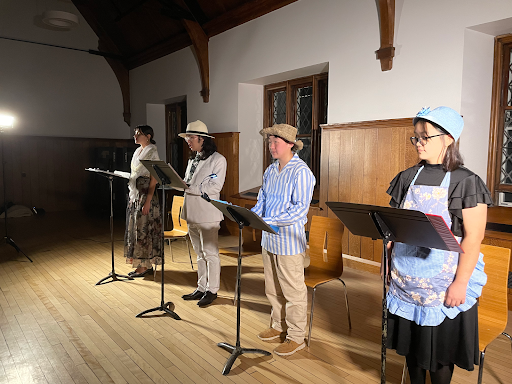 During the fall semester, Avery Trinidad '23 spent his free time writing and researching for his upcoming original play. "It was kind of a pet project that I would work on sporadically," he said.
Tropical Edge is the culmination of that work. The show is set in the Philippines during the 1920s under an American colonial government. It follows a group of college-aged characters navigating the complex political tensions of the time. Charles Yang '24 is directing a staged reading of the play, which will run from March 9 to March 12 in the Resource Room on the second floor of Goodrich.
Trinidad's idea for the play grew out of his research about the way the Chinese Exclusion Act was applied to Filipino-Americans. "[The U.S. government] began processing people on a case-by-case basis, depending on a list of varying circumstances," he said. "I found that very interesting — the idea that the American state began deciding on its own who counted as Chinese and Filipino." Tropical Edge grapples with the threat of deportation and the shift from Spanish to American colonial control in the Philippines.
While this is the first full play Trinidad has written, theatre was a consistent fixture in his childhood. "My brother is a theatre professional," he said. "So I actually had exposure to theatre all throughout my childhood — it was mostly my brother taking me. He was the one who made sure I saw Asian American theatre."
Experiences like these inspired Trinidad to write Tropical Edge. "From the start, I wanted it to be a piece of Asian American theatre," he said. "But I think it ended up as one that is specific to Williams."
Trinidad said that the advocacy by faculty and students for an Asian American studies program — and its eventual success — played a critical role in the conception of the work. He noted that the show draws on many of his academic interests and works to unpack colonial legacies in the Philippines. "There is a long history of very political plays being staged in the Philippines," Trinidad said. "The idea of reviving that purely in the context of Williams seemed really fun."
Trinidad's cast is entirely composed of actors of Asian descent. "I knew, inevitably, if there would be an all-Asian cast for this piece, it would have to be small if it was staged at Williams," Trinidad said. "But I also felt it was such a relevant thing to do."
The four cast members have found their involvement in Tropical Edge to be particularly meaningful. "I haven't seen a lot of plays exclusively about the Asian or Asian American experience," said Hung Ha '26, who plays Tony, a Chinese-Filipino college student threatened with deportation after writing a critique of the U.S. occupation of the Phillipines. "Immediately, I knew that this was something I wanted to be a part of because I wanted to see a part of my identity represented on stage." 
Shoshie Hemley '25 described feeling a kinship with her character, Bebeng. "I am from a native tribe in the Philippines," she said. "My character is an artist grappling with the fact that … she will never be anyone's subject in a piece of artwork as a native, dark-skinned woman." 
Tropical Edge highlights the diversity of identities and cultures within the Philippines. "I had to do it and wanted to do it because it is a play about the Philippines and queerness in the Philippines," Hemley said. "As someone who does a lot of theatre, I have never had the opportunity to do something that speaks to two of my identities." 
Trinidad shared Hemley's sentiment about the value of exploring both queerness and Asian American identity. "I think it's important that we have Asian American stories that celebrate joy, and that celebrate queer joy specifically," Trinidad said. "That, ultimately, is what the piece is."
Hemley urged the community to engage with Tropical Edge, notably due to the relevance of its material in the context of the College's history. "It is a minority story directly related to Williams, because Williams was so big in the American missionary movement and American colonization, specifically of the Philippines," she said. 
To place the characters in this important historical time, the cast will wear period clothing, including a custom dress created during two months of work with embroiderers in the Philippines.  
Tropical Edge is still in a developmental stage, and Trinidad said he hopes to continue his work on the play after graduation. He expressed his gratitude to his production team and joy about the upcoming performance: "Maraming salamat sa aking mga artista, crew, at kaibigan. Syempre hirap kung Pinoy ka sa Williams, pero okay naman in the end. Ingat kayo at mabuhay! Huge thanks to my actors, crew, and friends! Yeah, it's a little weird if you're a Pinoy at Williams, but it's all good in the end. Take care, and mabuhay!"