'The social event of the century': Mutual Aid hosts fundraising gala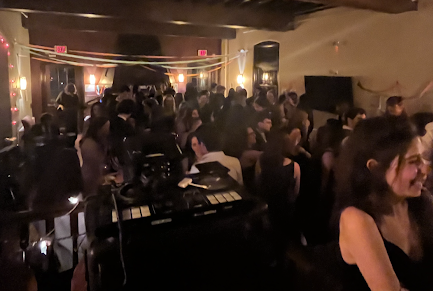 On Feb. 24, students gathered at Agard House for live jazz, a silent auction, and dancing. The fundraising gala hosted by Williams Mutual Aid received over 150 donations and auction bids, raising over $1,500 to be redistributed to members of the College community.
Williams Mutual Aid, which Hen Carnell '22.5 started in fall 2020, is a student collective that distributes funds to community members who submit financial requests for items like groceries, transportation, medical expenses, rent, and utilities, said event organizer Coco Rhum '24 in an interview with the Record. Throughout the year, the organization hosts fundraising events including bake sales and raffles to fund these requests. 
The funds raised from these smaller-scale events, however, are not always sufficient to satisfy the number of requests Mutual Aid receives. "We have more requests than we're able to fill with those fundraising tactics," Rhum said. "So [we're] trying to find new ways to reach the broader community."
One of these tactics was a silent auction at Friday night's gala, where community members auctioned off creative offerings from custom playlists to handmade pottery. Gus Demerath '25, one of the event's organizers, offered personal cello lessons. "Mutual aid has a philosophy of giving what you can and asking for what you need," he said. "Everybody was like, 'Here's something that I'm good at or can produce that I'm happy to give to mutual aid.'"
 "We really tried to pull from [the spirit of mutual aid] in the execution of the gala itself," organizer Nahier Tafere '26 said. "We partnered with different [musicians] that are prominent around [campus], we pulled from all of our skills, and really sustained ourselves independent of the institution."
The organization hopes to use funds raised from the gala to support student needs on campus. "Mutual aid is a form of community solidarity based on building systems of care and sufficiency outside of institutions," Rhum said. "Williams is a very economically stratified community, [and] even though the institution does some work to bridge that divide, it's definitely limited." 
"Institutions like Williams will bring in students from diverse financial backgrounds, including low income students, but then once people get to campus, the support [can be] limited," Rhum continued. "[We] want to fill that gap."
The official theme of the event was "dress like a donor," and many students donned formal attire. "The idea of the gala was to poke fun at Williams [for] being a wealthy institution and to counter the ways in which wealth is inequitably distributed at the College," organizer Aliza Cotton '26 said.
With the gala behind them, members of Williams Mutual Aid plan to regroup and evaluate the work they have done in the years since the organization's founding, and then return to active fundraising and event planning after spring break. "It's not exciting like a party [is], but [these next few weeks] are exciting because we're going to really look into ourselves and invite the community and anyone who wants to be involved into this conversation," Tafere said. "How do we get the people who need to know about us to know about us?"
Rhum hopes that the gala launched that process. "What was nice about the gala was that it was very public-facing and we interacted with a lot of new people," she said. "We also got to take time at the event to say a little bit about who we are, and to invite new people to join us or give feedback."
"It was awesome — the social event of the century," Rhum said. "A night to remember."