The DJ Booth: Dasha Belobokova '23 brings hyperpop to campus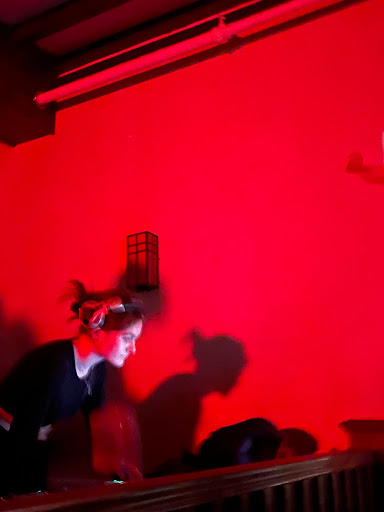 This article is the first in a new series called "The DJ Booth." One student DJ at the College will be profiled in each article. 
If you're at a party in Agard House and hear PinkPantheress, SOPHIE, or Charli XCX, it's likely that Dasha Belobokova '23, also known as DJ Nesting Doll, is spinning. Belobokova is renowned for her high-energy, hyperpop sets, which she typically performs while dancing behind the DJ booth. 
Belobokova first DJed on a whim last summer at a small gathering with friends. Her boyfriend later gifted her a DJ deck for her birthday. "I started mixing just for friends, and it turned into something that I really liked doing," Belobokova said. "I started teaching myself how to do a bunch of different techniques [through YouTube] on how to mix different songs." 
For Belobokova, DJing isn't just a way to get people dancing — it's a way to give people an entirely new musical experience. "It's very fun to explore different genres of music," she said. "I like playing a lot of different [types of] music not just from the US and UK.'' 
In addition to bringing hyperpop to the College's party scene, Belobokova is a fan of playing rave music. "I like to play a lot of house and rave music that maybe some people don't know," she said. "I've been playing some Polish rave music recently." Despite some other students' lack of familiarity with the aforementioned genres, Belobokova has received positive feedback when introducing these new music styles.
"People seem to always be excited, like, 'Well, that was awesome' or 'I Shazamed that song, I haven't heard it before, I really liked it,'" she said.      
Belobokova said she is drawn to playing more of what she describes as "pop princess music," because it is the type of music Belobokova herself enjoys. "I like to mix in the songs I'm listening to on my own time and think, 'Oh, maybe people will like this,'" she said. "I hope [people] are  sharing the music I like with others." 
During her sets, Belobokova also enjoys teaching others how to DJ. "DJing has given me such a positive experience on campus getting to just have conversations with new people," she said. "[DJing is] something that I love to talk about and share with others." Belobokova also explained that she enjoys when people approach her to ask what goes into creating a set. "What is really fun to me is getting to [answer questions like], 'What are all those flashing buttons, and what did they do?' Or 'How do you mix tracks?'" Belobokova said. 
At the College, Belobokova usually DJs friends' birthday parties; however, she has also played sets at a wide range of events from  the cross country team's formal to a Winter Carnival celebration. Regardless of the event, Belobokova prioritizes setting the energy for her audience. "All you really need [when you DJ] is yourself, positive energy, and a good vibe," she said. 
Belobokova is a firm believer that anyone can be a DJ. She also encourages anyone who wants to try DJing to not be intimidated by the deck. "I think it's so important to be able to create your own party scene and create your own music for whatever group of people you want to play to," she said.