Professor Magnús Bernhardsson awarded Icelandic Grant of Excellence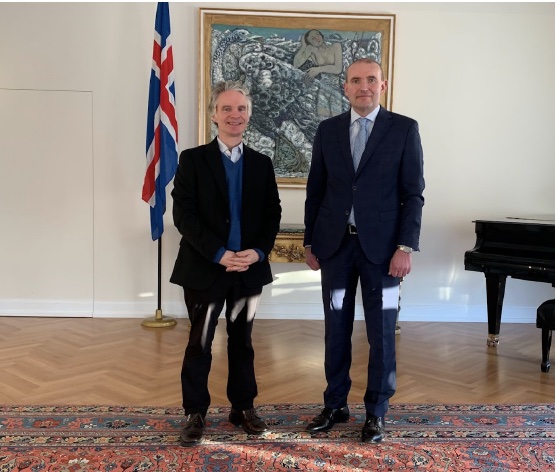 Magnús Bernhardsson, professor of history and chair of global studies, has received one of four 2023 Grants of Excellence from the Icelandic Research Fund to study the education and social inclusion of Syrian and Iraqi children who were designated as refugees by the United Nations High Commissioner for Refugees (UNHCR) and came to Iceland from 2014 to 2019.
A native Icelander and a scholar of the modern Middle East, Bernhardsson looks forward to uniting his personal background and his main area of expertise for the first time in an intellectual context. "Up to this point, there's been a bit of a disconnect," he said in an interview with the Record. 
Awarded "for major projects that excel in their field and have an international connection," the grant will total up to $1 million and fund the study over the course of three years, enabling Bernhardsson and his co-principal investigator, Hanna Ragnarsdóttir of the University of Iceland's School of Education, to hire three PhD students and one postdoctoral researcher.
Bernhardsson said that he and Ragnarsdóttir identified a population of around 40 refugee families from Syria and Iraq that came to Iceland from 2014 to 2019 because of war and environmental hardship. Each year, Iceland accepts a quota of refugees designated for resettlement by the UNHCR and enters them into the government's resettlement plan, granting them access to services and resources that other immigrants or asylum seekers may not be able to obtain. 
Since their arrival, these families have begun to assimilate into Icelandic society — which Bernhardsson characterized as quite homogenous — and have been resettled in communities across the country ranging from small, rural towns to Reykjavík, Iceland's capital.
The project will analyze three main components around the social and educational inclusion of refugee children: their access to the Icelandic language at school and at home; interactions with adults and authority figures in educational settings; and personal well-being.
As a historian, Bernhardsson's primary role in this project will be to construct the study and interpret its findings in the context of "push factors," or potential motivations for individuals to emigrate from their home countries. Bernhardsson will pay careful attention to participants' cultural, religious, linguistic, and environmental backgrounds, as well as their personal motivations for fleeing from their home countries, he said.
"If you're just looking [solely] at linguistics or policy, you might not necessarily have an opinion about [participants'] background and how that may have impacted them," Bernhardsson said. 
Bernhardsson added that the researchers will face challenges when working with refugees who have fled from unstable and often dangerous environments. "In terms of having grown up in an authoritarian government, you don't necessarily want to question authority, or you don't want to stick out too much, and then you do not speak up for yourself," he said. "We'll take that into account, not only [with] how we devise the questionnaires, but to really understand what they're telling us in interviews."
Since the study will focus on a small community, Bernhardsson said that, instead of sampling the population, his goal is to interview every member of it in order to glean particularly relevant information about refugees' lives in Iceland. "These refugees, like so many other refugees, experienced profound trauma and violence prior to their resettlement," Bernhardsson wrote in a follow-up email to the Record. "This is a dimension that we need to pay special attention to as well. Further, being mostly Arab and/or Muslim, their experiences of resettlement are not independent of the general landscape of racism and Islamophobia in Europe."
Bernhardsson hopes that this study will produce specific policy recommendations for Iceland — which is relatively wealthy but has not had long histories of immigration or refugee populations — and contribute to a larger conversation about refugees' inclusion in European society.