'One of the most meaningful things that I've done here': JAs pass down advice to a new cohort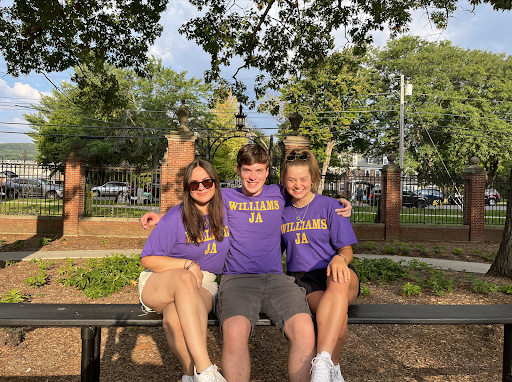 The Junior Advisor (JA) program is a unique element of the first-year experience at the College in which juniors live in dorms with first-years to help students become accustomed to college life. According to former President of the College Harry Augustus Garfield, Class of 1885, who ideated the entry system in 1925, JAs were meant to "guide and aid the new men by precept and by advice." Every year, a new group of JAs takes on this mantle to welcome first-years to campus.
Applicants for next year's JA cohort were recently notified of their acceptances. As members of the new class prepare to accept their offers, the Record asked current and former JAs for their reflections on building community and their advice for the incoming cohort. 
For current JAs, the abnormality of their first years ­­­— when the College prohibited large gatherings due to COVID-19 — underscored the importance of building connections. "I want to be as tapped into the community as possible," said Gwyn Chilcoat '24, a JA for the Sage 4 entry. "I just thought that being a JA was the best way to do that." 
Leo Marburg '24, a JA for Sage 1, agreed. "I think it was a desire to stay on campus and to cultivate the communities that I had been developing at Williams," he said.
There are tried and true entry traditions for forming these communities, noted Petros Markopoulos '23, who was a JA to the Class of 2025. Examples include year-long themes, weekly snacks, or formals — but innovative traditions and events hosted by JAs help give each entry its own character. 
For Valentine's Day, Sage 4 first-years wrote individual valentines to each member of the entry on Post-it Notes and stuck them to the doors of their entrymates. "The entry was just full of bright colors and lovely little messages," Chilcoat said. 
Marburg's entry played a game of "Assassin," a group tag game, using pumpkins as props. "Everyone knew [students] were part of Sage 1 if they had a rotting pumpkin in their hand," he said. 
The JAs also emphasized the importance of adapting to difficult situations that arise within entries. "You're going to be put in situations that you haven't had to handle before," Chilcoat said, adding that as a first-year, she hadn't seen the behind-the-scenes of what her own JAs dealt with. 
She and her co-JAs embraced this with their first-years by having them complete roommate agreement forms as soon as they arrived on campus. "We led them straight to the awkward conversations, and that overall worked incredibly well," Chilcoat said. "I think just getting that out there and having them have those conversations is so important because living with somebody else is really hard, and a lot of people haven't done it before."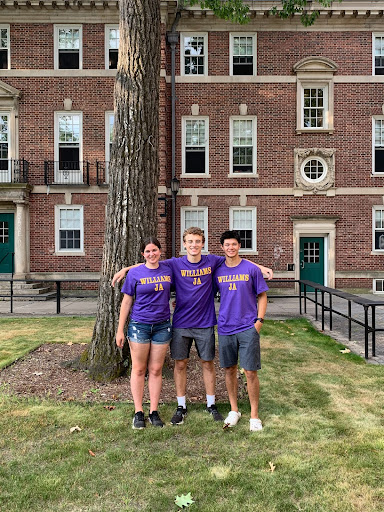 Marburg echoed the value of being proactive when tackling some of the more sensitive issues that JAs navigate. "I think it's always good to reach out and check in," Marburg said. "Don't wait for people to come to you."
Above all, however, the JAs noted day-to-day interactions and opportunities to form friendships with their first-years as formative in fostering community and creating a welcoming environment. "The best thing you can do is be friends with [your first-years]," Markopoulos wrote in an email to the Record. "Being friends with your frosh will make it easier for them to talk to you about their problems and ask for help early on if they need it."
Though entry events — like trips to Stone Hill, cooking Shabbat dinner, or movie nights — offer chances to bring students together, Chilcoat also said she and her co-JAs were sure to walk through the common rooms of Sage 4 at least once a day. "I think the biggest thing that we do is we create a safe and welcoming space for people who want to engage with it and try to make it open for them to engage with it whenever they want to," she said. 
Rein Vaska '25, who was offered a spot as JA to the Class of 2027 and intends to accept, said his friendship with his JAs as a first-year inspired him to apply for the position. His JAs spent a lot of time in the common rooms of his Williams 2 entry, he said. "I feel like that modeled for us what the entry lifestyle can look like." 
At the same time, Coco Rhum '24, who is a JA for the Tyler Annex entry, sees value in what Markopoulos calls a "hands-off, but alert" approach. "I love getting to know and form relationships with our frosh, but, in many ways, I view our main role as facilitating a space for them to build community and make connections for themselves," Rhum wrote in an email to the Record. "We are always there for them as support and resources (and I hope they feel that way) but ultimately it is their entry and their freshman year. I'm just grateful for the opportunity to be a part of it in some small way." 
Marburg said the cohort of JAs to the Class of 2027 have a lot to look forward to. "I think it's the best experience I've had at Williams and one of the most meaningful things that I've done here." 
 "It's going to be great," Chilcoat said to the incoming JAs. "It's going to be better than you think."