Captain's Corner: Amanda Wager '23.5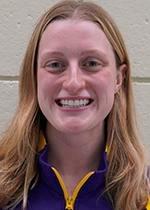 Team:
Women's swimming and diving
Hometown:
Marblehead, Mass.
Majors:
Biology and history
Soraya Katzev (SK): What swim events do you compete in?
Amanda Wager (AW): I swim the 200- and 100-yard breaststroke.
SK: What's one word you would use to describe the 2022-2023 swim and dive season, and why?
AW: I think I'm going to use the word tough. This word has come up a lot this year with our women's team. I think it's because we overcame a lot this fall in terms of injury and illnesses — you know, keeping our heads held high through our dual-meet season and really working to maintain our dual-meet win streak, because that was a big goal we had, and it was definitely not easy.
We had a lot of close meets and tough teams to beat. Especially closing up our NESCAC meet this past weekend, I think everyone performed in the pool and on the board in a super tough way. The dedication and the joy of being on the pool deck were there. I feel like we had a lot of grit as we dove and swam, and it was a lot of fun.
SK: Do you have any special pre-meet rituals or favorite team traditions?
AW: Ooh, we have really fun cheers on our team. We have this one called "Eph women in the house" where we all stand in a circle repeating "Eph women in the house, haha, ass kicking in the house, haha" over and over again, and then we start clapping. The cheers always get me super hyped — we're able to literally scream them and they're so much fun. [In terms of pre-meet rituals], I feel like I kind of change it up all the time when I prepare for a race.
SK: Do you have a favorite professional swimmer or someone who inspires you?
AW: I don't follow professional swimming super closely, but I think af ter [the 2020 Summer] Olympics, I was obsessed with Lydia Jacoby, who just won the gold medal in the 100 breaststroke in Tokyo [for the United States]. She looked really cool because she was 18 years old — still in high school, but she showed up to the Olympics, had no expectations set, and then she beat the best world record holders. I follow her on Instagram, and she's a little fashion icon — she's really cute.
SK: Swim and dive is one of the bigger teams on campus. How have you as a captain worked to establish a strong team dynamic with such a large group of athletes?
AW: I think we're a pretty unique team because we're coed. In terms of being a captain, we have four men's team captains and three women's team captains.
It's about working really closely with them and just being in communication, working to make sure everyone feels included on the team. I think with a team this size, sometimes it can feel isolating.
We make sure to do a lot of events with [both] the men's and women's teams, and just work to make sure we're cheering each other on — especially at meets and during practice — and making sure our team culture is strong in general.
SK: What will you miss most about the College's swim team when you graduate?
AW: Ooh, that's a really good question. I'm really going to miss the collective family feeling. When I came to campus, [the team] was almost immediately a group of people that I was friends with and close with. It means a lot to have this support system, so I'm really going to miss the people on this team. I've grown so close to so many people over the years and I just have a special place in my heart [for them]. Going to practice every single day and being surrounded by people that I love — who want to work hard, and want to get better, and just want to be as supportive as possible — is great because our team culture is not toxic at all. When comparing it to what I've heard of other people's experiences at different schools, I'm just really grateful that we're able to build a really strong, inclusive culture. I'm going to miss that — that kind of support system and community at the College.
SK: Do you have a favorite action shot, and can you describe what's going on at the moment?
AW: Yeah, I definitely have a favorite photo. This photo was taken at NCAAs last year. It's actually a Getty image – I have never had a professional Getty image taken before, but it's really funny because in this photo, my head is coming out from the water doing breaststroke, but before the water is broken, there's this shield of water over my whole head. I look like — oh my God what is the fish called? A blobfish! I look like a blobfish. And it's such a funny photo. Somehow this photo has been used on our team Instagram multiple times, and it's not in any way an attractive photo of me. It's just hilarious. I don't really have a lot of action shots of myself, but that one really stuck with me and I love it.