Caroline Fairweather '20 makes Broadway debut in Parade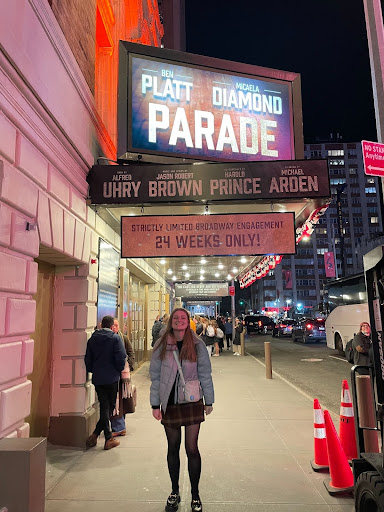 Just three years after graduating from the College, Caroline Fairweather '20 is poised to make her Broadway debut in Parade as a swing after working on the show's sold out off-Broadway run.
Fairweather's role as a swing means that she is an understudy for six tracks, which range from ensemble to lead roles. "A track is just everything that one actor does in a show," she said. "There are ensemble tracks, in which one actor may technically play four different characters, but it's one track because it is the one actor that [plays all the roles]." 
In addition to her role as a swing, Fairweather is also the show's dance captain. "My responsibility is to maintain the show that the choreographers set throughout the run … to make sure that three months later, the patterns [of] people walk[ing] on stage and the way they move their arms is as close as possible to the night that the show opened," she said. "It's really fun [to have these roles], because you get to experience all of these different parts of the show and get to know the show as a whole."
Parade, written by Alfred Uhry and Jason Robert Brown, first premiered on Broadway in 1998. The musical tells the story of Leo Frank, the only known Jew lynched in American history, who was convicted of murdering his 13-year-old employee.
"I think for some audience members [the darker themes] will be overwhelming, but because of the compassion that they will feel for these people who went through these events and not because it is a burden to witness the show," she said.
Rather than a traditional audition process, Fairweather secured the role through her connections to the local Berkshire theatre community. Growing up in Pittsfield, Fairweather performed with regional theaters in the area. She participated in productions ranging from workshops of new plays to higher-scale commercial musicals at professional organizations like Barrington Stage Company in Pittsfield and Shakespeare & Company in Lenox. "I think I got a much deeper experience with theatre because of where I grew up," she said. "I was exposed to all of the different ways theatre can be made."
During her senior year at Taconic High School, a friend invited her to attend a dance workshop at the Osher Lifelong Learning Institute, an organization that provides educational, social, and volunteer opportunities for people over fifty. Community Works, Williamstown Theatre Festival's year-round community theatre program that produces free shows by and for Berkshire area residents, ran the workshop. "It was the two of us and a bunch of women over the age of 65," Fairweather said. 
At the workshop, Fairweather met Laura Savia, the associate artistic director of Williamstown Theatre Festival, who cast Fairweather in a Community Works show that summer in 2016. While Fairweather was in high school, she applied to undergraduate theatre conservatory programs, but she ultimately decided to pursue a liberal arts education and attend the College, where she majored in theatre. 
"At Williams, there's such a focus on interdisciplinary aspects of theatre that I feel gave me a unique perspective," she said. "What I lacked in technical training that I would have gotten at a conservatory, I made up for in my ability to apply the theoretical knowledge to the [process] of making a piece of theatre." While at the College, Fairweater also performed in the Ephlats a cappella group, Cap & Bells, and the Opera Workshop. She also studied abroad at the London Academy of Music & Dramatic Art. 
Fairweather stayed connected with Community Works throughout college, and after she graduated, took a virtual intergenerational acting class with Savia in 2021. A guest company, The Forest of Arden, visited one of the classes. Months later, the company announced that it would be directing an immersive theatrical experience through Community Workshop that summer, and because Fairweather had enjoyed meeting the company, particularly its Tony Award-nominated director Michael Arden, she auditioned and was cast. The show, called Alien/Nation, was inspired by campus protests for ethnic studies and the Hopkins Occupation in 1969. 
At the end of that process, Arden asked Fairweather to join The Forest of Arden. She attended the company's Zoom meetings and in-person residency in New York City while she continued to work in theatre both there and in the Berkshires. A year later, Arden asked Fairweather to  help him with the pre-production process for Parade, which he was slated to direct off-Broadway at the New York City Center. "It was me and a few other non-union actor friends just there for the choreographers to see what their choreography looked like on bodies in space," she said. The day after she returned home, Arden called her to explain there was room in the budget for swings and offered her the role. When the show announced its transfer to Broadway, she was invited to join.
Fairweather said that while growing up, she had always aspired to perform on Broadway, but the process, the people, and the story are what have made her Parade experience so rewarding. "On the first day of rehearsal for the Broadway production, I remember expecting to feel a lot of discomfort and nervousness … but I didn't feel any of that. I just felt so much security and safety and love for this team," she said. 
"I think that when I was very young and wanting to be on Broadway, there was a certain freedom that I had because I was a kid and anything was possible," Fairweather said. "As I grew up and started to realize that accessibility and wealth are such huge factors [that determine] who is allowed to make art and who is not,  I started to let go of the idea of Broadway as a dream, because I didn't think that it was built for everyone… But I am on Broadway. I am on the Broadway that I idolized in the past, but is also actively moving towards a brighter, more equitable, and more magical future. It's really an honor."