The personal and professional: A Wednesday night at Lyceum dinner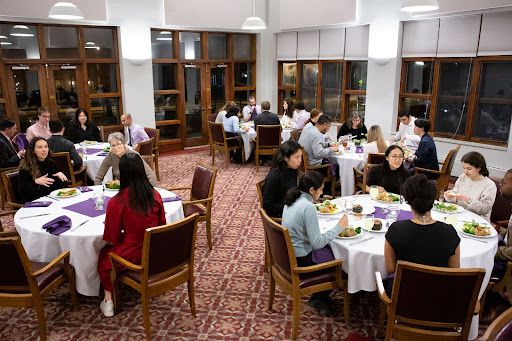 "We're all people," Sam Drescher '26 said, reflecting on his first Lyceum dinner last Wednesday. "It was nice to get to know my professor as a real person."
Every month, 60 to 90 students sign up in groups on a first-come, first-served basis to take their professors "out to dinner" or, at least, to a three-course meal at the Faculty House. September marked the revival of the beloved program, which is organized by the Office of Campus Life and Dining Services, after a two-year hiatus due to the COVID-19 pandemic. 
Last week's Lyceum dinner was the first of the spring semester. Drescher, Shayna Podhoretz '26, and Josh Rubel '26 decided to invite Professor of History and Chair of Asian Studies Anne Reinhardt to the event. "It was kind of exciting, because we didn't really know her at all," Podhoretz said.
Both Drescher and Podhoretz felt motivated to reach out to Reinhardt due to the larger size of their "Modern China, 1600-Present" lecture class, which has roughly 40 students enrolled this semester.  
Reinhardt echoed her students' enthusiasm to connect outside of the classroom. "Although we do a lot of discussion in class, and although I do talk to students one-on-one in office hours, it is not enough time to know anything but the bare minimum about students personally," she wrote in an email to the Record. "The dinner gives us a chance to get to know each other outside of the classroom context."
The evening began with a cocktail hour — crudités served alongside sparkling water with lime  —  which Will Schnall '25 attended with Chair and Associate Professor of Religion Jeffrey Israel. Schnall and his classmates Harry Albert '25 and Sophie Bellwoar '25 got to know their professor outside of their "Modern Jewish Political Theory" class by asking a series of icebreaker questions such as, "What's the worst plane ride you've ever been on?" and "What's the fanciest event you've ever been to?"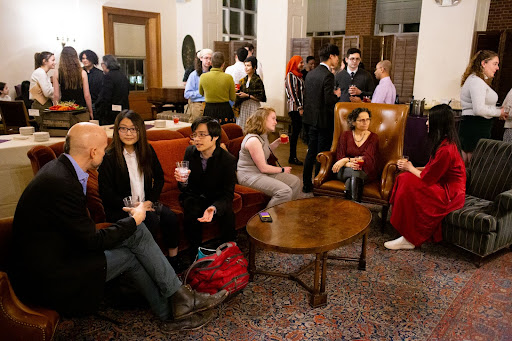 Though Albert, Bellwoar, and Schnall's questions were abstract, they were equally matched by the complexity of their professor's responses and follow-up icebreaker questions. "He said something that I was amazed by," Schnall said. The setup was this: "The world is going to end in a month, and there's nothing you can do to change it. What are you going to do?" 
 "The things that you're going to do, even though they won't help you in the future or have any relationship to your past, are the things that you think have intrinsic value," Schnall said. Israel's answer to his own philosophical question — imagining a world without responsibilities or concerns — was to still show up to class every single day. "I thought that was very inspiring," Schnall added. 
The dinner, students agreed, was fantastic. Dining Services brought out baked potatoes with toppings alongside what Schnall described as "really good chicken with a marinade glaze." For dessert, the students and professors enjoyed apple crisp with whipped cream.
"I had to watch my manners," Drescher said. "Tiny fork, no elbows on the table — stuff that no one's paying attention to at Driscoll."
For the students in attendance, the dinner provided an opportunity to hear more about their professors' personal lives — and for the professors to do the same with students. 
"I feel like it's hard to learn about the 95 percent of student life that happens outside of my classroom," Reinhardt wrote. "I enjoyed hearing about it from them, as well as seeing their friendships in action."
Drescher, Podhoretz, and Schnall all expressed an increased level of comfort and confidence in their respective classes following the dinner. "[My large history lecture] feels a little bit smaller [and] more intimate," Drescher said. 
For Podhoretz, taking the initiative to go to office hours now seems less daunting. "It won't be awkward," she said. "I know [Reinhardt] in a different context." 
"I feel more comfortable being wrong in the class, in that I feel like I know [Israel] better, and he knows me," Schnall said.
The Lyceum dinner also provided a break from the mundanities of college-dining-hall life. "It's a Wednesday night, but I'm getting dressed up," Podhoretz said. 
Ultimately, last week's Lyceum event offered a unique opportunity for students and professors to connect in a meaningful way. "I think it is harder for both sides to initiate those kinds of conversations without an event like this," Reinhardt wrote.