"Do Better" campaign promotes original song by Joshua Kombet '25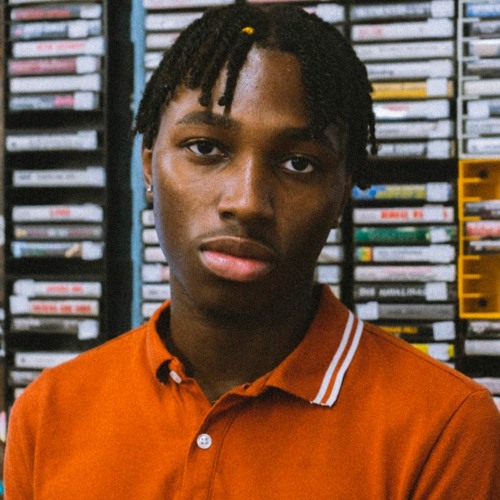 Last week, signs with the words "Do Better" mysteriously began appearing on the doors, windows, and walls of buildings across campus, sparking a campus-wide dialogue and various theories about the origin of the campaign. However, on Feb. 14, the meaning behind the campaign was revealed: Musician Joshua Kombet '25 released his debut song under his new artist name dobetterjosh. The song, titled "INSECURE," is inspired by his breakup with his high-school girlfriend and was released on Valentine's Day — not only because it stuck out to Kombet ­— but also because it was appropriate for the holiday. 
From a young age, Kombet was surrounded by music. "Music has always been a part of my life, whether that's at home, being in church, or sharing songs around the house," Kombet said.
 In middle school, Kombet started to experiment with creating his own music. "I was infatuated with rap, hip hop, funk, R&B, and soul music," he said. "That kind of led me to ask, 'How do I make music like my favorite artists?'" 
Kombet dedicated much of his time to working on his craft. "I was taking classes for [music], going to studios, and staying up until six in the morning for months at a time, just trying to get better," he said. "I released a single my freshman year in high school and [an] EP sophomore year, but I haven't released any music since then."
Kombet started to pursue music more seriously during the pandemic. His hard work paid off as he began to distinguish himself as an artist. "Over time, I started to see my sound [and understand] this is what I sound like, not me trying to feel like somebody else," he said. 
After a lengthy process of trial and error, Kombet discovered how to define his music style. "I would characterize my sound as new vintage," he said. "I really like using samples from the past in terms of the harmonies and vocal runs." 
After defining his musical sound, Kombet adopted the stage name dobetterjosh, inspired by a studio session mishap. "I'm producing and engineering, and then, on this particular day, the equipment is messing up," he said. "[I was] like, 'Okay, we'll do better, Josh. Do better. Josh.'" Kombet said the name is also a fair representation of who he is as an artist. "I think [dobetterjosh] kind of captured this aspect of me: always trying to improve and being so meticulous." 
Like his musical inspirations The Neptunes, Kenny Beats, and Timbaland, Kombet produces and writes his own work. "I start off with the beat, and that, in and of itself, always inspires [me] to move somewhere, just depending on the mood and texture of the song," he said.
Kombet's music production is not strictly confined to his dorm room studio set up. "I'm constantly pulling out my phone for voice memos, and it is just me messing around [and] mumbling — I'm not saying any words yet, but it's, like, 'How do I get this flow?'" 
Kombet believes that audiences prefer when artists pay attention to the beat rather than the words. "For the listener, [the beat] is the most important thing," he said. "If you can be lyrical and in depth while also being interesting sonically, then I think you're gonna engage people in that way."
Kombet intended to stir up conversation about "INSECURE" among students, faculty, and administrators with a unique marketing strategy. "I felt like I had to make a big splash," Kombet said. "[Having] a new artist name, a new identity, a new sound … [I had to] go big or go home." He said he was even contacted by a member of the Davis Center due to questions the College's administration had about the purpose of the campaign. 
After a week of the words "Do Better" circulating campus, Kombet revealed that they were a reference to his artist name. On the morning of Valentine's Day, stickers featuring a rose and a QR code link to Kombet's new song appeared on tables throughout Paresky and on students' dorm doors. "[With the posters], there was no [pre-existing] understanding of what was going on," Kombet said. "[I wanted people to ask] what the meaning of the signs were and why they were everywhere. And then I guess the rose [stickers] were supposed to answer that question." 
While Kombet put up all of the "Do Better" posters by himself, he received additional help from his friends to put up the rose stickers. "I did have to enlist a team of people who I called 'Operation Do Better' [to distribute the stickers]," Kombet said. "I had a lot of support from my friends in that, and it was really fun… I felt like I was in a spy movie." 
Over the next few months, Kombet hopes to release  around 30 songs that he has been working on since the fall semester. "[I'd like to release more music] maybe sometime next semester —  when the weather's nice and we have all the student events going on — to really engage with people," he said. 
Kombet added that, as he puts out more music, he hopes to become more actively involved in the campus party scene. "I sometimes get the impression that Williams can be boring and often really dead and dry," Kombet said. "I feel like [releasing more of my music] could be a creative way to spice things up. My goal is eventually to have enough songs out where I can be followed by the party scene here. Slowly but surely, I [would like to] build connections with other musicians and DJs." 
Although making music is important to Kombet, he said it has been hard to find time for it during the academic year. However, he tries to find hours throughout the day to work on his projects. "If I'm too busy with school work — even when I'm walking to classes — I'm always listening to stuff on my headphones, and I might come up with a harmony and melody on my way to class." 
Though Kombet decided to study history at the College instead of music, he plans to pursue a career in music after graduation. "Music is my one and only passion," he said. "I spend way too much time with it not to go for it."