From one rural community to another: First-year students from small towns on coming to the College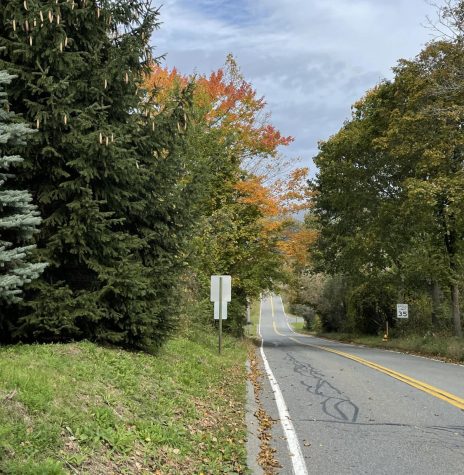 High school classmates and family members of Alex Riggs '26 were surprised by her choice to study 3,000 miles away from home. "People have been skeptical, asking, 'What are you running from?'" she said. "Really, I'm not running from anything. It's more like I'm chasing what I really want, and I don't think I can find that at home."
Riggs is from Eureka, Calif., a rural area that is home to 26,000 people and best known for old-growth redwood trees and its location in the Emerald Triangle — three counties in Northern California that together make up one of the largest producers of cannabis in the United States. Around 30 students composed the graduating class of Riggs's charter school. She said that most of her former classmates continued their educations in-state, attending University of California schools and driving home each weekend. Riggs, on the other hand, sought a different experience. "I felt like it would have been too comfortable if I had stayed in California," she said. "I wanted college to be a time to really challenge myself to grow." 
Oskar Webster '26 hails from Cherry Valley, N.Y., a town of 1,100 people. He was part of a 40-person graduating class — one of the biggest his school had ever had. Like Riggs, Webster's classmates chose to stay in-state after high school — in fact, he is the only one attending an out-of-state college.
"I think that I'm the only person who went to school in another state, and I'm five minutes out-of-state," Webster said. "I think it's a rural area thing, where most people choose to go to a state school because it is a lot more affordable than going to a school like Williams."
Ellery McQuilkin '26 is from Lee Vining, Calif., a community of 400 people in the Sierra Nevada mountains. Her town — which she described as "the gateway to Yosemite" — is fueled mostly by seasonal tourism.
"It's interesting to see how much [Lee Vining] changes with the season," McQuilkin said. "In the summer, it's bustling, the roads are crowded, lots of people are out and about, and the few stores, restaurants, and hotels are open. But then in winter, there's one restaurant that's open for a couple of hours on Wednesdays, and everything else but the gas stations are closed."
McQuilkin's graduating class had only 12 students — only one third of whom enrolled in four-year colleges, and most stayed in California. 
"I think [Lee Vining] is a hard place to leave," she said. "But the physical distance makes it so that I can't get stuck. I also think that in some ways it makes me less homesick." 
Though McQuilkin appreciates the feeling of comfort and safety that her town provides, she felt ready to foster new relationships in college.
"I went into college with the perspective that my best friends don't need to be that similar to me, because that's how it was in high school," McQuilkin continued, "I think that in the end, a small space like Williams draws people together and that's not always someone who's grown up in exactly the same way as you."
Riggs also stressed the importance of interacting with peers from different backgrounds at the College. "It's important to understand that we come from different places," she said. "That doesn't mean that my place is any less or any worse than [others]."
In part due to her upbringing in a rural community, Riggs said that she sometimes experiences the College  differently than those who come from metropolitan areas. "A lot of kids coming here from the city are always saying they want to leave," she said. "I want to leave too sometimes, but I'm not impatient to leave because I've lived my whole life like this."
Riggs's transition to the College as a first-year has gone more smoothly than she thought it would, which she attributed to her rural upbringing. "I was used to the small, tight-knit community where everyone knows everyone," she said. "I came here and it's been kind of the same thing."
McQuilkin was struck by Williamstown's relationship to its natural environment, which is similar to that of Lee Vining.. "There's not that much stuff to do [at home], so you go on hikes or go swimming in cool places with your friends," she said. McQuilkin has continued to take advantage of the environment at the College, regularly embarking on sunrise hikes with the Williams Outing Club and swimming in the river with her friends.
Webster expected Williamstown to feel similar to his hometown of Cherry Valley — both small rural towns — but he was surprised by its differences.  "[Williamstown is] more than four times the size of my town, and it's a lot more condensed," he said. "I live in the middle of the town here, whereas at home it's about a five-minute drive to get into town."
Riggs, Webster, and McQuilkin agree that it is unlikely that they will return to their rural hometowns permanently after college. They all wish to pursue careers in bigger cities where there seem to be more opportunities.
Though she may never move back home, McQuilkin appreciates her experiences growing up in Lee Vining. "It helped me see a lot of value in making friends who are really different from you," she said. "That's the biggest way that change happens — with small-scale connections that help people see the world in different ways."