Author Imani Perry delivers evening Claiming Williams keynote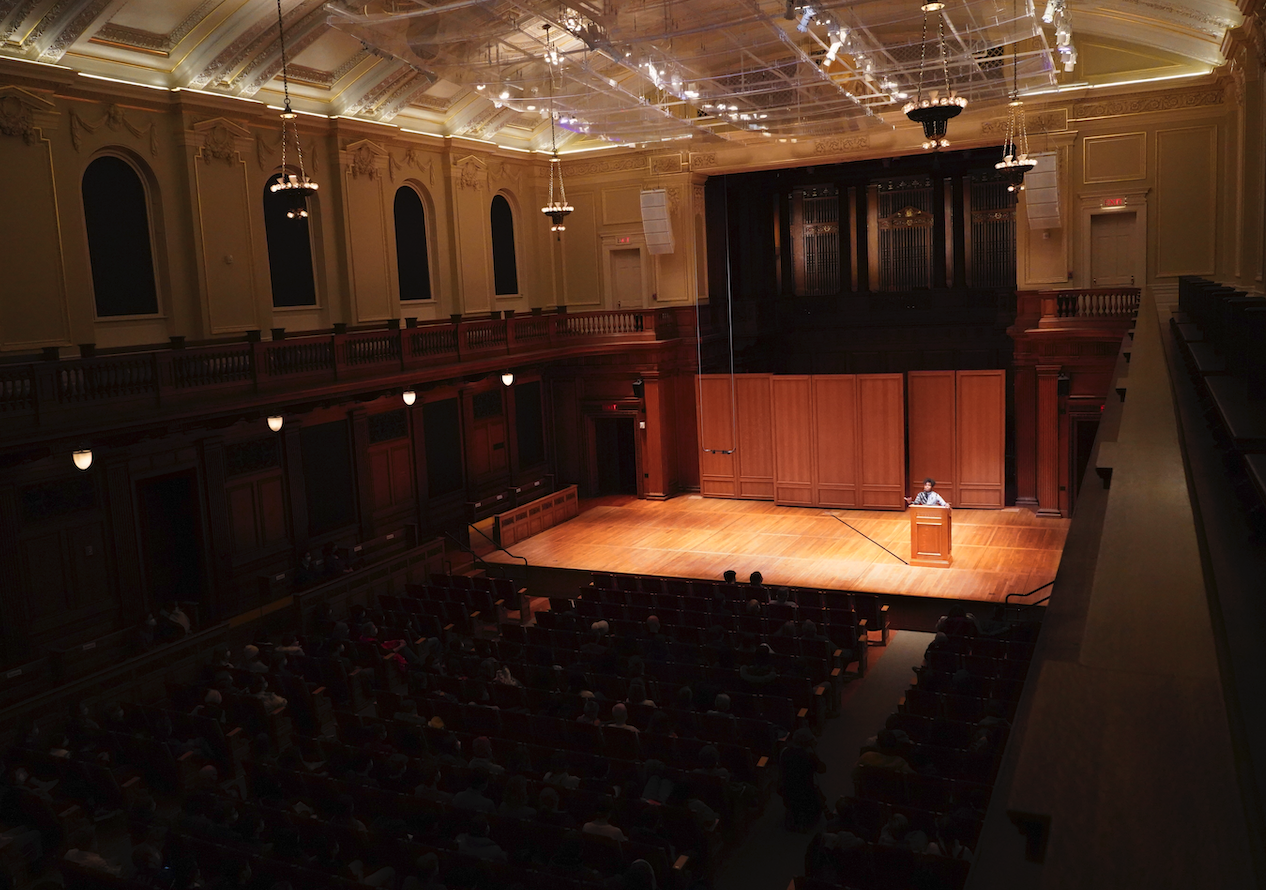 Imani Perry, an author and professor of African American studies at Princeton University, presented the evening keynote address for Claiming Williams day on Feb. 2. In her talk, Perry discussed the role of the South in American history, arguing that it remains a vibrant and complex focal point of American culture. She also spoke of what she termed the "genealogy of ideas" — the lineage of scholars before her whose ideas informed her own work, paying particular attention to the influence of Sterling A. Brown, an alum of the College from the class of 1922.
Perry's research has focused on how Black political thought and culture have responded to oppression, particularly in the wake of moments when recent progress has been reversed. Perry has authored six books. Her most recent book South to America — a treatise on the South seeking to render a nuanced picture of the region's vibrance and its significance to United States history — was selected as the Williams Reads book for the 2022-2023 academic year. 
In her talk, Perry, a native of Birmingham, Ala., criticized the history of "flat-footed" portrayals of the South by Northerners. "If you think about the way that people talk about the U.S. South, it continues to be a region that is often seen as an 'other,' different, and strange place," she said.
Perry also said that the South is often invoked as a scapegoat for the United States' history of racism. "Whenever something bad happens in the South, you can see people saying things [on social media] like, 'If [only] we could just cut off that section of the country,'" she said. Perry proposed viewing the racist histories of the United States as a stain on the entire nation, rather than focusing the blame on one region. "Inequality is a national story, and the entire nation reaped the economic benefits of [slavery]," she said. 
Stereotypes about the South's history of racism, she continued, have contributed to many Southerners' resentment of Northerners — New Englanders specifically. "I think there's an earned skepticism in response to the condescension of New Englanders," she said in response to a student's question about the class dynamics of scholarship about the South within elite institutions.  "Reliance on some of the trappings of being genteel and bourgeois is an evasion of the responsibility to deal with the issues we have to deal with." 
Perry also discussed how the College has influenced her scholarship through Brown's work. "I consider [him], although I did not have him in the classroom, to be one of my educators," she said.
"Part of what made [Brown] significant is that, in the period in which he wrote, many Black intellectuals … thought of Southern rural people as an interesting resource for the study of Black culture and life but thought that that culture was dying [due to the] Great Migration," Perry said. "However, Brown … argued that there actually [was] a great deal that is still rich and robust in Southern rural culture, that it is a complex zone of creativity and art that was vibrant then — and part of what I argue in South to America is that it still is now."