One in Two Thousand: Eve Shulman '26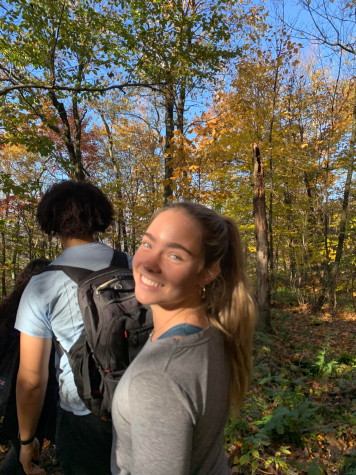 Each week, the Record (using a script in R) randomly selects a student at the College for our One in Two Thousand feature, excluding current Record board members. This week, Eve Shulman '26 discussed walking onto the women's crew team, her first Winter Study experience, and the Williamstown Apothecary. This interview has been edited for length and clarity.
Izzy Polanco (IP): When I was asking people on the Record what questions I should ask you, they told me that you walked onto the women's crew team. What has that experience been like?
Eve Shulman (ES): I was out for a bit because I had an injury, but I really enjoyed it, and I really liked the group of people. It's been a very cool experience. 
IP: What made you decide to walk on?
ES: Last year when I visited campus, I had a friend who is now a sophomore, and some of her friends were encouraging me to [join the team]. When I got here, I didn't really think I was going to, but then I talked to a few people, and they were really suggesting it — there's a great group of people, and [rowing is] such a cool sport. I've found that it's just a really fulfilling way to spend your time. I tried it out, and I've liked it so far. 
IP: You're from New York City — how have you been liking Williamstown so far? 
ES: I really, really like it. I knew it would be a big change. But I think there are little things that come up that remind me that I'm not in New York, especially when I go home — I realize how different it is. Honestly, the main thing I noticed is the accessibility of everything in New York. It's very unique in this way, but you can get anything, anywhere, very quickly. 
Williamstown is pretty much the opposite — which I think totally has its pros, but with food, sometimes it'll be like 4 p.m. and there's nowhere to eat. But you can just wait, and it's not that bad [Laughs]. And I really like having so much nature around. I'm really glad that I've been able to go out and hike and walk and run — it's just really nice to be able to do that.
IP: How was your first Winter Study experience?
ES: It was great. I took ski patrol, meaning I also took a course during the year. [The course had] great people. I had some good friends in it, and it was a really cool skill to learn, especially because I am considering becoming a doctor — it felt like a really cool quasi-introduction. 
We learned a lot of medical stuff, and I also love skiing, so it was a cool combination of that. In the last week [of Winter Study], we took the test to get certified and we all passed, which was really exciting. Now I've ski patrolled a few times, and it's a lot of fun. I'm getting to know the people on the mountain. A couple of days ago, my friend and I went in and we took care of someone for the first time, which was exciting. And besides that, I really liked winter activities, and [Winter Study] was a great time to spend with my friends. 
IP: Okay, ending with a question I ask most of my One in Two Thousand interviewees: what's your favorite Spring Street establishment?
ES: Definitely the apothecary.
IP: That's so cool — most people name one of the restaurants. What makes you like the apothecary so much?
ES: [The employees] are very nice. I like the candy that they have, and they get me the medicine that I need. I [had] COVID earlier in the year, and they were great. I think it's a necessary establishment on Spring Street. 
IP: And to close out, what are your rose, bud, and thorn of your first year so far?
ES: My rose would be that my friends and I went on a weekend trip to Vermont, and it was really fun to be in their company. My bud — something that I'm looking forward to — is the spring here. I honestly love the winter, but I heard that springtime is lovely and I'm really excited for the campus to be in bloom. My thorn — and it's a small one — is that I miss the food from back home. But being here definitely makes me appreciate it more.