Inside the "Art Mafia" with Earl A. Powell III '66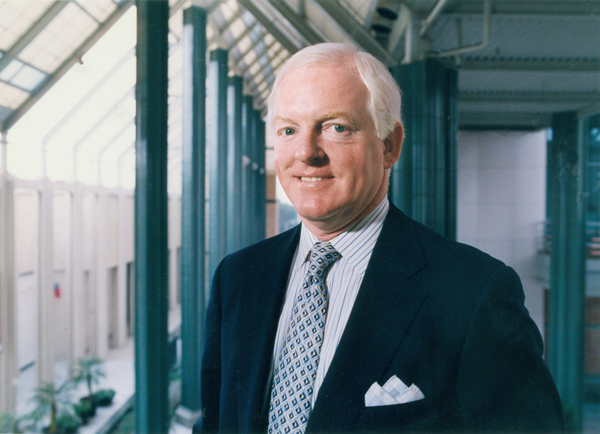 This article is the first in a series of profiles about alums who comprise the famed Williams "Art Mafia" — a group of leaders in the museum industry who were all undergraduates at the College during the 1960s and 1970s. Earl A. Powell III '66 spoke with the Record about his time at the College and his legendary career in the art world.
Earl A. Powell III '66 served as director of the National Gallery of Art in Washington, D.C. for 27 years.  Long before his directorship, however, he was a student at the College where he studied art history and European history under three professors who mentored members of the Williams "Art Mafia" to success.
The "Art Mafia" was never an active society on campus, but rather a name given to a collection of alums from the College who became directors and curators of major art museums across the nation. The term was coined by John Pope-Hennessey, who came to the College briefly as a visiting professor of art history during the 1960s. "['Art Mafia'] was sort of a moniker that was imposed on the group," Powell said "None of us actually wore pinstripe suits."
Powell did not initially plan to enter the museum industry. "I kind of backed into art history at Williams ignominiously because I failed chemistry my first year and needed to pick up a course," Powell said. "I was advised that the art history course could be something I might be interested in … I think it was very encouraged at Williams to move beyond your comfort zone to take the courses, and [the professors] were very welcoming.
He recounted the influence of three professors on his career path: S. Lane Faison '29, William Pierson, and Whitney Stoddard '35. These professors came to be known as the "three dons" of the "Art Mafia." "[They] were the triumvirate of art history professors," Powell said. 
Powell recalled how Pierson once described the difficulties of running an art studio and art history program in what he referred to as an athletics-centered community. "I never much thought about Williams as a jock school," Powell said while reflecting on his time as a football player at the College. "It seemed a natural thing, playing sports and going to school."
After college, Powell spent three years serving in the U.S. Navy. Powell later requested a recommendation letter from Faison for graduate school, where he intended to study business or law. "[Faison] said he'd be happy to write a recommendation, but he hoped I would consider art history," Powell said. "At the time, I was stationed at the Boston naval yards and had been going to Harvard night school for fun, so I went over to Harvard to talk about [the art history grad program]."
Powell ended up attending Harvard University for graduate school where he studied 19th- and 20th-century European and American art for his M.A. and Ph.D. He noted that his time at the College helped him transition well into graduate school. "I never lost a beat even though I'd been in the fleet for three years," he said. "Williams prepared me very well."
Starting in 1974, Powell taught at the University of Texas at Austin as an assistant professor of art history for two years until Charles Parkhurst '35, then-assistant director of the National Gallery at the time, hired Powell as his assistant. He then went on to serve as its executive curator for several years before being offered the director position at the Los Angeles County Museum of Art. 
Powell returned to Washington, D.C. in 1992 to serve as the fourth director in the National Gallery's history. In his 27 years as director, he received international recognition,  including awards from Norway, France, Italy, and Japan. "Those were variously given to me for in-depth relations with various countries," Powell said. "We did many great exhibitions from all of those countries, and it was … an award to the National Gallery as much as myself."
Powell maintained a close relationship with Faison long after his time at the College. "When he came to Washington to visit, which he did every three, four years, we would have lunch," he said. "[We'd] go through the gallery, and he would tell me that I should reframe [a] picture because it wasn't properly framed."
During Powell's time at the College, he witnessed Faison's scrutinizing approach on trips to museums like the Metropolitan Museum of Art and the Museum of Modern Art in New York. "He would never say the simple thing, 'What do you think? What is the best work in this room?'" Powell said. "He'd flip it and say, 'What do you think is the least successful work in this room?'"
Powell expressed gratitude for Faison as an inspiration for his artistic career. "Faison was close to me and all of the so-called 'Williams Mafia,'" Powell said. "He was a professor all the way to the end. He was a wonderful man."
Since his graduation, Powell has been awarded an honorary Doctor of Fine Arts degree from the College in 1993, and he received the College's bicentennial medal in 1995. He also addressed the Class of 2002 at its convocation ceremony.
"The Williams art history program was the most distinguished program in a college or university setting during my years there and beyond," Powell said. "It is still looked on with admiration and affection out there."
During his directorship, Powell maintained relationships with his fellow alum leaders in the art world, or those dubbed "Art Mafia" members. "Most of us were in touch with each other institutionally," he said. "We were all good friends over the years." 
In the 2000s and 2010s, President George W. Bush and President Barack Obama each appointed Powell to the Commission of Fine Arts (CFA), where he was elected chairman and served for three terms.
Powell stepped down from the National Gallery in 2019, but he remains connected to the art world. "I'm not at all involved in museum affairs, really. Although I still get the call, you know, what do I think about this? Or what do I think about that?" he said. "Many of the exhibitions that I was involved in at the National Gallery are still happening, so it's fun to see that." 
Now enjoying retirement, Powell reflected on the role of art in an ever-changing society. "Art is an eternal thing," he said. "It gets interpreted variously, but it's central to the interpretation of world cultures. I think what has changed over the years is the issues of what used to be called quality and art and connoisseurship." 
Powell hopes current students, regardless of their academic interests, appreciate their time at the College. "Taking advantage of what Williams has to offer is something really special, and I have always valued that myself," he said.