Town residents find inclusive gaming community at Purple Dragon Games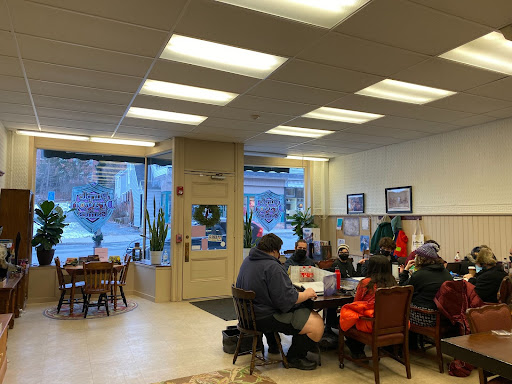 What do a network engineer, UMass Amherst professor, and community college student all have in common? A love for Purple Dragon Games. 
Spring Street's Purple Dragon Games prides itself on its inclusivity, which keeps store-goers loyal. Some patrons commute for up to an hour to participate in the various events hosted by the store. 
Niko White '04 opened the store in spring 2017 with the intention of creating a game store in Williamstown that would foster a welcoming environment. Gaming spaces have not always been welcoming to women, people of color, or members of the LGBTQ+ community, White said. His store, however, makes clear that it does not tolerate any form of bigotry. 
White keeps a basket of pronoun pins on the counter for people to wear, and Purple Dragon Games's website clearly states that, "No matter your gaming experience, race, gender, sexuality, religion, or anything else, if you love games and respect your fellow gamers, you're welcome at any of our events."   
In an interview with the Record, White explained that the reason behind the exclusivity of gaming communities may be the ostracization they faced in the 1980s and 1990s. "We took a lot of heat for [playing board games]," White said. "And I think when that happens, there's a tendency to build this kind of tribal bond." 
However, regulars at Purple Dragon Games, like Ethan Zuckerman '94, welcome newcomers instead of turning them away. "Whether you come here with a friend, or whether you come here alone, there are many nights where 12, 15, or 18 very friendly people will happily teach you new games," said Zuckerman, a professor at UMass Amherst. 
For example, when Drake Reed, a new Williamstown resident, walked into Purple Dragon games one afternoon last week, Zuckerman asked Reed if he wanted to join any of the games without missing a beat. They discussed their interests in Dungeons & Dragons and other roleplaying games, and Reed said that he would definitely return. 
Zuckerman credits board games for his ability to talk to strangers. "We don't actually have a lot of very good scripts for interacting with strangers,"  Zuckerman said. "If some random guy comes up to you in a bar and starts talking to you, that's very different from, 'Hey, why don't we play a game together?'"
The opportunity to socialize is a major draw for Purple Dragon Games. The store hosts free open board game nights every Wednesday, where participants can meet new people by playing games together. 
White said that one of his first regulars, a retired middle school librarian who recently moved to Pennsylvania, has been having trouble finding a game store with an atmosphere that matches Purple Dragon's. "She tried five or six game stores there, and she just didn't feel welcome in any of them," White said. 
Amy Price '93, a mental health counselor who regularly attends open game nights with her husband Zuckerman, their son, and their greyhound, noted that the store can be an important third space — a communal location that is distinct from one's home, which is their first space, and work, which is their second space. "We've gotten to know a few people pretty well," she said. "Sometimes, outside of this venue and even just in this venue, there's usually a little bit of time to just be people and talk."
Tim Peters, another open game night regular, has also made the event a family affair, bringing his wife and college-aged child Quinn with him. While Tim comes mostly for the gameplay, Quinn enjoys socializing with people their age. "There's several people [at the store] that I know very well outside of here now," they said. "A couple of the people around my age or younger hung out outside of Purple Dragon a couple of times … which can be pretty fun, because it means I have more people my age to talk to." 
White is proud of the community that has been created through the store. "I'm not in this business because I wanted to sell people games," White said. "I think all of the communities that play here are very open and welcoming, and that's really important to me."