One in Two Thousand: Tommy Goodwin '25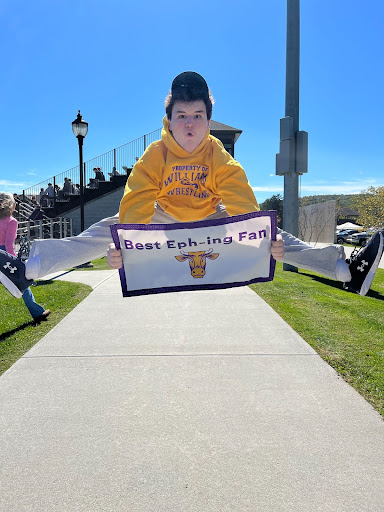 Each week, the Record (using a script in R) randomly selects a student at the College for our One in Two Thousand feature, excluding current Record board members. This week, Tommy Goodwin '25 discussed Where Am I?!, the wrestling team, and his love for Mariah Carey. This interview has been edited for length and clarity.
Luke Chinman (LC): My first question is about your WSO photo. It's kind of crazy. What's the story behind the photo?
Tommy Goodwin (TG): I'm on the wrestling team, and for our home football games, our job as the wrestling team is to sit in front of the field and sell programs. One of my friends on the softball team, Lauren Hayward ['25], is a SAAC [Student-Athlete Advisory Committee] representative, and she came in with this banner that says "Best Eph-ing Fan," and I was like, "I want my picture taken." But I didn't want to just stand with the sign like any old person, so I started jumping up and getting candid and doing the splits. That's the photo that ended up being taken, and I really liked it. I feel like it encapsulates the Williams experience.
LC: We were in the same Where Am I?! group, which was over a year and a half ago. Do you remember anything from Where Am I?!?
TG: I originally signed up for WOOLF, but I was [put] in Where Am I?!. But it ended up being fine because I did not want to hike and go to the bathroom in the woods. Not to be high maintenance, but that's just not my speed. But Where Am I?! was fun — we went to a food bank, and we jumped off a quarry. So I would advise people to sign up for Where Am I?!.
LC: I would agree. Okay, so you're on the wrestling team. How has that been? What are some of your favorite memories on the team?
TG: It's really fun — lots of good memories. We have a really good coaching staff. We basically do everything together. We play Super Smash Bros. for hours in the night during the winter because we can't really go out. 4:30 practice every day.
LC: 4:30 a.m. or 4:30 p.m.?
TG: Oh, 4:30 p.m. If it was a.m., I don't know if we would have a wrestling team. I really like the guys, and I really like the coaches. It's obviously hard, but we have a lot of fun doing it.
LC: What have you been doing during Winter Study?
TG: My Winter Study [class] is about maps, and I'm taking it with one of my teammates, Donnie Morton ['26]. With wrestling and being in the middle of our season, you don't want something that has a really high workload. I grew up having every atlas and every globe, so the class sort of just fit with me.
LC: What kind of things do you like to do outside of class?
TG: I like to read — I'm a big A Song of Ice and Fire fan. I like to listen to a lot of music.
LC: Who are some of your favorite artists?
TG: My favorite artist, by far, is Mariah Carey. I actually wrote my college essay on her song "We Belong Together" because I wanted something out of the box. I like to sing along. One of my teammates recently got me into Prince and EDM. I'm actually a big country music fan — I saw Kenny Chesney over the summer. I like classic rock. I'd say I'm a pretty big fan of all kinds of music. I don't know how big a fan my friends are of me singing the music. [Laughs.]
LC: If you were at a karaoke bar, and you had to sing one song, which would it be?
TG: That's a challenging question, because there's a bunch of different vibes. If I was sad, maybe I would go out there and belt an Adele song. If I was angry, maybe I'd sing "Forget You" by CeeLo Green. But I would say "We Belong Together" — it was the biggest song of the 2000s. I think it's my most played song on Spotify.
LC: What are you planning to major in?
TG: I'm a political science and psychology double major, and post-grad I'm looking to pursue law. It's something I'm interested in and passionate about. I like to read and write, and I like our country's history. I thought I was going to be an econ bro, and then I was like, "I really don't enjoy this." I like history.
LC: Okay, here are some rapid-fire questions to close out. Tunnel City or Goodrich?
TG: I'm a Pappa Charlie's guy.
LC: Ooh, I think that's a good take. Best place for a sit-down lunch on Spring Street?
TG: I would go to Water Street [Grill] or The Log.
LC: Favorite place to study?
TG: Sawyer, third floor, by the windows, in those comfy purple chairs.
LC: Mission or Frosh Quad?
TG: Uh, Mission, always.
LC: Favorite Williams sports team other than wrestling?
TG: Shout out to women's ice hockey — I have a lot of good friends on women's ice hockey. And squash is pretty cool — we watched the team yesterday.
LC: Is there anything that the Williams community needs to know about you that we haven't already discussed?
TG: If you're around me, make sure there is a Diet Coke nearby. Diet Coke is my favorite drink.