Cap & Bells presents Winter Study production of High School Musical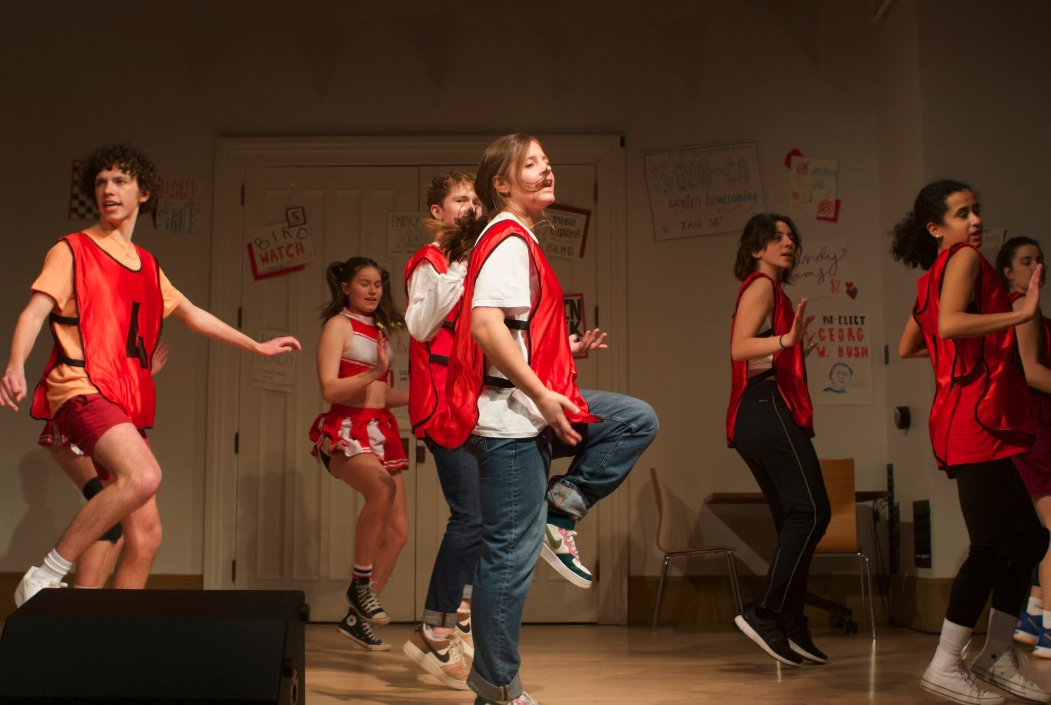 On Jan. 20 and 21, Cap & Bells, the College's student-run theater group, presented a one-act edition of Disney's High School Musical as its Winter Study production. The performance was directed by Tali Natter '23 and Kayla Swift '23, choreographed by Vanessa Silva '23, and musically directed by Leo Marburg '24. The show follows basketball star Troy Bolton and brainiac Gabriella Montez as they navigate high school cliques and fall in love while auditioning for a school musical.
Natter and Swift decided on doing High School Musical at the start of the fall semester. They instated a no-cut audition process to foster an inclusive and accessible theatrical experience. "There's a lot of interest in theater at the College," Natter said. "But up until now, I feel like there have not been enough opportunities for students who have never done theater before." 
The two-week-long rehearsal process — though short — also helped make High School Musical more accessible and flexible for students whose schedules may have been too busy to accommodate the rigorous demands of a normal rehearsal timeline. "I never have time to do any of the shows because I have too many other activities [during the regular semester]," said Hannah Brown '23, a member of the show's ensemble. 
According to cast members, having no cuts and a short rehearsal process helped create a low-stakes and fun culture. "A lot of art spaces can feel like there's a lot of pressure, but that wasn't the case for this experience," said Sydney Ghorayeb '26, who played Troy Bolton.
Given the time constraint and range of theater experience among the cast, Silva was able to prioritize having fun while choreographing instead of producing the most fine-tuned performance. "It was an opportunity for everyone, no matter if they had never danced before or if they have been dancing their whole life, to get to experience that joy and really have fun together," Silva said. 
Given the minimal time for rehearsals in the brief Winter Study period, this version of High School Musical was reduced to a one-act iteration of the normally two-act show. To compensate for lost scenes that were integral to plot development, actors had to adjust their approach. "I [tried] to find places where I [could] slow down and get the audience more attached to my character," said Karla Cabrera '25, who played Gabriella Montez. 
Ghorayeb shared similar sentiments, noting that the shortened script made every line that much more important in conveying the emotional development of her character. "Each [line] is important to the plot and to how the characters respond to their environment," Ghorayeb said. 
Additionally, Natter and Swift emphasized the ensemble's personalization of their characters to enrich the shortened version of the story. "We had sessions with every ensemble member to come up with a name and a backstory for their character," Natter said. "You could watch each person and see a totally different story." 
Brown shared similar sentiments, explaining that developing a backstory for her character helped inform the ways she interacted with other characters in each scene. "It's easier to act if you have an idea of who you're acting as," Brown said. 
Although ensemble members invented their characters entirely, lead performers had to juggle both embodying an iconic character while also seeking to make it their own. "I think there's this kind of pressure when you have an iconic role … to portray exactly what Zac Efron [who played Troy Bolton in the original movie] did," Cabrera said. Natter explained that from the first day of rehearsals, actors were encouraged to throw away their preconceived assumptions about their characters and work only with the script. 
Ghorayeb had a unique experience creating her own version of a role that is traditionally played by a man. When creating her version of the character, she drew not just from Troy's masculinity, but from her own life experiences too. "I think there's a lot of human truth in the character of Troy Bolton, as someone who is struggling to decide what he wants to do, and I think that is the kind of truth that I'm playing in this role," Ghorayeb said. "There's something empowering about playing a character [for whom] I personally am not thinking about gender." 
The demand to see High School Musical was especially high, with tickets selling out the first hour they became available. "I hope the show inspired [the audience] — even if theater isn't something that they're interested in doing — to try something new and follow a passion that maybe they've not been [able to] focus on as much," Silva said.  "I hope that people went away feeling really happy in the same way that any childhood nostalgic thing can fill you with joy."