Women's basketball beats Bowdoin, Middlebury, climbs to second-place ranking in NESCAC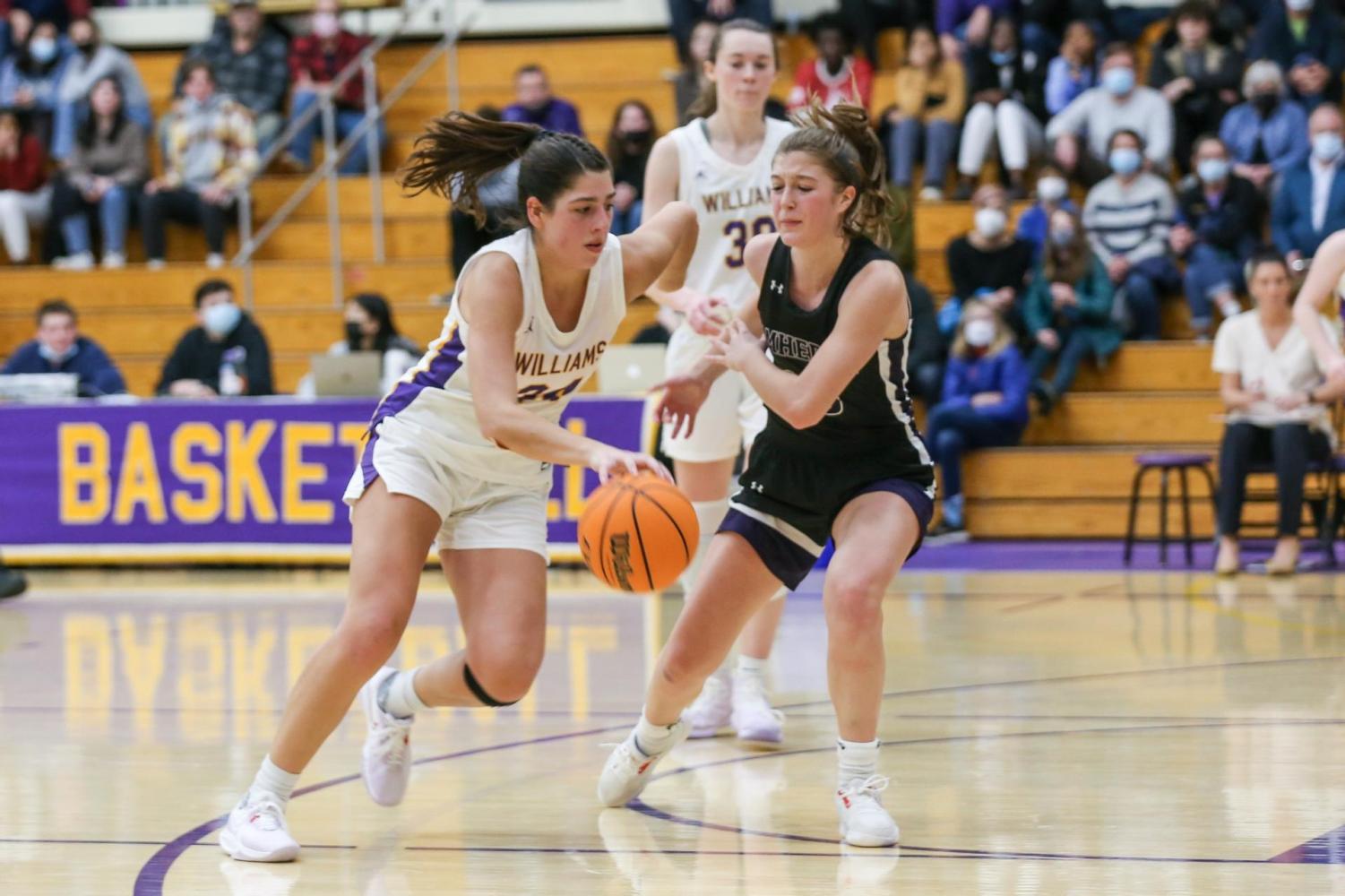 The women's basketball team (13-6, 4-1 NESCAC) is currently ranked second in the NESCAC after wins against Bowdoin and Middlebury and a loss to Amherst this week. The game on Jan. 14 was the first time the team had bested Bowdoin since 2014. 
The win also marked the team's first victory against a nationally-ranked team this season. Co-captain Maddy Mandyck '22.5 credited the team's strong defensive performance with holding back Bowdoin. "[Bowdoin] only scored 13 points in the first half," she said. "That was huge, I think our defense was maybe the best we've ever played." Cortland McBarron '25 was tasked with defending Sydney Jones, who Mandyck characterized as Bowdoin's best player. "[McBarron] crushed it," Mandyck said.
Despite the Ephs' strong defense, the Polar Bears took the lead in the fourth quarter with just over four minutes left. The Ephs, however, pulled through. "This team is gritty," Arianna Gerig '25 said. "We're okay to be behind. I think more than anything, we really just believe in ourselves, which is a bit of a difference from last year. So if we are behind, it's never, 'We're gonna stay behind.' It's, 'How can we get back ahead?'" 
The team faced a similar challenge during its game against Middlebury on Jan. 21, which went into overtime after a quick lead change in the fourth quarter — but again, the team didn't let up. Devin Biesbrock '23 noted the team's ability to hold Alexa Mustafaj, one of the NESCAC's leading scorers, below her average.
 Although Williams lost to Amherst on Jan. 18, Pat Manning, the  head coach of women's basketball, saw concrete improvements and strong play during that game. The team got 30 offensive rebounds on Wednesday, which was a significant improvement from the first time it played amherst and scored just nine. "We just couldn't hit a shot," Mandyck said. "We played really good defense — everything else was clicking for us. We had 30 offensive rebounds, which never happens." 
Despite having a weak shooting night, the team played strong defense and was able to score 17 points in the fourth quarter to Amherst's 16, with 16 of those points belonging to Gerig. She ended the game with 26 points and 11 rebounds, achieving career highs in both.
The team will be on the road this weekend at Tufts on Friday and Bates on Saturday for two important NESCAC matchups. "They put in a lot of work and a lot of effort, and it's paying off for us, because everything's starting to click. It's fun to see what's ahead for us," Manning said.