For a twenty-fifth consecutive year, community gathers in memory of Matt Stauffer '96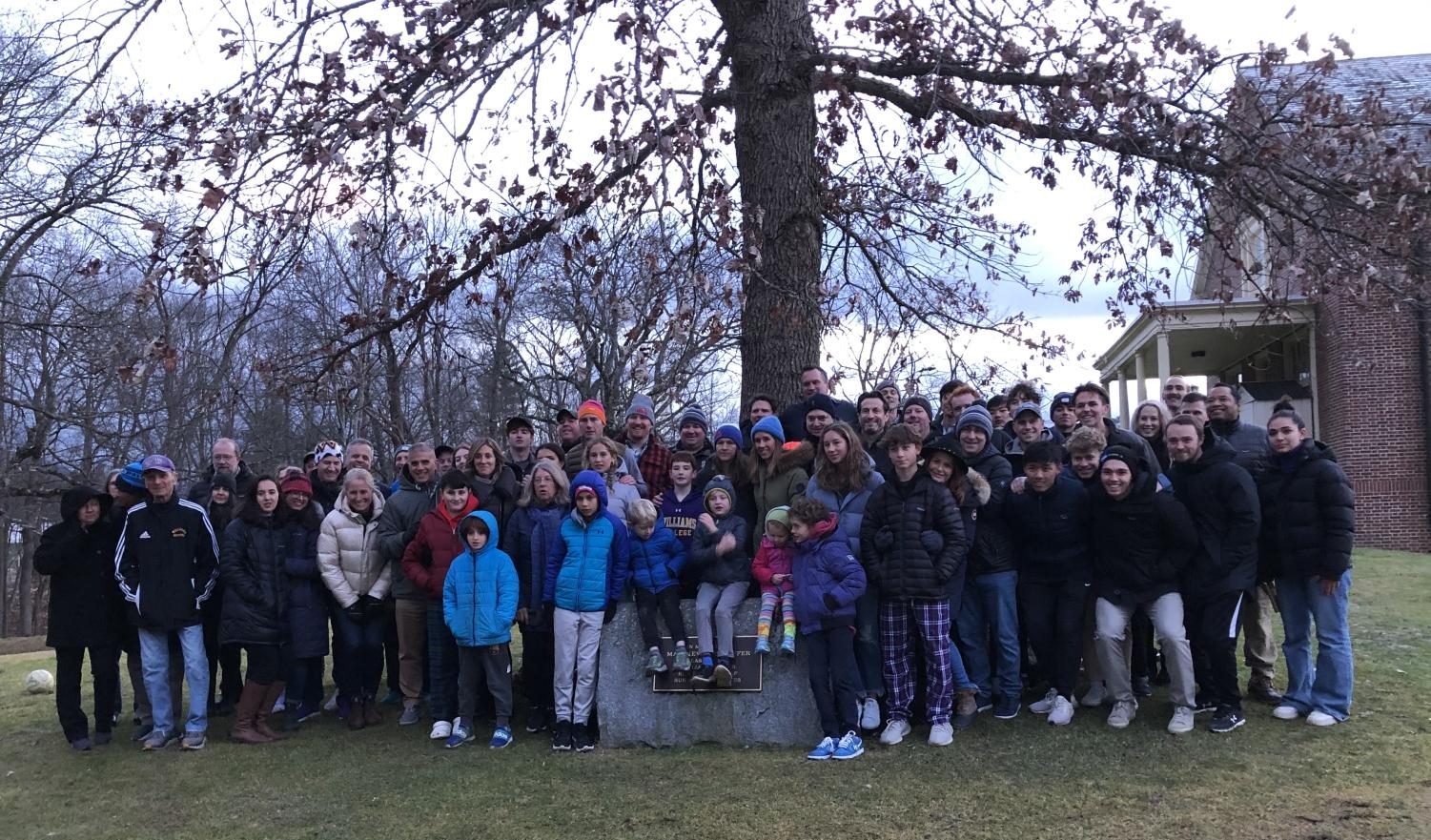 Perched atop the hill next to Cole Field House, the Matt Stauffer Memorial Rock sits under a sprawling tree that is just shedding its last leaves for winter. The commemoration overlooks Cole Field and the snow-capped ridges of the surrounding mountains. The plaque displays the eponymous athlete's mantra — "Run for yourself / Run for your mates" — and memorializes the enduring spirit of Matt Stauffer '96, a senior tri-captain of the men's soccer team. Stauffer died on Jan. 10, 1998 at Boston's Dana Farber Cancer Institute after a three-year battle with leukemia. Since then, his friends and family have gathered annually at the Rock to share stories, sustaining his legacy.
On Jan. 10, 2023, the group gathered once again at the Rock to remember and honor Stauffer's life, marking the 25th consecutive year that the group has reconnected. Many of them traveled hours to attend what some participants described as a "homecoming" to the College. The 71 people in attendance at this year's ceremony included people from all walks of life, united by the presence of Stauffer's legacy in their lives: his family, including his mother Julie Stauffer and his two sisters Emily Stauffer Keenan and Hannah Stauffer Kolkin '05; his former teammates and classmates; current and former players from the men's soccer team; and his oncologist Dr. Orion Howard. 
"Every year when I come back, I get to see who and what Matt might have been through his teammates and his friends," Julie Stauffer said. "We all come back to remember him. He just has a legacy and an essence that just lives on here at Williams. The event has this expansiveness that is pretty incredible." 
"The anniversary of my brother's death obviously brings a haze of sadness every year — I miss him so much," Keenan said. "But this weekend is such a gift, and being able to be with this extended family of people who knew and loved my brother, and have such wonderful stories and sentiments to share, has allowed my family to turn this otherwise sad anniversary into something really joyful."
In addition to being a senior tri-captain, Stauffer was a two-time Academic All-NESCAC selection and an All-NESCAC midfielder in soccer in 1994. He is remembered by former teammates not only for being one of the "fittest" players in program history, but also for his encompassing leadership and character on and off the field. His former teammates attributed their win of the 1995 NCAA Title, the first in program history, to Matt's inspiring example and unwavering support for the team. 
At a memorial ceremony on Sept. 13, 1998, the Matt Stauffer Memorial Rock was placed, the memorial tree was planted, and Stauffer's number — No. 10 — was permanently retired from men's soccer at the College; his home and away jerseys are commemorated in the men's soccer room at Cole Field House. The Matthew Stauffer Award was also created out of a memorial gift given by the Stauffer family. According to Erin Sullivan '96, a teammate of Matt's and former head coach of the men's soccer team, the award is now awarded to a member of the men's soccer team who exemplifies Matt's character, personality, selflessness, and spirit. 
"A hike is not just about the summit and the view — it's also about the shared toil," he said. "Our team believed in the idea of shared toil, and Matt epitomized that more than anyone: he trained at the highest level, and he wanted the other team to be dog-tired trying to catch up. He had a five-minute mile, and he earned it… Matt was a lot of the success of our team in terms of fitness, but also in character."
Many of the 71 people who attended his memorial ceremony this year had never met Stauffer. In its 25th iteration, the memorial is now intergenerational; children of Stauffer's sisters Hannah and Emily know "Uncle Matt" through the remembrance and celebrations of his life throughout the year. Current and recently graduated members of the men's soccer team also attend the memorial yearly to hear about Matt's legacy, which they described as central to the program. 
"Usually, the memorial features Matt's classmates and my sister and me more, but this year was about people carrying it forward and talking about what [Matt's legacy] meant," Kolkin said. "It was actually one of the most emotional years for me because it's moving forward and onward — and that's wonderful for the world."
For Sullivan, gathering with former teammates and classmates to share stories of Stauffer's "inclusive nature and joyous character" is crucial to maintaining the longevity of his legacy. "There was a dignity and a grace in the way he handled his illness that made him selfless until the last — he was dying of leukemia, but he still asked us about our siblings," he said.
"There's people in the group who are now at different stages in their lives — All-American in the business world, or focused on their families — but it's a real watershed moment to come back and celebrate Matt's life, what he stood for, and all the lives he touched," he continued. "This event helps us remember him, and is evidence to me that his legacy is still alive at Williams."
Steffen Seibert, the head coach of the men's varsity soccer team, said that he has prioritized Stauffer's legacy since his initial involvement with the men's soccer program at the College. "When I arrived at Williams, I got in touch with Coach [Mike] Russo and Coach Sullivan to learn more about the program, and the first thing that came up was learning about Matt Stauffer and what he means to the team, to the program, and to the school."
"We want to make sure we keep that tradition, and we still meet as a team every week before games to talk about what matters into the program and how we can incorporate Matt's legacy in our day-to-day training and our day-to-day life," Seibert continued. "It's quite an important part of our program and how we believe things should be done."
Seibert also drew parallels to this year's men's soccer season, which saw the team's second appearance in the NCAA Title Game since Stauffer's teammates won the only title in program history. "One of the alums had actually been following our run to the tournament, and he wrote a really nice email — watching them reminded him of what Matt stood for, and everybody working for each other and working incredibly hard and sticking together," he said. According to Seibert, reading the email to the team before the Elite Eight playoff game at Kenyon was a moment of reflection that helped power the team's tightly contested 1-0 victory over Kenyon, which sent the Ephs to the Final Four.
For Kolkin, the continued presence of current men's soccer players at the ceremony demonstrated how Matt's legacy has transcended the program. "Hearing Coach Steffen Seibert talk about the team and seeing some of the former guys tear up and seeing the feeling that they had — what awesome modern masculinity and commitment to one another," she said. "That was one of the coolest, most powerful parts of this year."
"My brother was so caring and willing to tell you how much he cared about you and how much he loved you, which I think wasn't that common back in the 90s — and that's a testament to my mom — but I feel like these guys are having that," she continued.
The ceremony was punctuated with a moment of silence and tearful hugs. Members of the group affirmed that they would continue the night at the annual dinner and cocktail hour, and that they would also return to the ceremony at the Rock "for the next 25 years." Keenan highlighted the community that Matt's legacy continues to uphold. "To be able to be tethered to a group of people like this for 25 years is very special — there's not that many opportunities in life to have that," she said. "Especially having lost a brother, to have all my brother's friends in my life, 25 years later, means so much to my sister and I."