A look back in the archives: Students celebrate Asian American Awareness Month at the College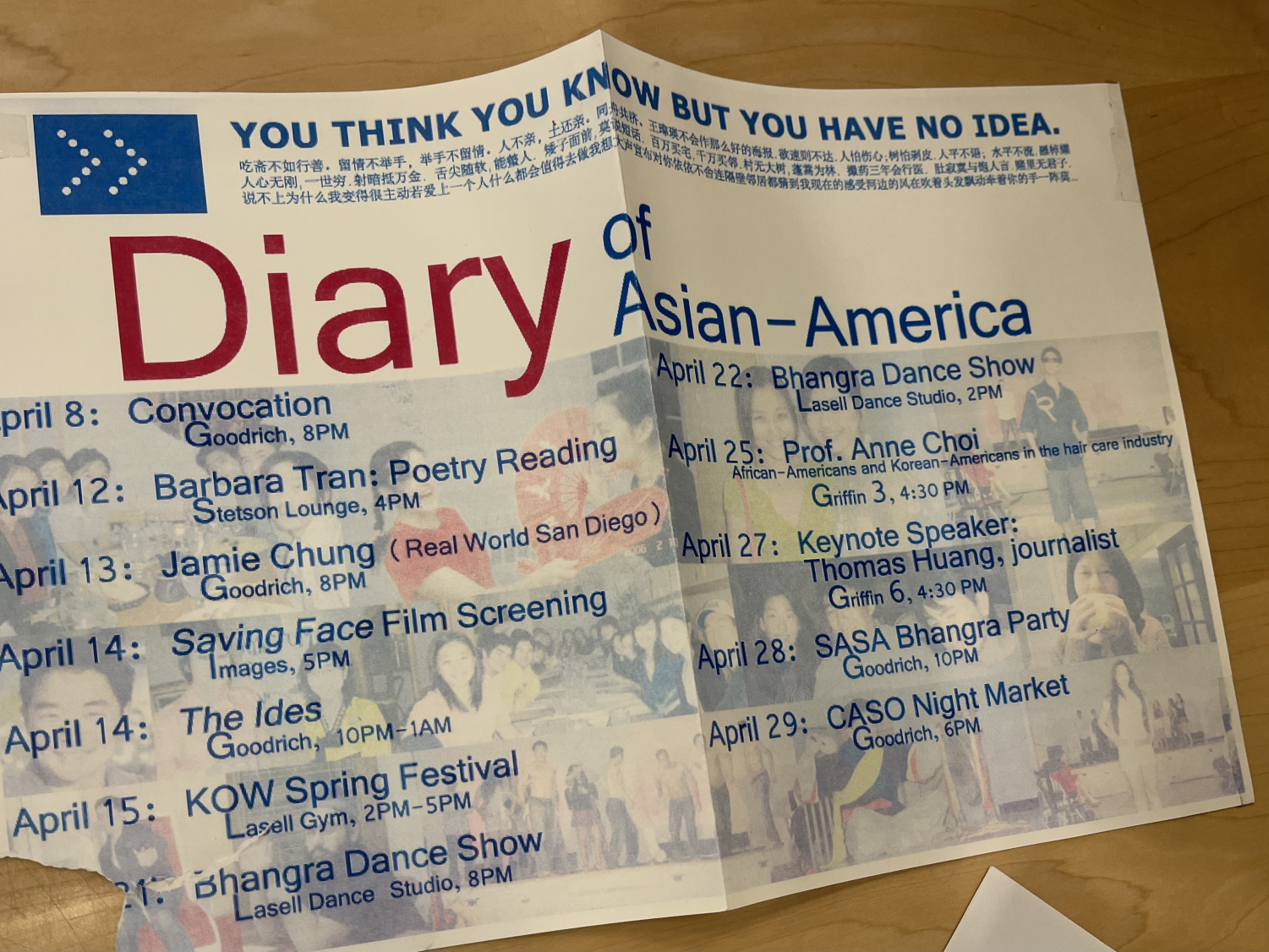 Beginning in 1991, Asian American Students in Action (AASiA) coordinated Asian American Awareness Month programming, which featured various speakers and cultural events. Originally, the events took place in November, before being switched to April and May to better align with the federally recognized Asian American and Pacific Islander Heritage Month in May. 
Bowen Chung '93 and Harry Yoon '93, two of the main organizers for the event's inaugural year, worked through AASiA and in collaboration with other Asian student groups. "It was really focused around educating people about ourselves and what it means to be Asian American," Chung recalled in an interview with the Record. "We put together a really nice series of events around Asian American issues that were not Asian, per se."
According to a 1991 Record article, the initial Asian American Awareness Month featured a book-signing by author Gish Jen for her novel Typical American, a performance by vocalist Subhasish Mukherjee, a Chinese dumpling party, and a performance from comedian Margaret Cho. Both Chung and Yoon highlighted Cho's performance as a key event.
"It was definitely one of the highlights of the month for me, not only to know that this kind of event was possible, but that the community would be interested in something like this," Yoon said. "It was really encouraging for us to keep going as a result of the success of that."
Chung and Yoon were inspired to organize the event after taking an Asian American history class with Professor of History Emeritus Scott Wong during Wong's first year at the College. "I think that [class] is what drove it," Chung said. "When I came to Williams, I had been reading a lot of stuff about Asian American history and identity and thought about it in a very different way." Wong worked with the students to organize Asian American Awareness Month events by personally connecting them with the speakers and performers.
"We were really focused on education, outreach, and exposing ourselves and other people to this history in very different ways, through talks, entertainment, comedy, film, and drama. My thought was that you kind of have to win hearts and minds," Chung said. 
"If you make it kind of interesting, maybe this is kind of a different way of engaging people to support these things," Chung continued, referencing how the Asian American studies movement was more about education than activism. 
"We thought having events that touched on both awareness and entertainment would get people to understand some of the issues that we were talking about, as well as [encourage people to] participate in the academic discourse," Yoon said. According to Yoon, the organizers took inspiration from inter-collegiate Asian American student conferences and Asian American film festivals when planning the programming.
Yoon also directed the play FOB (Fresh off the Boat) by David Henry Hwang for the 1991 Asian American Awareness Month, which Yoon says was the first Asian American play at the College. "As these characters came alive, [the actors] realized that they were giving voice to aspects of themselves that they had never shared with others, let alone in an audience full of people," Yoon recalled. "I feel like it was a transformative experience for all of us," he said, noting that this experience encouraged him to seriously pursue the arts and become a film editor. The following year, the College's Asian Theater Project (ATP) was founded, producing its first campus production — a series of short, comedic plays — during the 1993 Asian American Awareness Month. The organization continued producing a play each spring for Asian American Awareness Month throughout its existence in the early 2000s.
In following years, the month of programming began to have yearly themes, such as "Reorientation" in 1996, "Generasians" in 1998, "The Emerging Face of Asian America" in 2000, "Break Out" in 2003, and "Where are you really from?" in 2005. 
In 1997, the events for Asian American Awareness Month featured several student speakers who talked about race at the College, their own personal identities, and events of national importance (including the 1992 Los Angeles riots in response to the police killing of Rodney King). Students from the Chinese American Student Organization (CASO), South Asian Students Association (SASA), and Koreans of Williams (KOW) updated students on their upcoming activities, and Medha Kirtane '00 performed a classical Indian dance.
Throughout the early 2000s, the Asian American Awareness Month programming frequently encouraged students to think about identity. In April 2000, the Record published a two-page spread covering identity in collaboration with AASiA, which noted that it sought to engage with questions of identity "in a world where cultural boundaries are becoming blurred." The spread also reported on events hosted by AASiA for the month and highlighted national events related to Asian American experiences. 
AASiA's programming varied each year. According to a promotional flyer, 2003's Asian American Awareness Month featured a film festival put on by SASA, a spoken word showcase, and a CASO game and sushi night, among other events. In 2005, AASiA hosted a Korean dinner, showcased Mahesh Dattani's play On a Muggy Night in Mumbai produced by ATP, and hosted a mahjong tournament in Goodrich. 
While Asian American Awareness Month is no longer held at the College for reasons that the alums interviewed were not aware of, its programming created the foundation for the MinCo funding process, Chung said, leaving a lasting legacy for future minority groups. 
The programming Chung and Yoon initiated in November of 1991 was born out of deep enthusiasm for bringing Asian American history to the fore. "We just wanted to get something done," Chung said. "We just wanted to do something."