One in Two Thousand: Vania Gautam '26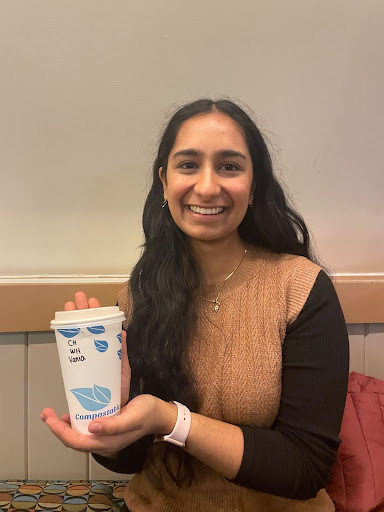 Each week, the Record (using a script in R) randomly selects a student at the College for our One in Two Thousand feature, excluding current Record board members. This week, Vania Gautam '26 discussed the annual Reindog Parade, Leading Minds, and the band Weston Estate. This interview has been edited for length and clarity.
Izzy Polanco (IP): Could you just start off by telling me what you're thinking about majoring in?
Vania Gautam (VG): Okay. I'm a first-year, and I'm thinking about majoring in econ and stats. 
IP: Very Williams of you. [Laughs.] 
VG: I know, right? [Laughs.] Really fitting in for that. I'm taking ECON 110 with [Associate Professor of Economics] Owen Thompson right now, and I really like it — he's actually my academic advisor, too. And with stats, I'm doing STAT 161 with [Assistant] Professor [of Statistics Anna] Plantinga, and I love her, too. I really think both of those classes tie in with my interests, so I'm looking forward to potentially majoring in those. 
IP: That's so good to hear. So, what have been the highlights of freshman fall so far?
VG: My gosh. [Laughs.] Definitely meeting my friends. Two of them are right here [in Goodrich] — shout out to them. Making our group and just getting the chance to meet a bunch of new people. Also joining different clubs — I'm a part of SASA [South Asian Student Association], [which] has been really great — and meeting so many people that have a similar identity and background to me.
But even classes have been so fun — getting the chance to learn from professors who are so knowledgeable in different fields has been such a great thing.
IP: You are from Massachusetts, right?
VG: I'm from Hopkinton, which is a small town. It's actually where the Boston Marathon starts — so we're exactly 26.2 miles away from Boston.
IP: That's so cool. Are you finding the idea of the Purple Bubble to be true?
VG: Yes, I definitely think so. I grew up in a very suburban town, too, so I felt that bubble within my own town at home. But definitely coming here, [I also feel it] just because there's really no physical way of getting out of the bubble. But it's also kind of nice, because I feel like it gives us the chance to really focus on what Williams has to offer. You don't really have anything outside of the campus, so we're spending a lot of time with the people within the campus and all the opportunities within our little bubble.
IP: What's your favorite thing that Williams has to offer? Do you have a favorite spot on campus?
VG: Oh my gosh, yes. [Gestures toward friends.] We're big fans of the Zilkha Center, especially the little living room area. It's just so fun getting work done there, and it's so cozy. It kind of reminds me of my living room at home. So it's really fun.
IP: We're in Goodrich right now. Do you have a favorite order that you've fine-tuned this fall?
VG: I always get my chai latte and an everything bagel with plain cream cheese — every single time. But if they don't have chai — because sometimes that happens — I go for the golden latte, because that just reminds me of a really similar drink that my mom made for me when I was younger. 
IP: Favorite Spring Street establishment?
VG: Oh my gosh, Spring Street Market. The Green Machine [sandwich]? I love that.
IP: Is there anything about Williams that you didn't expect but are enjoying?
VG: I didn't think I would like having the weird breaks in my schedule, because in high school, I was really used to having classes start in the morning and then going until two or whenever. But now there are times where I have an hour or two hours in between [classes] — but that's actually so nice. I like having a little bit of a break, and then that's the perfect time to meet with friends or do a quick assignment.
IP: Do you have a favorite weird Williams tradition?
VG: I actually missed Homecoming, so that was really upsetting. I had to go home for the weekend. So I wasn't here for that weird Williams tradition. Oh! I also really liked the dog parade last weekend.
IP: Tell me more about that.
VG: So, my friends and I were at Spring Street Market — I was eating my Green Machine, as one does. And the dog parade started passing by, and we were so excited seeing everyone from the Williams community who doesn't necessarily attend the school. 
IP: Which first-year orientation activity did you do? 
VG: Oh, I did Leading Minds, and I loved it. I'm a big Leading Minds fan. When I was looking at [the choices for orientation groups], I knew I really wanted to stay on campus. I also just thought it was a great way to meet a bigger group of people, which I personally really liked. There was a smaller group of five or six of us, and we also had the opportunity to interact with about 40 people. I feel like that was really nice, especially in the beginning of the year, just to have a few different faces that you recognize, be able to build off of that, and make new friends. Even now, some of my closest friends are from Leading Minds. And all of my group leaders were just so great. I still see them all the time around campus and love talking.
IP: Could you see yourself leading Leading Minds, so to speak?
VG: I would love to. I think I just had such a great experience, and my leaders were so amazing. I would love to carry that on and maybe be that person for someone else.
IP: Okay, so Spotify Wrapped just came out. You may have heard we're having Spring Fling this year for the first time in a really long time. If you could bring in any artist to campus for Spring Fling, who would you bring in?
VG: Okay, so there's this new band that I've been obsessed with — they're called Weston Estate. They're from North Carolina. They're kind of small right now, but I really love them. They were in [the Netflix series] Never Have I Ever. I just really like their music. It's kind of like chill pop, which is definitely my vibe.
IP: Okay, and for our last question — what do you want the people of Williams to know about you? Is there anything that I didn't ask about that you want to mention?
VG: I feel like I would want people of Williams to know that I just have really been enjoying my time here. And it's just been so great meeting a bunch of different people, and I love talking to anyone — you know, reach out and grab a meal, I'm so down.