Inside Williamstown's Tuesday Night Rides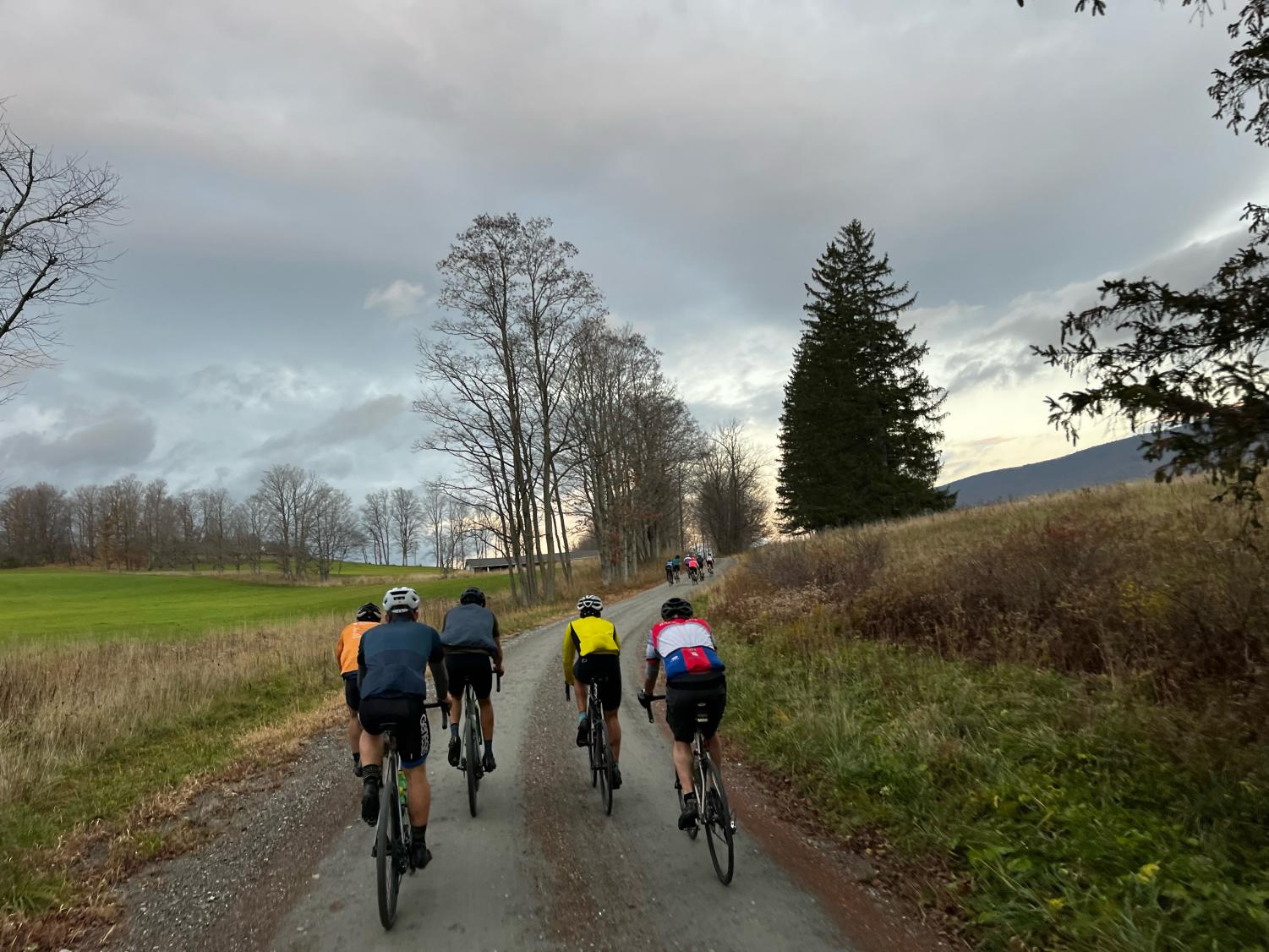 A group of about 65 Williamstown cyclists can count on an email every Tuesday morning from March to November promising an adventure that afternoon. Departing from Tunnel City Coffee at 4:30 p.m., the Tuesday Night Ride — also known as "The Cafe Ride" and "The Tunnel City Ride" — has brought together a hodgepodge group of Williamstown residents, students, and faculty for the last 16 years, with a one-year hiatus in 2020 because of the COVID-19 pandemic.
Professor of Philosophy Joe Cruz '91 and J. Craig Robertson, a local contractor, started the ride as an opportunity for their group of cycling friends to train for races together. "The idea was that we would ride in a friendly way," Cruz said. "The overarching theme is friendship, but the micro-themes, the micro-emotions inside, are competition and see[ing] how much you can make your friends hurt… We wanted the idea to feel welcoming, but you also had to know that we were going to go hard every Tuesday."
The weekly meeting between friends has grown into a staple for local cyclists. "By the end of the first year, there were four or five of us that were pretty dedicated and turned out," Robertson said. Now, the ride sees a rotating cast of four to 16 participants each week, more than either of the founders envisioned.
"We were just riding this wave of friendship and doing something together," Cruz said. "I don't know if I had expectations, but I remember it being really important to me that it kept going and now I'm just like, 'I can't believe this thing is still happening.'"
The Tuesday Night Ride has grown over the years through word of mouth to include cyclists from every corner of Williamstown and the surrounding area, ranging in age from high schoolers to 60-year-olds. However, the group leaders acknowledge a lack of diversity that exists in the sport of cycling more broadly and hope to continue bringing new riders into the fold each year. "We're still thrilled when there are two or three women who come on the ride, and we'd love for [the lack of diversity in the group] to change," Cruz said.
The community formed by the Tuesday Night Ride brings cyclists back week after week. "It's a very fun way to meet people," said Artie Carpenter '25, an avid cyclist and occasional Tuesday Night Ride participant. "[It's] the only ritual that I take part in to be part of the greater [Town] community… It's great because the common denominator is just a general love of biking."
Biking together brings unique opportunities for the group to get to know one another in an informal setting. On quiet roads, riders bunch together side-by-side for long stretches of conversation. "Those are times when you're riding in a group where you're next to a person in a way that enables you to have a conversation with them and be part of their lives and hear their stories," Cruz said.
"It's really fun to see a different side of people," said Ben Kargère '24, who has consistently attended Tuesday Night Rides for the last two years.
Cruz, who had Kargère as a student, agreed that the relationships built on the saddle are different from those in the classroom. "[The Tuesday Night Ride has] been huge for getting to know students in a [different] way," he said. "I know [Kargère] super differently from just riding next to him, and I hope he knows me super differently than just [as] his professor. I hope he counts me as somebody whom he can count on."
The group nature of the Tuesday Night Ride unifies cyclists in what is typically a solitary sport. "The majority of [the time I've spent biking] has been by myself, as a solo pursuit, but this is about the social gathering aspect," Carpenter said. "Every time I go, I meet someone new. I cross paths with someone else."
After their rides, the group will often get drinks or dinner together. "You go home filled with a sense of camaraderie," Cruz said.
The sense of community built by the Tuesday Night Ride is matched by the sense of wonder at the local surroundings. "The roads are spectacular," Robertson said. "The number of times Joe and I have pulled up next to each other riding — 20 times — and said, 'Do you think it's any better than this in France? Any better than this in Spain?' And we're like, 'No.' This is absolutely as good as it gets anywhere."
The variety of roads spanning the local area have prompted Robertson and Cruz to get creative in planning routes. Since the group's creation, the riders have climbed Mount Greylock and cycled over Petersburg Pass and the hairpin turn, but in recent years, they've started to include little-known gravel trails and dirt backroads. Some seasons, the group doesn't repeat a single ride. "[Robertson] thinks through something interesting that we haven't done lately that will show people a part of the landscape, or a town, or a community, or a hillside, or a ridge that maybe you wouldn't intuitively think of as going to ride your bicycle there," Cruz said. "I'm always looking for something that has a story or rhythm to it."
The endless possibilities are part of the thrill of the ride; the cyclists come home with stories of flat tires, backroads with foot-deep mud, and even close encounters with black bears and red-tailed hawks. "You never really know what to expect before you show up," Kargère said.
Though the group is always changing, there's no end in sight for the Tuesday night riders. "There aren't any rules to it, not any expectations," Robertson said. "People just want it to be whatever it is."
Robertson stepped down from his 16-year role as a ride leader this fall because of the time commitment of planning routes and an injury to his collarbone. Still, he is grateful for the community he has found on Tuesday nights. "I've enjoyed the riding and the people that were riding with me for such a long time," he said. "It was a very big part of the best part of my life."