Cap & Bells presents Next to Normal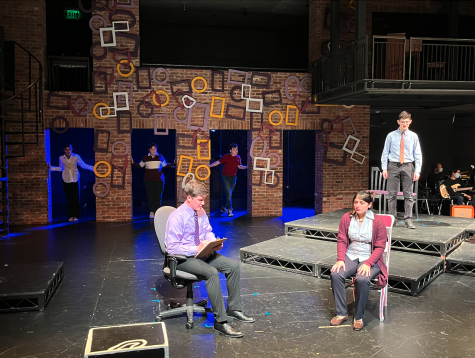 During tech week for Mamma Mia in the fall of 2021, Shoshie Hemley '25 sent a picture in the production's group chat of her watching a bootleg recording of the musical Next to Normal. Sari Klainberg '25 saw the message and was immediately inspired. "I got really interested in the show and was listening to it nonstop," Klainberg said. She would go on to direct the production a little over a year later.
This is the humble origin story for Cap & Bells' latest showing, Next to Normal. The rock-musical follows a mother with a worsening case of bipolar disorder and details the effects of her mental illness on her immediate family. Beginning in September, the production team, composed entirely of students, designed sets and costumes, arranged music, and rehearsed tirelessly for their sold-out three-night run at the '62 Center for Theatre and Dance last weekend.
Doing so was no simple feat. When Klainberg proposed Next to Normal to the Cap & Bells board in August, she was aware of the difficulties the show posed. "It's a really hard musical, and the topic matter is really intense," she said. The 39-track soundtrack is both musically challenging and includes a variety of potentially triggering content.
"I was not willing to do the show if we weren't going to do it justice, because a lot of the themes can affect a lot of people involved and not involved," Klainberg said. "I could not let there be any chance that it was going to be done in a harmful way… There was never a moment where we wanted someone to be acting mentally ill or act like they had bipolar disorder."
Eddie Wolfson '23 is a psychology major and dramaturg for the show — a literary editor on the staff of a theatre who consults with authors and edits texts. Before actors started rehearsals, Wolfson gave a presentation where they defined psychological terms mentioned in the script, examined the accuracies and inaccuracies in the script's portrayal of mental illness, and discussed how to best portray each character in the musical.
"For example, with mania, one symptom can be talking very quickly," Wolfson explained. "My advice was, if you are deciding a character is manic in this moment, that is a symptom you can draw upon to accurately portray what might actually happen, without the need to play a very vague idea of being mentally ill — because that's when I think you fall into stereotypes and inaccuracies."
The production team also brought in members of the Office of Accessible Education to discuss how the show could be best staged to handle triggering material — such as moving more sensitive scenes closer to the back of the stage to avoid making the audience uncomfortable. 
Hemley, who played Natalie, a perfectionist daughter who struggles with substance abuse and her own mental health, said that despite its challenging qualities, the subject matter is what made the show so poignant for its audience — especially for students at the College, many of whom are also overachievers like her character. "So many people relate to this show," she said. "I think this is the perfect show for Williams."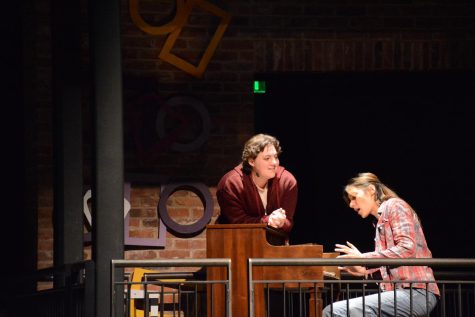 When audiences entered CenterStage, the 150-seat studio theatre at the '62 Center, they were presented with a curated set — funky chairs, furniture with signature curvy linework, and dozens of irregularly shaped frames lining the wall, all painted in the same hues of lilac, mustard, and black. These elements were the work of Scene & Props Designers Jane Su '26 and Peyton Beeli '23, who drew up plans and held meetings with Klainberg to make their off-kilter vision —  which evoked the phrase "next to normal" — come to life.
The costumes, which were styled to match the evolution of each character throughout the plot, were the work of Hemley and Tali Natter '23, who developed mood boards and worked with Klainberg to flesh out their visions for each character. 
"It was so great that Shoshie helped with [costume design], because she was in the room for all of those conversations as an actor," Klainberg said, describing how Hemley brought an added insight as a performer as well as a contributor backstage.
For Beeli and Hemley, the production process for Next to Normal was especially hectic, as it overlapped with other Cap & Bells production schedules. Beeli is also working on the set and props for She Kills Monsters, which opens on Thursday, and as treasurer of Cap & Bells, Hemley is responsible for purchasing all necessary materials for the upcoming show. "It's a lot of juggling a lot of things at once," Hemley said. "That's the theatre life here."
After many months of work, Klainberg was pleased to hear that the show struck a chord with the audience. "People are sending me Yik Yaks that say, 'Oh my gosh, the show meant something!'" she said. "It has meant so much to me, and I'm glad it can mean something to others, too." 
Editor's note: Record editors Quinn Casey '25 and Tali Natter '23  were involved in the production of Next to Normal but were not involved in the writing or editing of this article.