The Artist Otherwise Known As: Visual artist and athlete Kristen Chou '23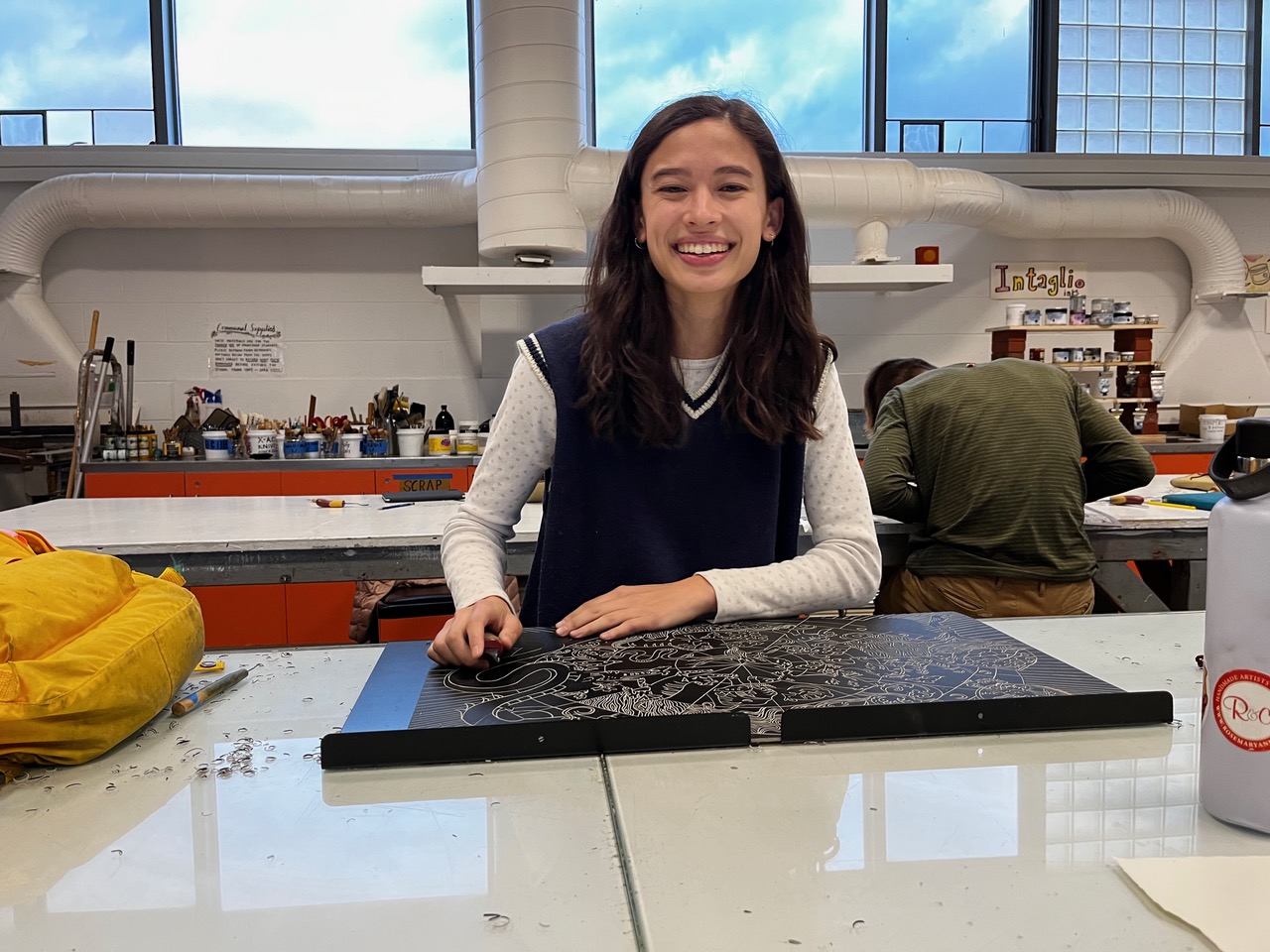 Artist and athlete Kristen Chou '23 began making art at age 12, when her grandfather got her a box set of acrylic paints. In middle school, Chou joined her first art club. "I was a shy little introvert at that point, and art club was the place where I could talk to my friends," she said. "It was like a reprieve for me."
Chou continued painting and drawing in high school and took AP Studio Art during her senior year. "That's when I really found my love for painting," she said. To this day, oil painting remains her favorite medium. 
But it wasn't until Chou's first year at the College that she entertained art as a major and career. 
"Throughout high school, I was pushed in the STEM direction," she said. "I really tried my best to be good at math and science, but it just wasn't in the cards for me. When I [came to the College], I was still trying to convince myself that STEM was the best option for me." 
Chou continued pursuing STEM her first year at the College and was considering a major in biology. 
"When I first came in," she said, "I was still trying to convince myself that STEM was the best option but I just really suffered through [BIO 101]." 
In addition to an introductory biology class, Chou also took "Drawing I" with Visiting Assistant Professor of Art Frank Jackson during her first year at the College. Jackson's teaching proved crucial in persuading Chou to eventually double major in studio art and psychology. 
"Jackson was just an incredible and supportive professor, " Chou said. "It's funny because [my art journey has] come full circle, because Jackson is teaching my senior seminar next semester."
Chou said one of her favorite parts of majoring in art at the College is  the variety of classes. "[The studio art major] really pushes you to explore mediums outside of what you're really comfortable with," she said. She has taken traditional drawing and painting classes, as well as video ecologies and digital photography. 
This semester, Chou is taking a print-making class titled "What a Relief!" Printmaking has become a new and surprising way for Chou to express herself.
"The professor [explained the title] as being like, 'What a relief I found something that I can just lose myself in and lose track of time doing,'" she said. "That's exactly how I feel about it. I'll go [into the studio] and spend like three hours carving into my [linoleum] block and forget to eat or drink. But at the end I come out and I'm like, 'Oh my God, I needed that.'"
Chou also said she loves the community aspect of the studio art major. "One thing I love about my junior seminar class is how I'll go [to the studio] the night before a project is due and everyone will be there playing music and popping into each other's spaces," she said.
One night in particular stands out for Chou. "My friend and I decided to collaborate on a piece, [and] we spent four hours straight cutting up pieces of cardboard because the art supplies had just come in," she said. "We ended up making this big cardboard structure out of glue, and I threaded my string lights throughout it. It was just so much fun. I feel like that community aspect is what makes art so fun." 
In addition to working in the visual arts, Chou is a member of the women's track and field team, where she competes in the 200-meter, 400-meter, and the long jump. She said that having access to such a collaborative and tight-knit art community motivates her as she juggles track,  art, and her second major in  psychology. 
"Track takes up a good portion of my life," Chou said. "We practice six days a week and lift three days a week, and I'm always sort of exhausted from that. It's definitely been a struggle."
Although there are few other studio art majors on the track team, Chou said that she finds her art and athleticism combine in fun and surprising ways. For instance, Chou designs t-shirts for the track team every year. 
Chou said her many communities at the College — studio art and track among them — inspire her art. "Something in general that I really like about being an artist is that I can express the genuine connections I have to other people and how important they are to me," she said. "I think that art is also a way for me to express the love and care I have for other people in my life. I always give away my art to my friends and family." 
Currently, Chou is working on a series of portraits for her junior seminar class (Chou studied abroad last semester in Florence, and is therefore taking her junior seminar the fall of her senior year), all of which depict people at rest and emphasize intimacy, connection, and care. Chou viewed this project as an artistic manifestation of her interest in psychology. "I feel like my study of psychology has influenced the way I think about people and relationships, which in turn influences my art," Chou said. 
In the future, Chou hopes to continue finding interesting and unique intersections between her many talents and to pursue an art-related career. 
 "I'm a psychology major, but I don't know if I see myself doing psychology research for the rest of my life. I'm hoping to do something design-related, like graphic design."
Regardless of the career path she chooses, however, Chou remains certain that she will continue making art and using it as a means to connect with the people around her. 
"There are prints from middle school hanging up in my aunt's house and my sister has some of my paintings in California. My grandparents have a picture of my grandpa's sailboat in their house in Florida. So it's sort of like I'm everywhere."