Williams Shop damaged over Homecoming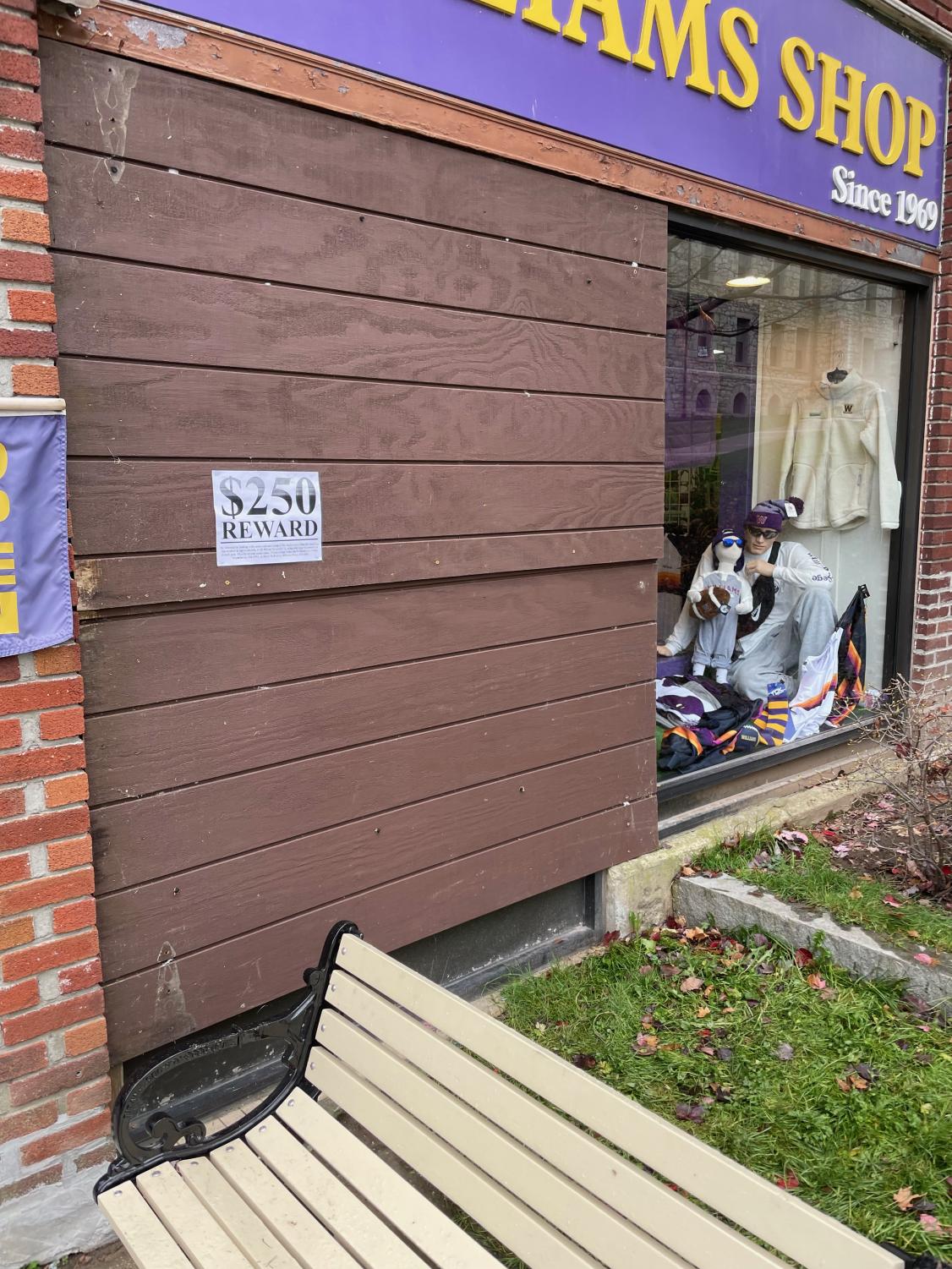 A window of the Williams Shop storefront was broken shortly after 11 p.m. on Nov. 12. Located at 15 Spring St., the Williams Shop — commonly known as "Goff's" among students — opened as normal on Sunday, and owner Bruce Goff '83 boarded up the damaged window with removable shed doors.
According to Goff, who also owns the apartments above the store, one of his tenants notified him of the damage around 11:20 p.m. on Saturday. "I was in bed and got a phone call saying my front window was shattered," he said. "[My tenant] said there was a loud crash, somebody told him that the window had been broken, and he called me."
Before arriving at the store, Goff called the Williamstown Police Department (WPD) so that they could file a police report and ensure that no one had broken into the store. Officers arrived on the scene at 11:28 p.m., according to WPD logs obtained by the Record.
Officers remained at the scene for approximately 30 minutes, during which they opened an investigation. "We arrived on scene and spoke with people that were in the area, as well as Campus Safety [Services (CSS)] and the proprietor," Interim Police Chief Michael Ziemba wrote in an email to the Record. "We are working with Campus Safety to attempt to identify any suspects at this time."
While CSS was present during the WPD's initial investigation, Director of CSS Eric Sullivan said that the investigation is under the purview of the WPD, since Goff's is owned privately, not by the College.
Goff said that he remained on site until 1:30 a.m. and boarded up the broken window. "It's happened before, [and] it's going to happen again," Goff said, noting that a window is broken approximately every five years. "I'm getting good at boarding up my windows. Those are my shed doors from my house that cover the glass," he said.
On the shed doors, Goff posted a notice offering a $250 reward "for information leading to the arrest and conviction of the vandal responsible" for the incident. "Hopefully this is just somebody who was intoxicated, and hopefully it's just an accident, and they realize their mistake," Goff said. "[If] they come to me and say, 'I'm sorry, this shouldn't have happened, I did it — I'll take care of the damages,' that would be great."
Goff noted that if someone came forward, apologized, and offered to cover the repair costs, he would have no desire to pursue the incident further with the WPD. "I can't ask for more than that," he said, though he added that, based on past experiences, he does not expect someone to admit to this incident.
The sign posted to Goff's boarded-up window notes that the incident may have been the result of a "modified Airsoft gun," though no pellet, bullet, or other object that could have been thrown through the window has been found.
This article was updated at 11:36 a.m. on Nov. 17 to include Bruce Goff's class year.