New faculty find community and make themselves known at Log Trivia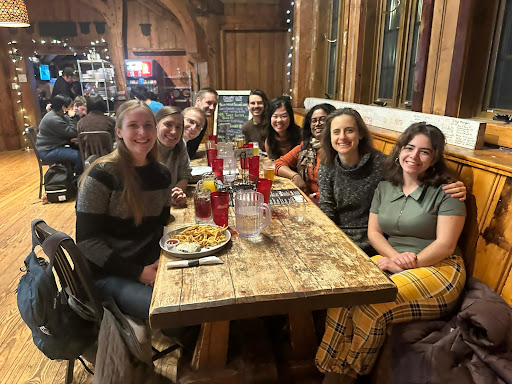 Attendees of Thursday night trivia at the Log by Ramunto's on Spring Street might have noticed a new team on the scene. Recognizable by their distinctive team names — they add a dollar sign to a different member's name every week — as well as their enthusiasm, the College's newest faculty are here to win. 
This year, new faculty hires have gathered at Log Trivia to build community and acclimate to life at the College, in addition to attending College-hosted events for new faculty. The Record spoke to three new faculty members about their transitions and how they have found community, both formally and informally. 
For faculty new to the College, the transition can be challenging. "I had never been exposed to a liberal arts college prior to arriving at Williams," Visiting Assistant Professor of Psychology Cynthia Guo said. "I was more used to the big university type of environments, so coming here is a big change." 
To address this, the College offers a new faculty orientation each year to help new hires adjust to life in Williamstown, as well as "First3," a program that brings together faculty hired in the last three years for meals and to learn more about the College and one another. "[First3] is a great way to learn more about different resources on campus and to get a chance to share our common experiences," Assistant Professor of French Preea Leelah wrote in an email to the Record. 
"It is actively helpful toward retention of faculty to have programs like First3," Visiting Lecturer in Geosciences Ana Gonzalez-Nayeck said, reflecting on her experience with the program. "If there is a question about whether [First3] is actually helping build community amongst new faculty, it is. So keep it up, Williams." 
But formal gatherings only go so far. That's why, when Guo's husband found out about Log Trivia and encouraged her to do it, Guo thought of her friends from faculty orientation. "I was like, 'But who are we going to do this with?'" Guo recalled. "I basically texted everybody I met during orientation."
"The first trivia was really relaxing and fun, and I think we all enjoyed just getting together after work and decompressing in good company," Leelah added. After the first trivia night together, she invited more people to join the next week. Since then, the group has grown from around five faculty at the first session to a weekly team of roughly eight to twelve regulars. 
Downtime during trivia nights provides time to form friendships with faculty across departments. "You get to know where people are from and what their backgrounds are," Guo said. The trivia contests have cultivated a community that extends beyond Thursday nights — new faculty have planned trips to New York, attended the Hopkins Forest Fall Festival together, and discussed seeing films at Images as a group. 
But trivia nights are what helped form the group's identity. "It's really just a really nice environment, because, just like the students, we are also a little competitive," Gonzalez-Nayeck said. "We're having a lot of fun."
The team has certainly fostered some friendly competition. "What the Eph," another faculty team that regularly attends trivia, has become their spirited adversary. "I would like to, on the record, say … to members of 'What the Eph': Whenever you see a name with a dollar sign in it, that is your rival," said Gonzalez-Nayeck. 
That's not empty talk. The new faculty team has won two of their recent trivia nights, and it's gotten them noticed. "[The team] thought it was really silly and exciting that people are calling us the new faculty trivia team," Gonzalez-Nayeck said. "We didn't know that people knew that we were a thing."
Notoriety isn't what they were looking for, though. The group's members have appreciated the time to get to know each other better and bond each Thursday night. "I enjoy the laughter and spending time in a relaxed atmosphere with new colleagues," Leelah wrote. "I think it is also a way for us to share in our common experience as new faculty at Williams."