The Artist Otherwise Known As: Dancer and choreographer Delilah Delgado '25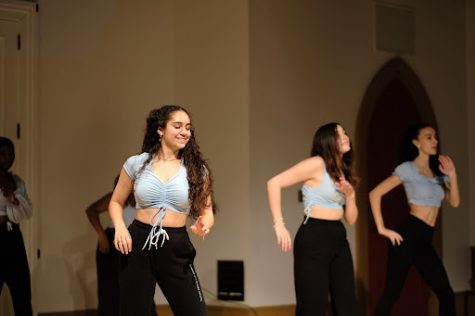 Throughout middle and high school, Delilah Delgado '25 acted and danced — but her participation in high school dance and drama classes, several modern dance summer intensives, and various theatre productions provide only a glimpse into her extensive arts background. 
Since coming to the College, Delgado has participated in many Cap & Bells shows as both a performer and choreographer, including Mamma Mia (ensemble); You're a Good Man, Charlie Brown (choreographer); Rosencrantz & Guildenstern Are Dead (Hamlet); Biophilia (ensemble); and Fun Home (Joan). 
Last Winter Study, she choreographed Charlie Brown and is currently choreographing Next to Normal, which will be performed on Dec. 1-3. 
In addition to participating in Cap & Bells productions, Delgado has also been an active member of the dance community at the College. This year, a group of students revived the Student Choreography Coalition, a dance choreography group, with Delgado serving as its secretary. She is also choreographing two dance pieces for the club, which will be performed on Nov. 12. Another dance group she participates in is Ritmo, which choreographs and performs dances from the Afro-Latinx and Latinx diasporas. She is serving as the group's costume designer for the semester. 
Delgado also holds a work-study job in the costume shop in the '62 Center for Theatre and Dance, where she mostly steams, irons, and labels costumes for various shows and groups like Jenny's Doll Hospital, Theater: A Love Story, Sankofa, and Zambezi. "I didn't realize how much work the costume shop does to set up a dressing room for a '62 Center performance until I started helping with it," she said. "I also do a lot of seam ripping, and I've been learning how to sew some more as well."
For Delgado, her experience with Cap & Bells shows has been one of inclusivity, inspiration, and discovery, and she has particularly enjoyed learning from upperclass students. "One of the most influential experiences was Fun Home, because it was a show that consisted mostly of upperclass [students] in terms of actors and the director," she said. "They were incredibly talented and knowledgeable people. They had amazing artistic crafts that they brought to rehearsal every day. I am really grateful for that experience, to have the chance to learn from people who had been doing this for a while."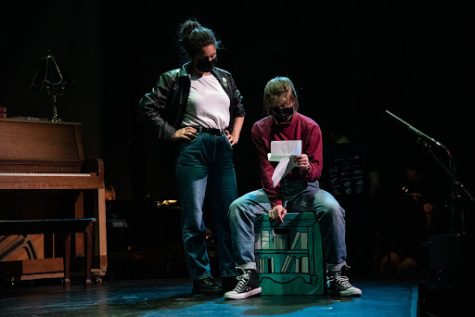 Her love of theatre emerged in part from her summers spent at the Shakespeare Festival at the Old Globe in her hometown of San Diego. Every summer from the age of 10, Delgado attended the festivals with her mother, and her experiences with Shakespeare became influential factors in her artistic growth. "I think that the fact that I grew up really loving Shakespeare has definitely influenced me as a performer," Delgado said. "Some of the first plays I remember seeing as a child were Shakespeare comedies, and I can really recall falling in love with the way those actors could take such complicated blocks of text and make them seem so human and natural. As I've gotten older, obviously, I've developed a more nuanced view on Shakespeare's work, but I constantly remain so in love with the language." 
The summer before her senior year of high school, Delgado participated in a Shakespeare summer program at the Old Globe called "The Pam Farr Summer Shakespeare Studio," where high school students performed a production of Romeo and Juliet. Then, as a senior, Delgado won the National English Speaking Union Shakespeare Competition. She performed a monologue from Shakespeare's "As You Like It" and a sonnet at each level of the competition. "I am so grateful for the experience, because it connected me with so many incredibly talented performers from all across the U.S.," she said. "I got the opportunity to receive feedback from some really wonderful judges at each level that truly helped me think about the choices I was making as a performer and how I could better connect with the text."
Before starting dance, Delgado was a competitive jump roper at the national and world level for eight years. "That movement vocabulary was really a big part of why I loved dance so much when I started," she said. "It helped me move into dance and choreography from a physical standpoint." Delgado's relationship with dance was further impacted by growing up in a household filled with music and having ethnomusicologist parents. "Even though I myself am not super actively involved in music right now, I feel like that background has really assisted me in dance," she said. "It's helped me become comfortable with finding the musicality that lies in any movement, as well as [with] creating choreo to specific pieces of music and teasing out all the little beats and motifs I hope to emphasize through dance."  
One of her most influential dance experiences was with her high school dance teacher. "Her program really emphasized the idea that everyone had their own unique artistic perspective to offer and that everyone's original creations and contributions were valuable," she said. Delgado discovered her love of choreography through her teacher, as she was given many opportunities to choreograph and work with her fellow classmates. "Going through high school in an environment where I had to state the meaning behind dance as I create really inspired me to look deeper into why I am incorporating this specific movement and how I hope it's going to be received by the dancers and the audience members," she said. 
Delgado said that she views dance and choreography as a collaborative process in which she can contribute her own creativity and acknowledge others' creative contributions. "In the end, it's my movement that I end up creating for the dancers to perform," she said. "But I'm doing so in constant dialogue with them — both in terms of actual verbal communication about the movement and how it feels for them, but also in terms of the choreography that I see best resonating with them physically and stylistically as I learn more about the way they naturally move." 
As a prospective women's, gender, and sexuality studies  and art history major, Delgado said she hopes to go into a career that involves the arts — specifically theatre and dance — and strives for diversity and equity in the art community as well as representation of marginalized artists and creators. "I really hope to pursue a career that will allow me to elevate those voices and works of art — whether that is in visual art through a more art history path or through performing arts," she said. Her two jobs this past summer, one working in the development department of the Timken Museum of Art in San Diego and the other at the Old Globe, where she interned as a directing assistant, showed Delgado that she wants to pursue a career in making and displaying art.
At the College, Delgado said she feels grateful for the opportunities that she has had to grow in artistic confidence, especially in singing. Apart from performing in two musicals in high school, she never considered herself a singer before coming to the College. "I really wanted to do musicals, so I tried to get past my fear of singing on stage," Delgado said.
She pointed to her recent performance in student-written musical Jenny's Doll Hospital as a work that grew her confidence. "The fact that I got to sing in that musical and that I was so encouraged by the music director and all the other people in the cast was really inspiring," she said. 
Delgado hopes to direct a show in her time at the College. She said that her current and future involvement in theatre and dance wouldn't be the same without arts teachers and upperclass students in the arts. "It was inspiring to be in shows and ensembles with incredibly talented upperclassmen, who were such insightful and encouraging leaders," Delgado said. "I also really appreciate the opportunities I've had at Williams to learn about the cultural histories behind certain dance practices through my time with Ritmo, as well as dance department classes."