Basketball fifth-years reflect on taking time off, leadership, and team culture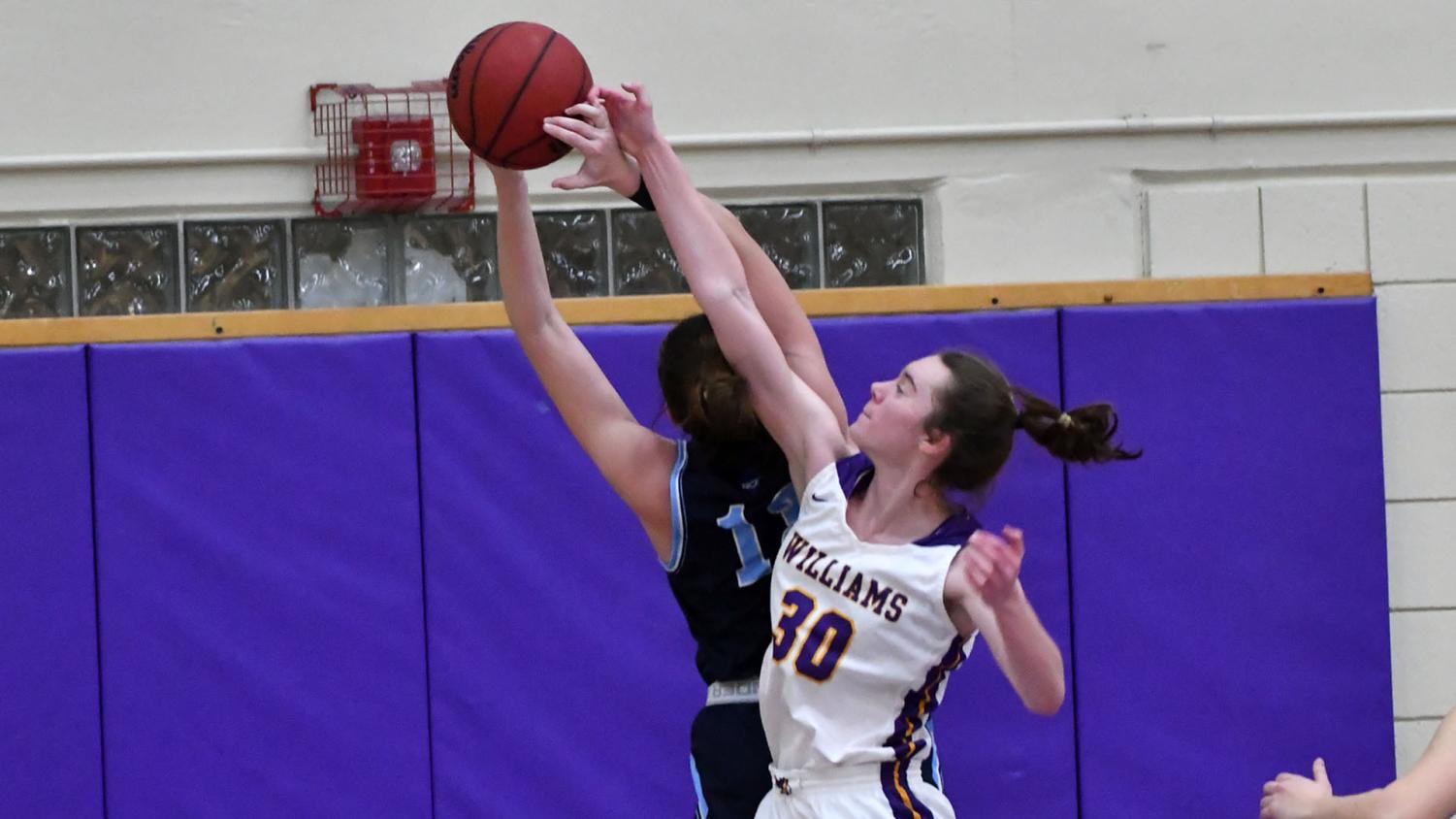 The COVID-19 pandemic caused a complete shutdown of college athletic competition during 2020, leading many student-athletes to contemplate whether they should take time off rather than sacrifice a collegiate season. Due to the College's requirement that students be enrolled in classes to be eligible to participate in athletics, Williams athletes faced a more weighty decision than students at some other schools. While life at the College was overwhelmed with mask mandates, social distancing, and quarantine protocols, many Williams student-athletes decided to take time off to maximize their college athletic careers, creating a substantial class of "fifth-years" — students who take time off to ensure they get to play four seasons.
Even as the College has relaxed many of its initial COVID restrictions, some student-athletes who took time off during the early pandemic are still enrolled. Fifth-years on the men's and women's basketball teams spoke to the Record about how they have been navigating leadership and their status as the oldest players on the team.
Spencer Spivy '22.5 took time off in spring 2021. In Spivy's view, taking time off during the pandemic was an unplanned break from the stress of balancing academic and athletic pursuits. "COVID came at a good time mentally," he said. "It's not typical to get a break from the stress of being a student-athlete, and the time off allowed me to focus more time and energy towards my basketball goals."
On the men's team, Spivy said he thinks the age difference between the older players and first-years will be an advantage this season. In Spivy's view, the combined skill sets of fifth-years, players who remained on the team during COVID, and first-years will complement each other this season. "The merging of class years after COVID has actually helped even out the natural hierarchy you tend to see in sports," he said.
According to Spivy, the older players have placed an emphasis on leading by example. "The younger players bring a fire to the team that comes with being new to college basketball, and the older players have more of a calm, steady hand," he said.
Women's basketball player Maddy Mandyck '22.5 similarly said she decided to take time off to avoid further remote school- ing and losing a season of basketball. "I had heard from friends that being on campus wasn't that fun, and I really wanted another season of basketball," she said. While COVID presented its own challenges, both Spivy and Mandyck said that their time off instilled a new appreciation for their sport.
For Mia Holtze '22.5, basketball was not the driving factor in her decision to take time off. Holtze did not want to be on campus but taking classes remotely, and taking a semester off allowed her to explore other passions, such as working as an EMT. Holtze returned from her semester off excited to play basketball again. However, her excitement was not just about being able to participate in college basketball, but about the new perspective she gained during her time away from the College. "This time off made me adopt a 'bigger than basketball' mentality," she said. "I realized that it's just as important to focus on the relationships you can make with Williams players during and after college."
Over a year after their time off, all three athletes said that this renewed intensity and love for basketball has stayed with them as they enter their final preseason.
On the women's side, Mandyck and Holtze have sought to improve team culture by emphasizing this "bigger than basketball" mentality. The approach allows them to play with gratitude for their sport, as well as an understanding that basketball provides an opportunity to foster lifelong friendships with their teammates, they said.
"[We] all buy into the same goal, which includes working hard all the time, on and off the court," Holtze said.
Mandyck said her choice to take time off re-established her love and passion for basketball and helped her further develop as a player — lessons that she can now enter her final season with and share with her team. "The time off allowed us to be stronger, more developed players and think about how we wanted to lead this team," she said. "We're already starting to see the success of that on and off the court."