With 15 songs and many guest appearances, Luv 4 Rent is the third studio album by Smino and was released on Oct. 28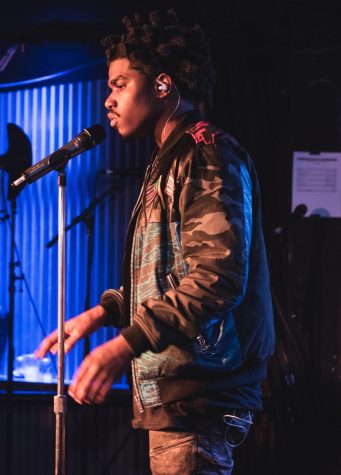 Smino is an artist who refuses to be defined by any one genre. "Don't classify my genre," he once wrote on Twitter. "i am the genre." 
Smino's third studio album, Luv 4 Rent, similarly transcends categorization. Luv 4 Rent isn't just rap. It's not just R&B. Instead, it's just Smino. The album is a scrap-work quilt of different memories and passions, unified by motifs of self-love and self-acceptance. Luv 4 Rent's slightly scattered vibe can lead to confusion on the first — and potentially second or third — listen. But it eventually becomes clear that Smino has created an extraordinarily cohesive and compelling album despite, or perhaps because of, his apparent shirking of genres and conventions.
Luv 4 Rent begins with a nostalgic, voicemail-type riff, reminiscent of Frank Ocean's signature sound on tracks like "Nikes" or "Good Guy." This intro might give first-time listeners a false sense of security about what the rest of the album will sound like, but Smino immediately throws any expectations out the window with "No L's." This track breaks out of the morose vibe set by the intro, utilizing the beat from R&B singer Monica's "Knock Knock" to underscore Smino's beautiful vocal layering. Smino furthers the vibe set by this beat with some of the album's most playful lyrics and catchy hooks. The song truly sets the tone for the rest of Luv 4 Rent, letting you know that you can expect the same refined beats and complex vocals that have elevated Smino's work since his first album.
Luv 4 Rent's next track, "90 Proof (with J. Cole)," featuring J. Cole, continues to meet the expectations set by "No L's." This piece embodies the self-love that Smino preaches throughout the album. His warm vocals, underscored by a subdued yet vibrant bass, emanate happiness and satisfaction. As icing on the cake, J. Cole's unique voice and effortless flow fit perfectly with Smino's style, though Cole's performance on this song might be a bit underwhelming for hardcore fans expecting the typical excellence displayed in his other features. This track took me a few listens to enjoy — especially because it was originally released as a single — but it fits perfectly in the context of this album. Listening to "90 Proof" as a part of Luv 4 Rent instead of as a single will give you a completely new appreciation for its unique tone and style. The discrepancy in my enjoyment of "90 Proof" as a single versus as a part of Luv 4 Rent brings me to a critical point: To appreciate this album fully, you have to listen to it as a cohesive whole. Every track flows flawlessly into the next, and although each song has a different vibe than the last, none of them feel out of place.
The standout piece on this album is "Pro Freak (with Doechii, Fatman Scoop)." This song instantly sets the tone with a punchy beat, giving the listener an early hint of the vibe it is trying to evoke. After giving the beat a few seconds to breathe, Smino enters the first verse with a unique vocal distortion and impressive flow. Just when you think you have a good sense of what's coming next, Smino's signature harmonies burst in and take the song to an entirely new level. Despite Smino giving an incredible performance, Doechii manages to top it. She gives a forceful yet effortless delivery of some of the smoothest lyrics on the whole album, emanating the confidence and self love which Luv 4 Rent is attempting to portray. This feature easily convinced me that I had to give Doechii's solo music a listen. My only criticism for "Pro Freak" is that the beat switch that ends it evokes an entirely different feeling than the rest of the piece. But to be fair, I've been late to fall in love with way too many jarring BROCKHAMPTON beat switches, so I could still change my mind about this switch-up. Still, if you're only going to listen to one song off of Luv 4 Rent, this is the one to play.
This album is strongest at the beginning, with the last few tracks losing some of the extreme variation in tone that made the first half so exciting. But overall, Luv 4 Rent completely exceeded my expectations. The album is a culmination of the self-love and genre transcendence that Smino has embodied since the beginning of his career. While his previous work definitely took steps in defining this new space, Luv 4 Rent takes what made Smino's previous albums unique and adds even more of his signature sound. In an attempt at giving a concrete rating, I'll say that I downloaded 10/15 of the songs on Luv 4 Rent. In other words, 10 songs from this album will be in my daily rotation from now on, which is probably the biggest indicator I can give for how much I loved Luv 4 Rent.