Everything Beautiful Here: A student-written tale explores sisterhood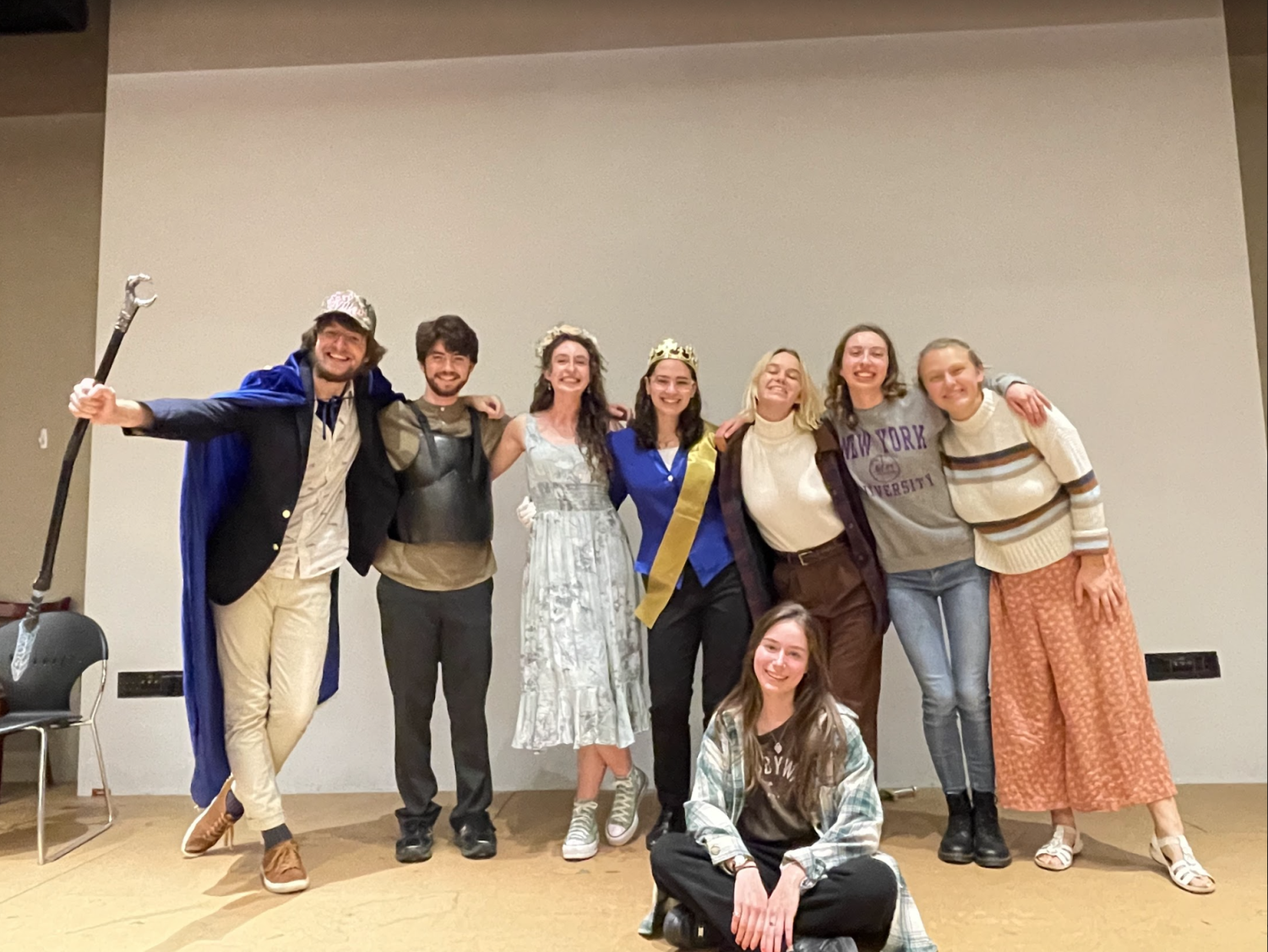 This past weekend, Cap & Bells staged a play about two sisters, and their journey experiencing love, sadness, and hope. Written by Jessica Jiang '25 and co-directed alongside Sophia Rothman I '25, Everything Beautiful Here can be best described as a love letter to sisters everywhere and an insight into the sacredness of sisterhood — a play that portrays the impact of domestic abuse on sisters Sam and Nat. 
The very beginnings of Everything Beautiful Here can be traced back to this past spring semester, when Jiang began writing her first play. She was motivated by Cap & Bells' April production of Biophilia, a work written by Vassar student Ella Talerico and co-directed by Rothman and Ryan Crants '24. "That was really inspiring," Jiang said of Cap & Bells' production of Biophilia. "If a student-written play can be put on by Cap & Bells and the student was from Vassar, I'm like, 'Why can't a Williams play be put on at Williams?'" Although Biophilia was what pushed her to start writing, Jiang already had the subject of her piece — her sisters — in mind. "I was really missing my sisters, because they were really fun to hang out with," Jiang said. "No one understands our family trauma as much as them, because they went through it with me." Biophilia also led her to Rothman.  
 Both Jiang and Rothman were part of the production of Biophilia, with Jiang working the lights and Rothman co-directing along with Crants. Jiang said that she found her future director by observing Rothman and Crants. "I was talking with [Rothman], and then Ryan came, and I just saw them talk with each other," Jiang said. "I'm like, 'That is a perfect director duo, and if I wrote a play, I would want them to direct it.'" 
Jiang initially approached Rothman to direct Everything Beautiful Here and asked her to find a new co-director because Crants was abroad. With Rothman's encouragement, however, Jiang got involved in the directing process, in addition to writing. "I feel like it's good to have [the playwright] on board in some capacity," Rothman said.With Jiang and Rothman as directors, production of Everything Beautiful Here began. Tiffany Felix '25 composed the play's music and wrote two love songs, "My Baby" and "Fairytale," which were sung by Lucy Cumming '25.  Both songs demonstrate the importance of the relationship between the characters Olivia (Lucy Cumming) and an adult  Sam (Olivia Johnson '26). One of the play's many key themes is how Sam, the protagonist, overcomes her internalized homophobia and accepts herself, allowing her to give and accept love without shame. 
Felix worked closely with Cumming to provide guidance on any questions that might arise about the music, including learning a new instrument — the ukulele. "I made sure that the ukulele part was simple enough for someone who hadn't learned it before," Felix said. "[Cummings] had a couple of weeks to learn it, and she did really well." 
Though Cap & Bells agreed to put Jiang's play on after she submitted it for consideration, the production process happened faster than the cast and crew anticipated. Due to these time limitations, one unexpected development for Everything Beautiful Here was the decision to stage it as a reading using scripts onstage, instead of a full production as Rothman and Jiang originally envisioned. 
Although actors read from scripts, the format did not take away from the impact of the play's dialogue and themes. Jiang made sure there was still action on stage. "If there was no movement, if there was no coming in and out of worlds, [the play] would not work," Jiang said. "I was really happy with the way it [turned out], and the fact that we had to have the actors have the scripts on stage and we worked around [that] really well. I was really proud."
The most important relationship that Jiang wanted the audience to engage with was between the two sisters — Young Sam and Young Nat, played by Arielle Levy '26 and Hilary Malamud '26, respectively. "There were about 20 people whom we called back for Sam and Nat, and this was pretty rough because it was two hours just to find that pair, because they were the most important part of the play," Jiang said. "I'm really excited that we found the perfect Sam and Nat."
Everything Beautiful Here addresses moments of domestic violence, abuse, and the effect these themes have on the two young sisters. The directors' team dynamic and mutual support allowed for a compelling depiction of love in instances of pain. "There was also the question of, how hard do you push in scenes that are heavy? And how hard do you push in scenes that aren't heavy?" Rothman said. "You need [the actors] to understand or try to understand what led up to that scene and the experiences behind it."
"I love the directors [and] I love the writer," Levy said. "It's very cool that [Jiang] wrote the whole script, and Sophia did a really good job of directing and making us better actors without being too harsh,"  she said.The trust that united the Everything Beautiful Here cast was shown in the actors' striking performances depicting moments of heartache and despair around domestic abuse, as well as the joy and hopefulness about what the future has to offer. 
For Jiang, the fact that Everything Beautiful Here was student-written and directed made the show more impactful. "[The play] could be something that Williams students and also my friends can see," she said. "When I imagined the scenes, I imagined Williams students seeing it. That just gave me such a push."