Transfer students reflect on creating community at the College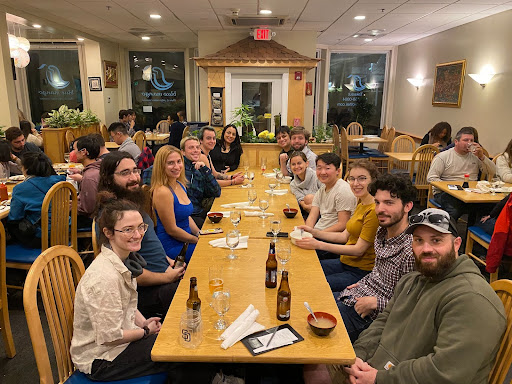 While Jules Gaskin-West '24 attended community college in her hometown of Philadelphia, she had plans to finish her degree somewhere else. "I was always certain that I was going to go to a school like this," she said of Williams. In the fall of 2021, Gaskin-West transferred to the College, entering as a sophomore.
This experience is a common trajectory — from community college to Williams — among transfer students at the College. The Record spoke to four students who transferred last year about their experiences before Williams, their transitions to life at the College, and how they've found community despite their nontraditional college paths.
Though they intended to eventually transfer, many transfer students found their community college experiences and nontraditional academic paths to be valuable ways to better understand what they wanted to get out of their future education. At community college, Levi Hughes '24 realized that he valued small class sizes and the ability to form relationships with his professors.
"I loved community college — it was my playground," Hughes said. "Liberal arts colleges have a similar philosophy [to my community college], where the primary goal is to teach students, not necessarily research or anything else… The primary thing was, I wanted the small classroom space and time with professors."
For Evan Boyle '24, his time at community college and six years working as a bartender allowed him to deliberately consider what he wanted to get out of his education. "I realized I wasn't educated on everything I wanted to be educated on," he said. "It's not just going to school to get a degree — it's very much about the education, and that's one of the reasons why I picked a liberal arts college."
When transfer students arrive, they attend many of the same  programs as incoming first-year students, including EphVentures, the four-day orientation program during First Days. Boyle and Gaskin-West said they appreciated these opportunities to build connections with their student leaders, which became lasting relationships.
Gaskin-West, however, acknowledged that she felt isolated during First Days as a transfer student among first-years. "It felt a bit alienating," she said. "It was very clear that [the College] did not know what to do with us."
Even after orientation, many transfer students found it hard to fully integrate into social life at the College. "You come in your first year, but you're not part of the same freshman cliques that form early on, and when you go to upperclassmen, they already have their cliques from freshman year," Hughes said.
Gaskin-West shared similar sentiments. "I think that a large part of the transfer experience is that you're constantly playing catch-up — at least socially," she said.
For Dania Taki '24, one of the most challenging parts of the move from community college to Williams was the change in living arrangements, switching from independent living to dorm life.
Gaskin-West said that she found it especially difficult to transition from a predominantly Black community college to a predominantly white college where she is the only Black female transfer student. "I didn't know the kind of emotional toll it would take on me," she said. "You can intellectualize those things, but feeling them is different."
Many transfer students said they hope that the College will do more to support them in coming years. Boyle, for example, suggested involving transfer students in the Summer Science Program, a five-week orientation program for incoming first-years. "We're beginning discussions [with the College]," Boyle said. "The idea came from an older transfer student who's done a lot for us."
Despite these challenges, as the College's transfer program has slowly become more robust, a community of transfer students has strengthened thanks to the efforts of student leaders. "We are passionate about the community, and we are trying to do more events," Hughes said. Recently, he helped organize an event for transfer students to meet professors who were also once transfer students, he said.
"There aren't many of us on campus, so [the community] is very special," Taki said. "When I see another transfer student, I am reminded about how hard we all had to work to get here."