The Artist Otherwise Known As: Musician and actor Sara Stebbins '24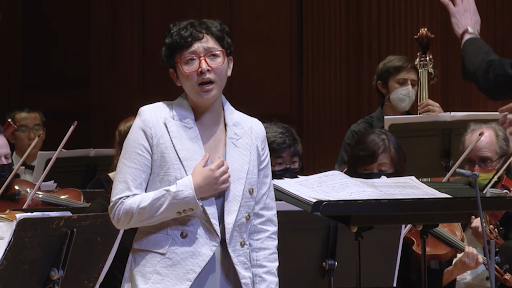 You might recognize Sara Stebbins '24 from their fall 2021 performance as Rosie in Cap & Bells' production of Mamma Mia, their soprano solo in the 2022 Berkshire Symphony Soloist Competition, or as an esteemed member of the College's Guild of Bell Ringers. Now, Stebbins is music-directing Cap & Bells' production of Next to Normal and acting in Cap & Bells' She Kills Monsters after music-directing and performing in the theatre department's production of Jenny's Doll Hospital, for which Stebbins also wrote the music.  
Stebbins said one of the joys of balancing so many performance projects is the ability to bring students' creative ideas to life. "I feel really fulfilled, because a lot of the things I'm doing right now are about helping someone else realize their vision," Stebbins said. "Being asked to write the music for [Jenny's Doll Hospital] and helping bring it to life — it makes me so happy to be entrusted with that sort of thing."
Although Stebbins loves performing, they said they prefer music-directing because it further allows them to show students the full range of their performance capabilities. "Again, like realizing a director's vision for their musical, helping a performer reach a point of comfort and excellence in their own performance is really special to me," they said. 
Stebbins started music-directing their first year of high school as a member of a student-run theatre group and fell in love with coaching singers on technique and supporting fellow students in recognizing the fullness of their range. "Singing is one of those things that's so personal when you're doing it," they said. "In a way, a lot of the job is being emotionally supportive and kind and helping people through that journey." 
They described how they enjoy teaching students how to belt a difficult note and eliminate discomfort around vocal challenges. "A lot of people have ideas of what they can't sing," they said. "They say, 'That's too high for me. That's too low for me.' They feel like they have to make themselves uncomfortable in order to sing the notes. One of my favorite things is working with singers and being like, 'you totally can do this. It exists in your voice and here are some ways you could try it."
Stebbins' desire to help students find comfort in their range has been influenced by their experience as a nonbinary singer. "Being trans has informed my experience [as a music director], because singing spaces are so gendered," they said. "I want to make it as much of an inclusive and non-restrictive space as possible." 
Stebbins said they want to prioritize gender-blind casting, especially in musical productions like Next to Normal, where many of the parts were originally  written for tenor cisgender men. However, they discussed the simultaneous need to ensure each performer is comfortable in their part. 
"[Gender-blind casting] does require a lot of looking at the score and making sure people can sing [their parts]," Stebbins said. "I guess my own experience has made me more aware of that, especially since before I was even out, I was always being cast as the goofy guy. I'd be like, 'Well, this is kind of low for me. Do I take it up the octave?' I always felt like if I had had someone who knew how to deal with that at that time, it would have been good."
Stebbins also described how they have found comfort in the community of queer performers at the College. "I have this community of artists who are queer, whom I love and who are doing incredible work," they said. "That, in itself, is really rewarding."
In order to balance music-directing, playing the roles of a doll named Rosa in Jenny's Doll Hospital and Chuck in She Kills Monsters, weekly rehearsals for Treestyle Improv Comedy, and their academic courses, Stebbins noted the importance of communicating their boundaries. For Stebbins, academics and homework must take priority, so they described how crucial it is to assess their schedule before every project and know exactly what they are capable of contributing. 
Stebbins is an English and music double major. Upon arriving at the College, they said they did not intend to declare either major but were inspired after taking the classes "William Faulkner" in the English department and "Music, Nationalism, and Pop Culture" in the music department. Studying ethnomusicology with Associate Professor of Music Corinna Campbell led them to complete music research this past summer. 
Over the summer, Stebbins worked as Campbell's music research assistant. One task they worked on was helping to create a digital public resource by digitizing CDs of aleke music, a Surinamese-Guyanese maroon music form that has previously not been well-documented online. Despite the slow digitization process, Stebbins said they appreciated the chance to listen to a new style of music., "I also did this [work] so that I could listen to the music and get a better idea of what [Campbell] was actually writing about, because this isn't a musical form that I was necessarily familiar with beforehand," they said.
While researching, they also conducted research for  journal articles and designed activities for the "Music, Nationalism, and Pop Culture" course. Stebbins said helping plan for a class they had previously taken and being exposed to the reality of faculty research was their favorite part of the job. "I am potentially interested in going into academia," they said. "Getting a glimpse of what doing research is actually like will be a pretty important data point once I start making that [career] decision in the future." 
When reflecting on their many projects and performances, Stebbins said they have learned to recognize that being passionate about a performance ensures it will work out. "If I've taken away anything, it's that things come together," they said. "If you put work into it and care about it, it'll happen."