In Williamstown diners, voters talk politics — or avoid them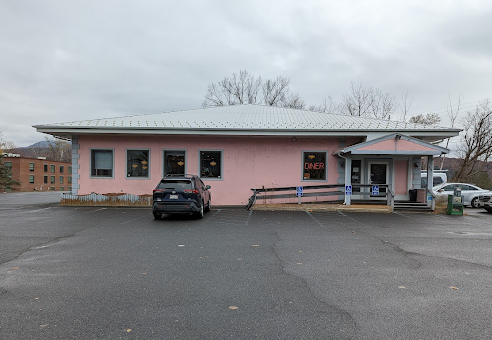 As Election Day approaches on Nov. 8, Americans will head to the polls to decide a slew of national, state, and local races. While most local races affecting Williamstown were all but decided in the Sept. 6 primary, many people I spoke to in Williamstown, both residents and those passing through, plan to vote. Town voters will cast their ballots for 12 races — nine of which are contested — and four ballot referenda. 
I spent a morning with the patrons of the Chef's Hat and the Moonlight Diner & Grille. My conversations with diners revealed a slice of the electorate with widely varying views on the best path forward for the country. 
Jill-Marie, 55, a waitress at the Chef's Hat, said she would be voting mostly for Republicans, save one notable exception: State Representative John Barrett of North Adams. Jill-Marie is familiar with Barrett from his time as mayor of North Adams and said that she trusts him to look out for the area's residents. 
Jill-Marie said she is skeptical of the Democratic Party, in part due to its emphasis on the transition to electric vehicles. "We need a change," she said. "I'm just not sure it's the right time for electric, though. We need to save the Earth, but this isn't the way."
Brian, 72, a retired firefighter from North Adams, has always voted but has not decided on which candidates to back on Election Day. He said he tries to avoid the news. "Politics is trouble," he said. Brian prefers to watch the Boston Bruins more than anything else, he added. 
Albert, 53, stopped at the Moonlight Diner & Grille during a cross-country motorcycling trip from his home in Bend, Ore., to Boston and back. Albert usually votes for Democratic candidates, he said, but is leaning towards Christine Drazan, the Republican candidate for Oregon governor this year — a contest that has been unusually close for a state that has not elected a Republican governor since 1982. 
"Gas prices are too high right now, and Democrats just don't want to acknowledge this," Albert said.
There were some Democrats who plan to vote along party lines, especially those concerned with abortion rights. Padley, 32, a waitress at the Moonlight Diner, said she would be voting a straight Democratic ballot on Tuesday. "I don't talk about it much with friends, but that's just what I always do," said the Adams resident. 
In Williamstown, however, some issues that have dominated national conversation — like abortion and high inflation — have had less impact on local voters. The Massachusetts Supreme Judicial Court recognized a right to abortion in the state constitution, and the state legislature passed comprehensive abortion legislation in 2021. 
Additionally, Professor of Political Science and Chairman of the Williamstown Democratic Town Committee James Mahon said many Williamstown residents were not as affected by rising gas prices because of the Town's relative affluence, especially compared to neighboring towns. 
"They're most worried about the national elections elsewhere — the balance of the House and the Senate — and I think secondarily worried about some of the ballot questions in Massachusetts," Mahon said.
Questions 1 and 4, two contentious ballot proposals in Massachusetts, have become intense partisan conflicts in the state. 
Question 1 proposes a 4-percent income tax on those who earn more than $1 million a year, with revenues to be directed toward transportation and education. Massachusetts currently has a 5-percent flat income tax on all residents, a system that distinguishes it from most states. Question 4 proposes to keep a law that  allows for undocumented immigrants to obtain a driver's license.
Gwyn Chilcoat '24, a student at the College who is registered to vote in Williamstown, said she would be voting "Yes" on both questions after reading local media coverage and has already sent her absentee ballot to the Town Clerk. "I wanted to make sure I got it done," she said. 
Chilcoat said she had researched every race on her ballot, though more for the Sept. 6 primary, because she tends to align with Democratic Party positions, she said. She was especially excited to vote for Massachusetts Attorney General Maura Healey's historic run for governor.
Chilcoat emphasized that, although she grew up in Iowa, she feels fully present as a Town resident. "I served on a jury here," she said. "My driver's license is from here. This is my community."