Anti-Black slur found on chalkboard in Sawyer library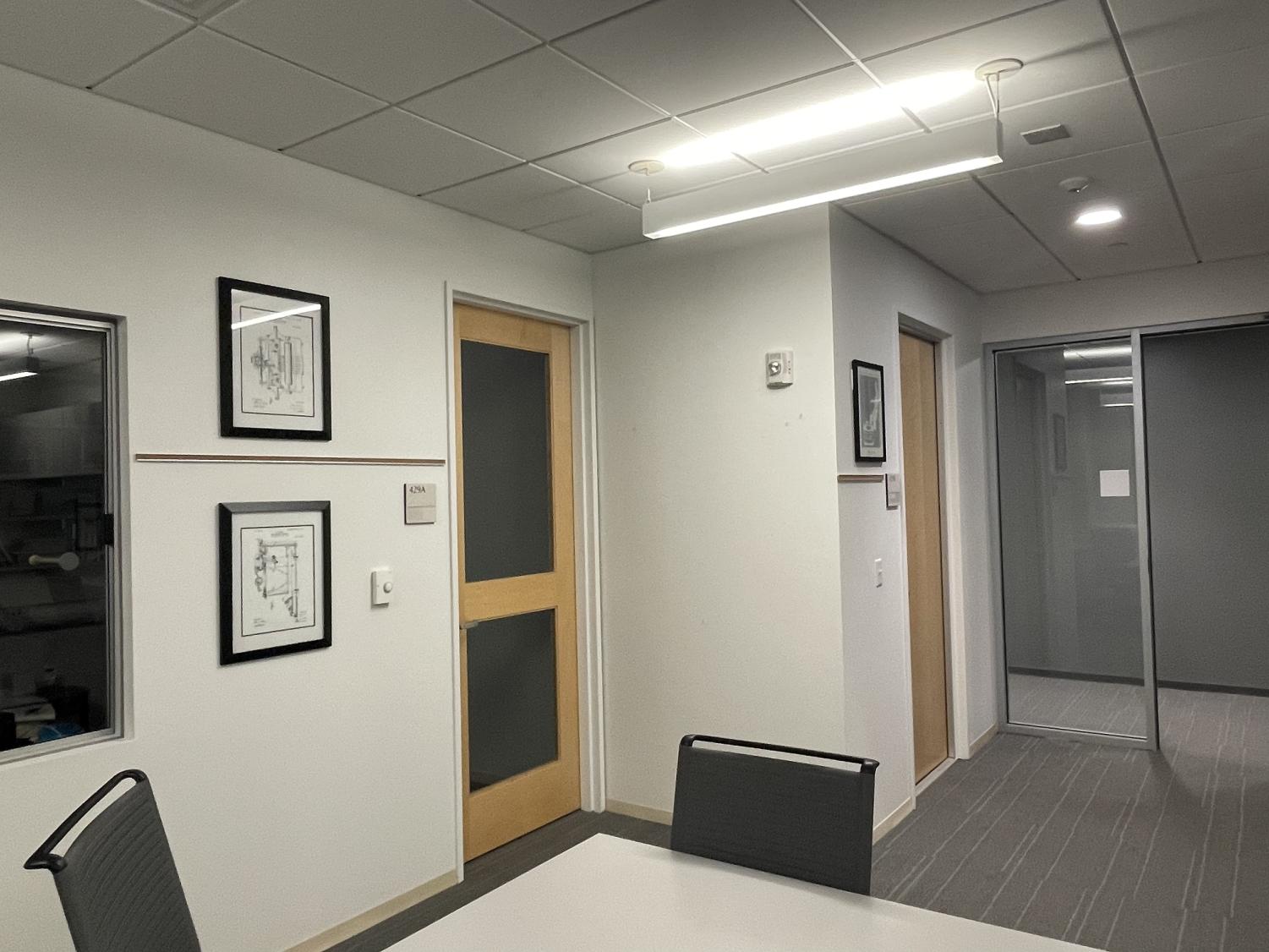 On Oct. 24, Director of the Writing Center Julia Munemo found an anti-Black racial slur scrawled in black marker on a chalkboard in Sawyer 429, the Writing Center's meeting room. "The slur appeared below some writing in chalk — notes from a group study session — and seemed unrelated and in different handwriting," Munemo wrote in an email to the Record.
According to Munemo, some time between the evening of Thursday, Oct. 20, and the following Monday morning, someone wrote the N-word in black marker on the chalkboard in Sawyer 429 — a room that Munemo described as "off the beaten path … down a little trafficked hallway."
Munemo immediately reported the incident to the College and asked Facilities to remove the entire board, since she was unable to fully clean off the defacement. Shortly after discovering the phrase on the chalkboard, Munemo also reached out to student writing tutors who used the meeting room over the weekend and asked if they had noticed the slur, but no students said that they had.
President Maud S. Mandel referenced the incident in an all-campus email on Friday, stating that a College space had been defaced with an anti-Black racial slur in the previous week. This incident comes only weeks after an individual graffitied the Soldiers Monument with a Confederate flag and the word "Rebel," a term often used in reference to white supremacy. "It's unacceptable that twice in such a short period, words and drawings that express white supremacist beliefs were found on our campus," Mandel wrote.
Vice President for Institutional Diversity, Equity, and Inclusion Leticia S.E. Haynes '99 also condemned such attacks as "abhorrent," noting their disproportionate effects on marginalized people. "While such an act impacts all members of the College community, it causes enormous and unparalleled harm to Black people and the Black community," Haynes wrote to the Record.
Haynes said that the Office of Institutional Diversity, Equity, and Inclusion hopes to connect with anyone who has information about the incident. "Whenever matters such as this occur, we will partner with Campus Safety as appropriate or as necessary," Haynes wrote.
According to Dean of the College Gretchen Long, senior administrators have been discussing seeking feedback from the community about how the College can best respond to such incidents in the future.
In her all-campus email, Mandel mentioned her hope to partner with other senior staff members in hosting a session at this year's Claiming Williams Day — an annual event begun by students and now run by the College in response to a series of racist and sexist incidents on campus in 2008.
Some students expressed concern at the way the College publicly responded to the defacement, especially in the wake of previous incidents. "Maud's email did not specify the hate crime, only that there was [a] racial slur written," Nadia Joseph '25 wrote to the Record. "That vagueness and withholding of information was very harmful and left me and many other Black students in shock and fear. Especially in conjunction with the hate crime that involved the defacement of the monument in front of Griffin, campus does not feel safe for Black students."
"Maud's labeling of both of these occurrences as bias incidents is also off-putting, because that's not what they were: They were hate crimes and attacks on Black livelihood on campus," Joseph added. "Part of perpetuating the issue at hand — racism — is teetering around calling it as it is. I would greatly appreciate a more urgent and caring response from the College."
Jackson Small '24 echoed Joseph's sentiment about the effects on marginalized students. "The most recent hate crime on campus has left me feeling extremely unsafe," Small said. "As a Black student, I feel as though I am being told my presence here is not welcome. The fact that this is a repeated pattern is extremely concerning, and the administration should be more aware of this fact."