One in Two Thousand: Simon Huffman-Gottschling '25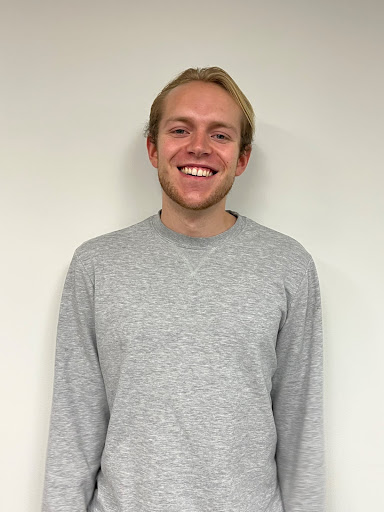 Each week, the Record (using a script in R) randomly selects a student at the College for our One in Two Thousand feature, excluding current Record board members. This week, Simon Huffman-Gottschling '25 discussed living in a flex double, working at Sawyer, and listening to jazz. This interview has been edited for length and clarity.
Bellamy Richardson (BR): Simon, you were my frosh last year in MD4, the best entry ever. What's it like to be a sophomore now?
Simon Huffman-Gottschling (SH): It's definitely different in a lot of ways. It's nice to feel a little more familiar on campus. And I think it's nice to experience fall, especially with less of the, "Oh my god, I'm here for the first time." It's also nice to have more freedom with classes. I feel like this is the one semester where I have most of my divisional requirements done, and I don't have to worry about my major yet, which is not true for next semester. 
But it's also felt like a little bit of a transition too, just because I'm in Horn, which is kind of far from campus. I have friends in Tyler, Greylock, and Dodd Circle, so we're a lot more spread out. You actually have to be a lot more intentional about [seeing friends]. I mean, you're not going to just see them going to Mission dinner and be able to tag along. So I feel like that's been a little bit of an adjustment. But it's also been nice, too, because it's been nice to see friendships that I had last year develop in more meaningful ways.
BR: I know you're living in a flex double with our dear friend Rijul [Jain '25]. How has that been going for you guys?
SH: I am lucky that Rijul is my roommate. Rijul is a very lovely human being. Also, shoutout to Rijul's columns in the Record. He has definitely made it really easy to live in such a tight space, which I'm really grateful for. I moved in first because I led an EphVenture. We had one lofted bed, and we had one bed that was not a bed you could loft, which is just a really bad way of setting it up. But now we have two lofted beds. And I have way too many clothes. 
BR: Me too.
SH: Half of my clothes are in storage, and half of them are stuffed into the dresser. There's definitely less storage space than there was last year in Mission. So it is a physically cramped space, and I can imagine how — if you were [living] with someone who you did not know that well or did not fully get along with — that would make things a little more difficult. But it's been good with [Rijul].
BR: Can you talk about the EphVenture that you led?
SH: Yes, Leading Minds! It's a really intense program, I mean, leading EphVentures, because as a leader, you're trying to create the best experience possible for your frosh and then also make sure that your frosh vibe with each other for the next four days. But I had a really, really good group, and by the end of it we had built a really lovely community. And I still see my frosh. Everyone says hi, which I appreciate.
BR: In terms of other leadership positions that you have here, whenever I walk into Sawyer, I usually see you working at the front desk. What does your job there entail?
SH: We're the folks at the desk who are there for anybody who has any questions. If you're checking a book in or checking a book out, you're gonna come to us. And usually, that also means that we're checking out chargers. Because I work the closing shifts, I feel like most of the time I get way more chargers. You know how you can check out a book online and then it's in the shelf over on the side? There was one time that somebody pulled at least 20 books, so we had to get one of those carts and take it into the stacks and pull all the books down.
BR: Alright, switching gears. When we were next-door neighbors, I heard you listening to jazz a lot. Tell me about that — what jazz musicians do you like?
SH: I played saxophone in high school, so any jazz saxophone is automatically up there. I'm a huge Cannonball Adderley fan. He has this one album that's a cover of Fiddler on the Roof songs. Oh my god, it's really good. Miles Davis — especially those albums where he's collabing with John Coltrane, Cannonball Adderley, Bill Evans, you know, it's fun to hear them all play. And I've been listening to more Bill Evans recently, just because the music is lowkey enough that I can enjoy it but also work to it. 
I haven't recently encountered a lot of new stuff, but I'm trying to get in the habit. I have this app where you can just tune into the radio, and there's a station called WDCB, which is a jazz station out of Chicago that I've been trying to listen to.
BR: If you had to give a recommendation for a jazz album, what would you say?
SH: One would be the Fiddler on the Roof cover by Cannonball Adderley. Miles Davis's Kind of Blue I really enjoy. There's a saxophonist named Houston Person who's got a couple really good albums. Also — sorry, I just keep thinking of them now — Ellis and Branford Marsalis have an album [Loved Ones] that's a series of love songs.
BR: Okay, last question. I know that you have recently gotten into meditation. Can you talk to me about that? What got you into it, and what has that experience been like for you?
SH: I started about a year ago, because I'm someone who chronically overthinks and then feels [bad] about it.
BR: Relatable. 
SH: So, about a year ago, I just started doing a bunch of guided meditations. I'm still doing that and kind of experimenting and trying some other techniques. I started going to [Chair and Associate Professor of English] Bernie [Rhie]'s classes, which he has on Tuesdays, which has actually been really nice because it's more formal instruction. It's nice to get some of that knowledge.