Students write new musical, Jenny's Doll Hospital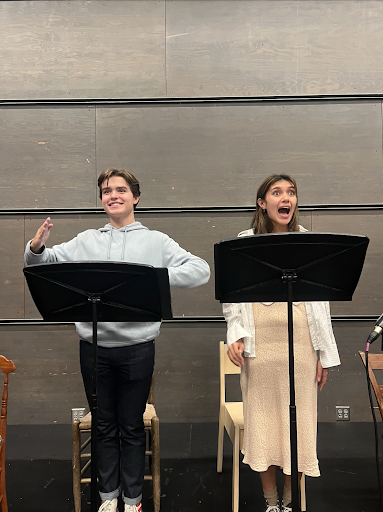 This Friday and Saturday, Kara Hadden '22.5 will bring a staged reading of the first act of her musical Jenny's Doll Hospital to the College as part of her theater honors thesis. Sara Stebbins '24 wrote the music for the production and Maye McPhail '22.5 is directing the stage reading. The musical takes place in both the human and doll world and follows the relationship between humans Jenny (Stella Oh '25) and Jane (Petra Hinds '24), two lesbian women who fall in love and move into a doll hospital – a place where Jane and other humans work to repair broken dolls. Something unexpected happens to Jane, however, leaving Jenny to operate the hospital and repair all of the broken dolls – who are played by everyone else in the cast – herself. The remainder of the musical spotlights the aftermath of this situation, examining queerness, self-sacrifice, and mental illness. 
Hadden's musical has been in the works for over two years. Though Hadden first had the idea when her friend drove past a place in Hopkinton, Massachusetts named Jenny Babystyle Hospital in the summer of 2020, Hadden mainly found inspiration in material from courses across many disciplines that she had taken at the College.
Intimate Friends: Women Who Loved Women, 1778-1928 by Martha Vicinus, which Hadden read as a first-year in Chris Walter's class Queer Europe: Sexuality and Politics since 1850, explores the different ways in which lesbian relationships are configured – which is something that Hadden further explores in her musical. "I wanted to write about a kind of love that is self-effacing and that feels like worship for another person," Hadden said. "[I wanted to examine] whether or not that kind of love is pure love, or something that is life-giving, or if that's just unhealthy, toxic love that can't be sustained." When it came time for Hadden to propose an honors thesis last spring, a musical about broken dolls inspired by the image of Jenny Babystyle Hospital seemed to her to be the perfect vessel through which to explore these ideas.
Hadden wrote the book and lyrics for Jenny's Doll Hospital, while Stebbins '24 worked to bring the themes to life through musical composition. Stebbins said they prioritized writing many of the roles to be gender-blind and able to fit many voice types. They also described how they worked to distinguish the human and doll worlds with different music styles. 
"A lot of the music that the dolls sing is very referential to golden age musical theater — cabaret style, performative music," Stebbins said. "Then a lot of the music that takes place in the Jenny/Jane storyline is closer to indie rock, post-punk. There are also sequences in the show that are inspired by experimental choral music. Playing around with that otherworldly sound and figuring out how all these different aesthetics fit together has been a real treat." 
McPhail said that the musical works to portray queerness as more than the physical attraction between Jenny and Jane. "It's really leaning into the idea of queerness as an aesthetic in a way that feels deeply informed by queer theory, performance studies, and how [the musical] interacts with queerness as a mechanism for moving through the world," she said. "[Queerness is] not just an expression of who you're attracted to." 
Hadden said that she hopes to represent queerness in a way that does not pander to straight audiences. "So many of the queer stories we see look exactly like a straight life, and that can be really suffocating for queer people," she said. "It feels like [these stories are] made for people who aren't queer to digest. I would rather write something that I would like to watch."
Hadden added that Jenny's Doll Hospital depicts the intersection between queerness and mental health, as she was influenced by the history of queer stories ending in suicide. "Writing about queer mental illness feels like a reformulation of a homophobic idea that if you're queer, you're going to be insane or inevitably commit suicide," she said. 
McPhail said she was especially excited to explore the tone and emotional impact of the musical. "The tone of the piece is so interesting to me," she said. "It's very funny — you get to laugh a lot — but it also has these moments of great tragedy and tragic heroism." 
Oh added that the production presents the impact of loss and how understandings of love change as a result. "What does it mean to be in love?" she asked.  "What does it mean to lose your love? There's obsession and grief and attachment."
This weekend's performance of Jenny's Doll Hospital, which Hadden eventually envisions as a fully choreographed, two-act production, will be presented for her thesis as a staged reading of the first act. The presentation of just one act has required the production team to make adjustments in how it approaches the musical. McPhail explained that there are always limitations when directing in more unconventional projects, and that this one is no different. However, she has tried to draw creativity from those limitations and allow them to inform her directing approach rather than constrain it. 
The unconventional nature of this weekend's production – given that it's a staged, one-act reading of Jenny's Doll Hospital – has also required Oh and her fellow actors to adjust their acting approaches. "Because there is no choreography or movement, you're really focused on the words on the page and also the scene," Oh said. She added that in lieu of directed movements and gestures, she has relied much more on the text to convey her character's emotions. Oh also expressed that because she only knows half of the story, fully understanding her character has been much more difficult. To better understand her character,  Oh has had to extrapolate aspects of Jenny's personality from the first act.
After the performances this weekend, Hadden wants to complete a draft of the second act before she graduates and will continue conducting readings to improve the piece. 
McPhail said she encourages audiences to come see the show because of its unique themes. "The subject matter and the tone of the piece itself make it so different from anything we've seen before at Williams in a really incredible way," she said. "It's also an original student musical, which is not something that happens a ton on this campus." 
"It's a fun, engaging, exciting show filled with lots of queerness and love and laughter," Oh added. "Come watch it!" 
Jenny's Doll Hospital is being performed in the Directing Studio at the '62 Center for Theater and Dance on Oct. 28 and 29.
Editor's note: Quinn Casey '25, a social media editor at the Record, is involved in the production of Jenny's Doll Hospital but was not involved in the writing or editing of this article.