College identifies perpetrator of Oct. 9 bias incident, bans them from campus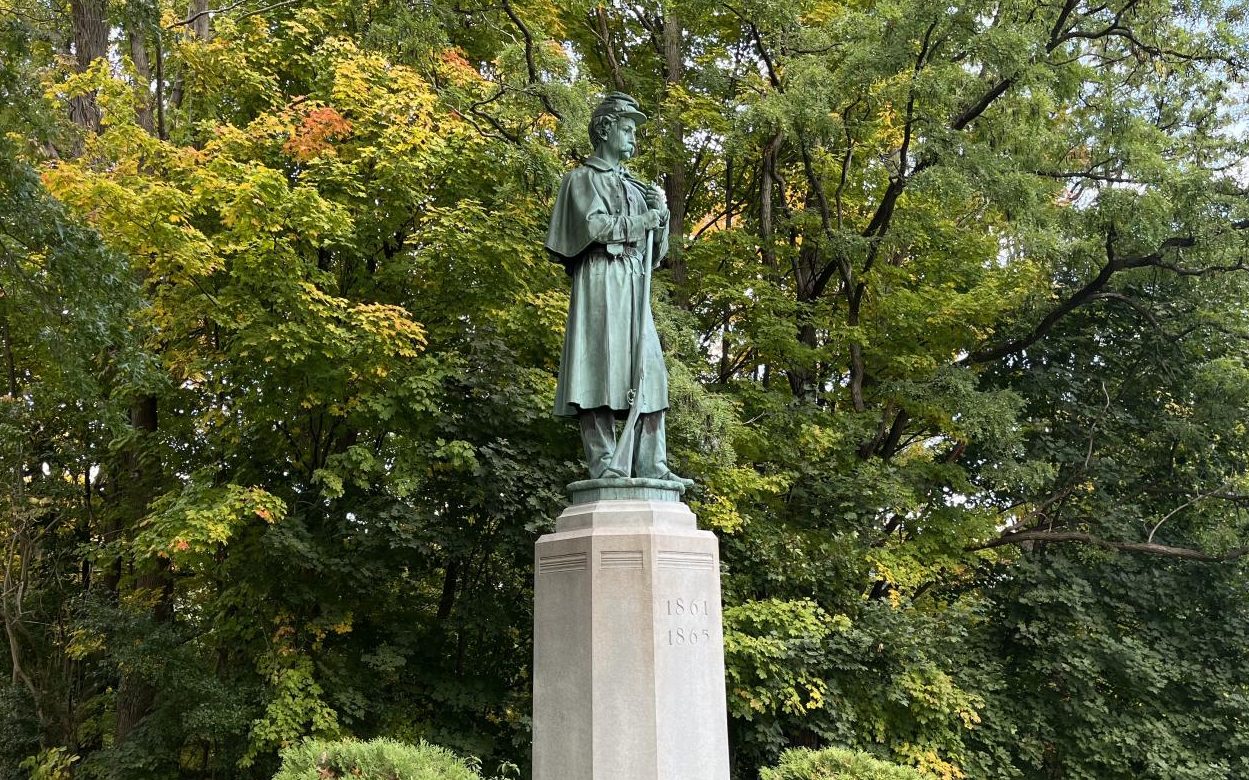 On Thursday, President Maud S. Mandel sent a campus-wide email updating the College community on the findings of Campus Safety Services' (CSS) investigation into the bias incident that occurred the weekend of Oct. 8-9.
That Sunday, a local resident reported racist graffiti on the Soldiers Monument outside Griffin Hall to CSS; Mandel's Oct. 20 email announced that an individual — who is not a member of the campus community or a Williamstown resident — had confessed to graffitiing the statue with a Confederate flag and the word "Rebel," a term commonly used in reference to white supremacy.
"Thanks to information shared once the incident was reported, CSS was able to identify a suspect, a visitor to the area, who admitted responsibility," Mandel's email read. "The individual will be posted (banned) from campus indefinitely."
CSS identified the perpetrator on Oct. 12 using information gathered from the community, Director of CSS Eric Sullivan wrote in an email to the Record. He added that CSS successfully made contact with the perpetrator on Oct. 14 after an earlier attempt failed.
Mandel noted that this incident stands apart from other bias incidents since a suspect confessed, which allowed the College to share the outcome — unlike other investigations in which confidential disciplinary processes or lack of information preclude the College from disseminating updates. "We cannot always communicate with campus about the outcomes of campus incidents," Mandel wrote. "Some investigations result in disciplinary processes that are confidential by policy or law, while others run into dead ends. So I wanted to share news, in a case where we are actually able to do so."
Some students said they were pleased with how the College handled the outcome and communications. "I was pleasantly surprised that the College sent a follow-up email about the incident with news to, in some sense, close [it] out," Noah Cape '25 said. "When I heard about it happening I figured the College would write about it and say they were going to look into it, but I never expected another email about with details about the investigation."
Sullivan said that despite the completion of the College's investigation, the criminal investigation led by the Williamstown Police Department (WPD) is ongoing.
For future cases, Sullivan wrote, CSS foot and vehicle patrols are meant to serve as a deterrent. He also emphasized that CSS hopes to improve safety on campus and that it seeks to collaborate with community members in its efforts to keep the College safe.
"CSS serves as a visual deterrent with cruiser, bicycle, and walking patrols throughout the campus grounds while also providing various services affecting everyone's safety," he wrote. "Through community conversations and research, we are also constantly seeking ways technology can improve safety on campus in line with best practices."