Women's soccer finds regular season success, looks to playoffs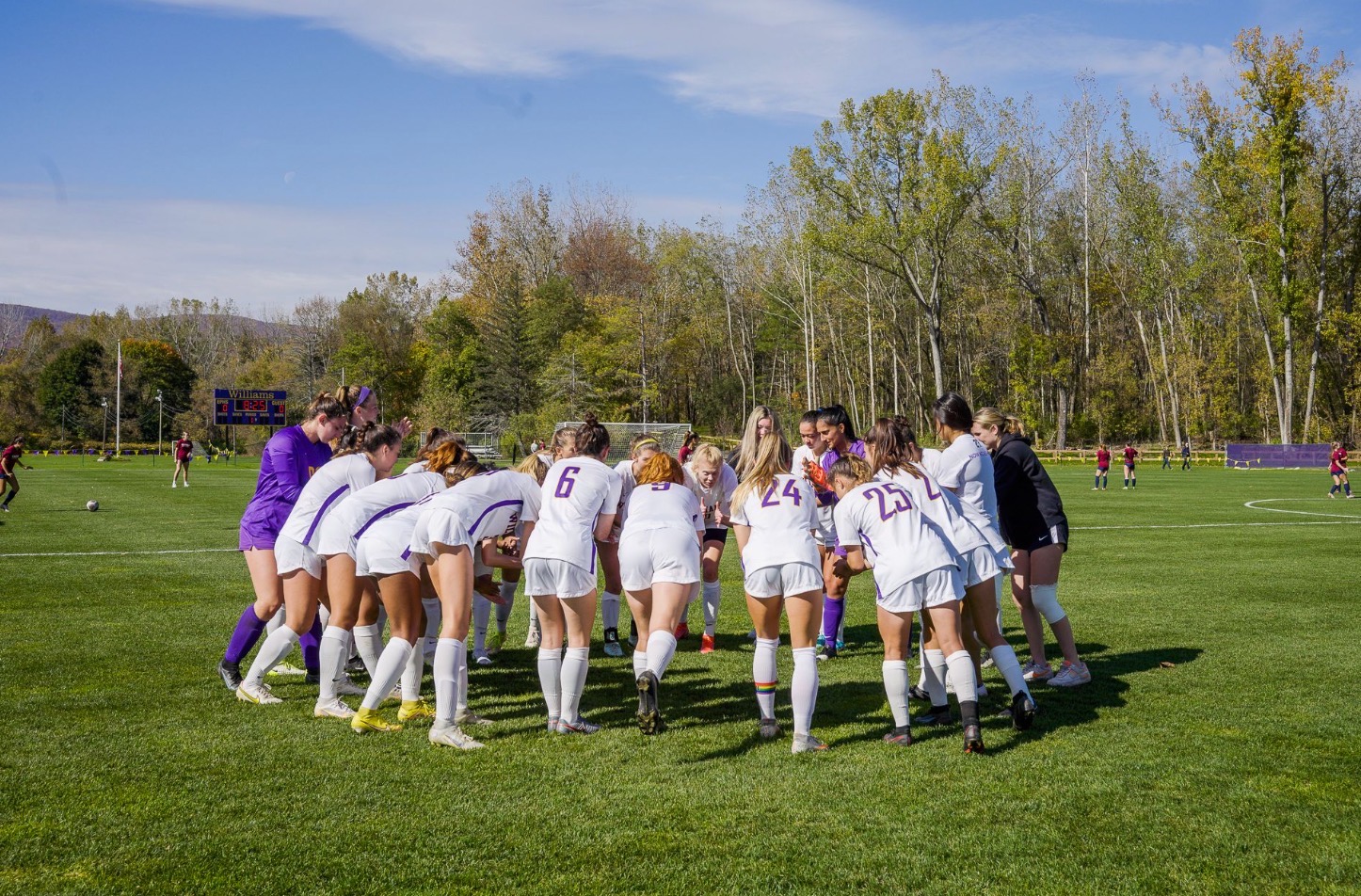 The women's soccer team (10–3–2, 7–2–1 NESCAC) is sitting in second place ahead of NESCAC playoffs after notching regular season wins against skilled rivals, including Tufts, Bowdoin, and Amherst. 
Because these results stand in stark contrast to this time last year — when the team didn't qualify for playoffs and their season ended early — one might assume that the team makeup has shifted drastically, or that there is a new head coach. Neither is true. 
Coaches and players alike attribute this year's success to a mindset shift that grew out of last year's disappointments. Co-captain and goalkeeper Leyla Kamshad '23 emphasized a newfound scrappiness on the field. "This year, we're winning so many [games] 1-0," she said. "We're still playing exciting games, not winning blowouts, but we're grittier and wanted it a bit more this year." 
The women's soccer team has historically been very successful — the program won the NCAA National Championship in 2015, 2017, and 2018 and has remained a force in the NESCAC even in years with less national success. Last season, however, the team was unable to translate its overall talent into results and lost eight games by a one-goal margin. "That was pretty much our whole season last year — 1-0 losses where we dominated the game," said Head Coach Sarah Raymond, who joined the program as assistant coach and took over its leadership in 2020. 
Forward Parker Harnett '25 said that players feel a robust connection with each other and their coaches, which has translated to more confidence and success on the field. "There is a deep sense of trust on the team," she said. "We trust each other with the ball on the field, we trust the decisions of our coaching staff, and we trust each other in our relationships outside of soccer." 
Raymond agreed and added that the change in mindset between last season and this one played a large role in recent wins. "We used to write up, like, six outcome goals," she said. "We took that away — we didn't put them on the board this year. Our number one goal is to make sure that when we finish this season, it's an experience that we're all really proud of." 
This newfound focus on attitude rather than results has altered the way the players act on the field, Harnett explained. "People want the ball, they want to make plays, they want to make a difference," she said. "I think that last year we were playing with a fear of making mistakes, but this year each player is more comfortable and more confident." 
According to Raymond, the three weeks of full spring practice with coaches last spring fostered this comfort and confidence. Since fall 2021 was the first year of collegiate competition for the Classes of 2024 and 2025 due to COVID-19, the spring offered a chance for the younger players to get their feet under them, Raymond explained. 
"We were really fortunate last spring to have a spring training season, and we never have that in the NESCAC," she said. "But because of all the COVID-19 things, we were able to have that, and I think that really was the start of what the season was going to be." 
An integral component of the team's cohesion and success has been the guidance of this year's senior class. This year's seniors include students from both the Class of 2022.5 and the Class of 2023 — meaning that they haven't always been classmates. But this variability, Raymond explained, hasn't been an issue. "They've been such a connected senior group even though they didn't start out in the same class, and that has been a huge part of our success." she said. "They've been thinking team-first and taking on whatever role that means for them." 
This unity is a product of the time and effort the group put into planning for the season, according to Kamshad. "The senior class met a lot about framing the season," she said. "In the context of last year — which wasn't the year we wanted — we kind of saw it as 'the expectations are nowhere, the pressure is off of us.'"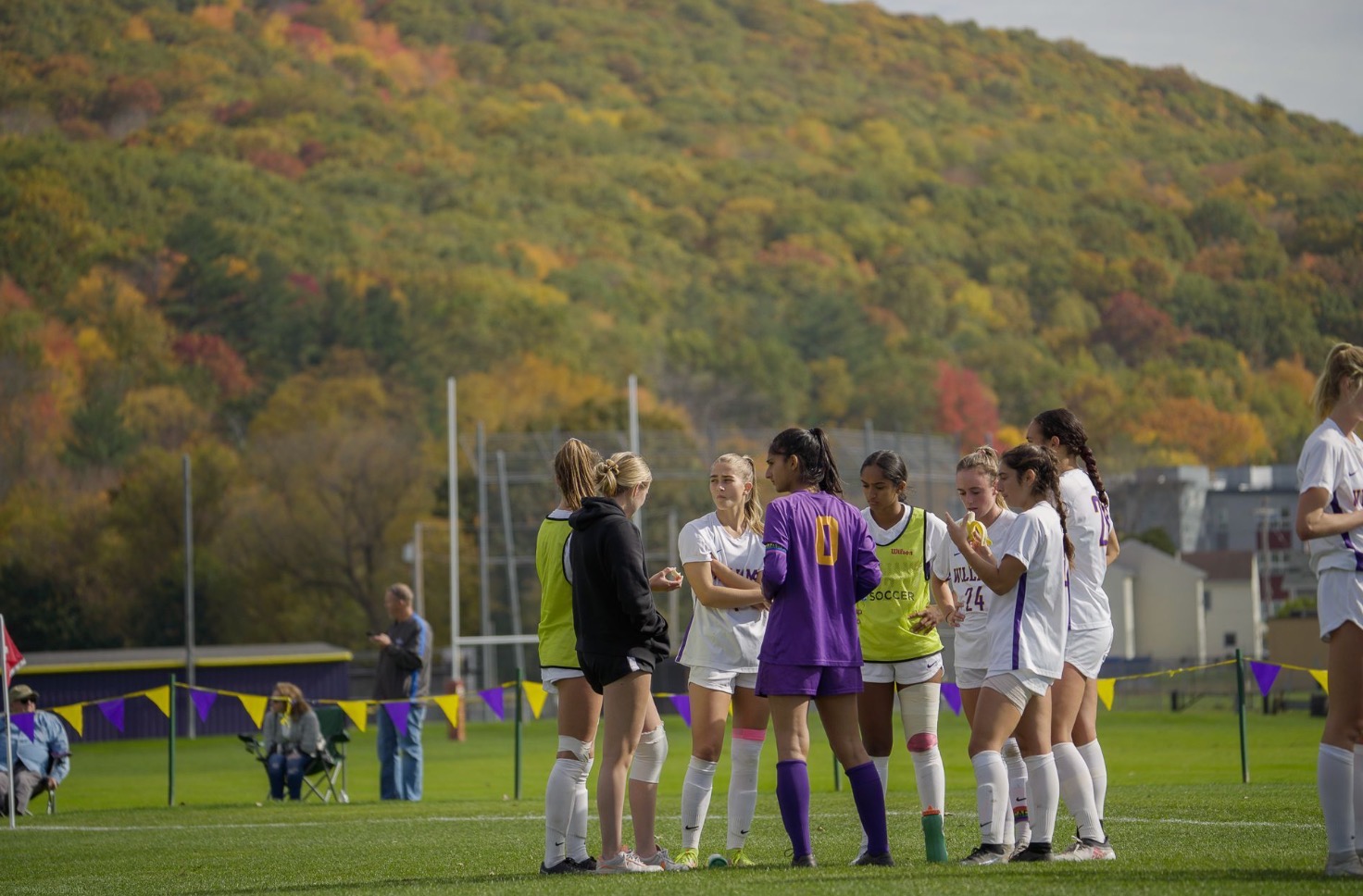 "It's been a chance to take it game by game, enjoy playing, and see what comes of that," she continued. "And then the results started flowing in." The senior class chooses a motto for each season, and this year they chose "Now we're here," Kamshad added. "It's a reminder to be in the present — you get four years here, but this team as it is right now only gets one season together." 
As the regular season winds down, postseason play rapidly approaches. With their record in the NESCAC, the team easily clinched a spot in the league playoffs, which are reserved for the top eight teams. As the games become increasingly high-stakes, Harnett said that the team's mindset won't change much. "We want to continue playing our game the way that we have been," she said. "Continuing to focus on doing the little things well will allow us to ease a little bit of the pressure off." 
While the team is focused on maintaining their mindset from the regular season, they still have their sights set on the NCAA championship, which will be hosted in Salem, Va. "We're hoping we're only halfway through the season right now," Kamshad said. 
But before they can head south, the team must run the gauntlet that is the NESCAC tournament. Having solidified their place in the top four in the conference standings, the Ephs will host their first playoff game against a yet-to-be determined NESCAC rival on Cole Field this Saturday