SASA, MSU host teach-in, raise funds for flooding in Pakistan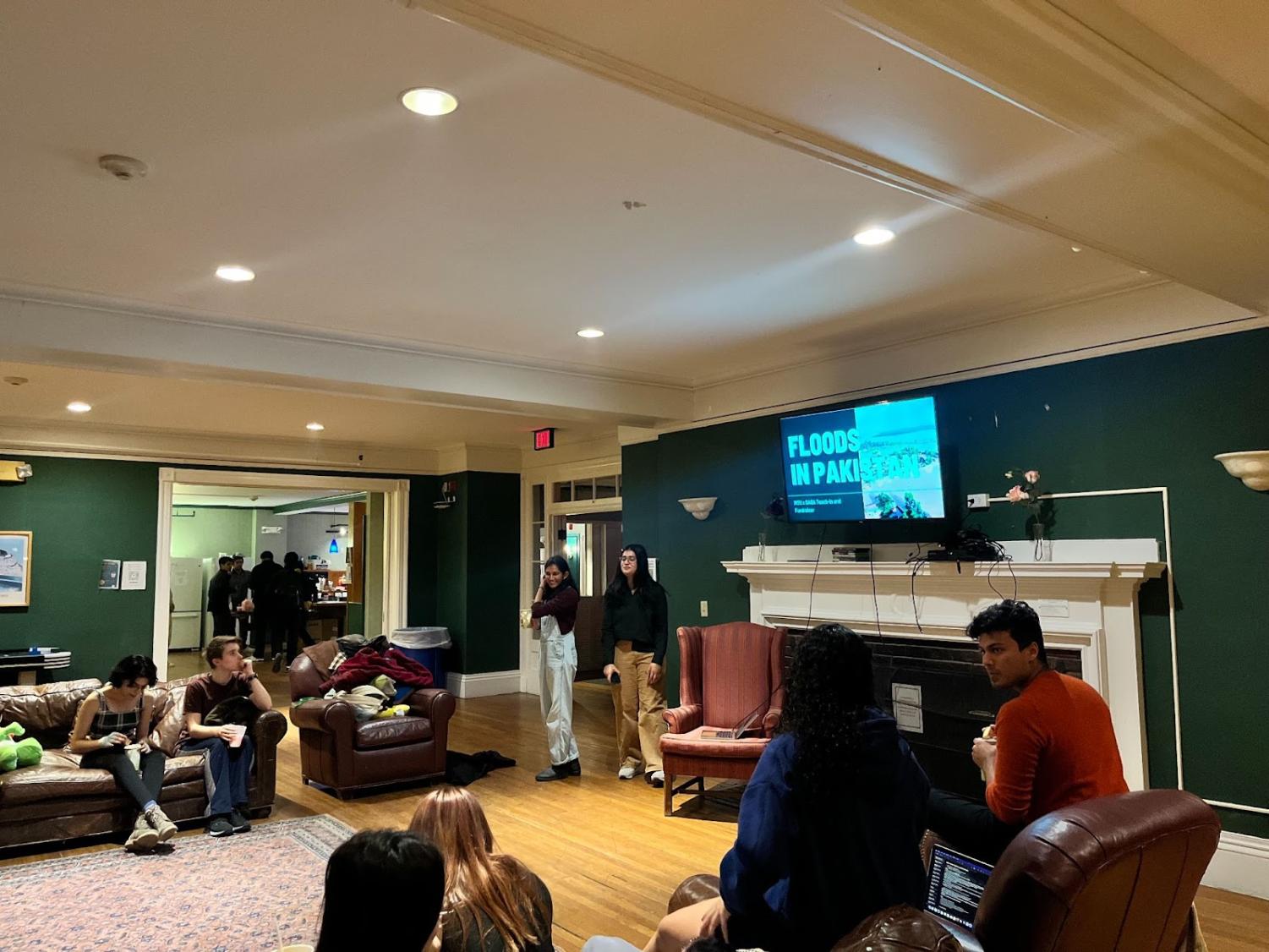 The South Asian Student Association (SASA) and the Muslim Student Union (MSU) hosted a teach-in and fundraiser in Dodd House on Thursday to educate students on the widespread flooding that has devastated Pakistan. The event also served as a fundraiser and solicited donations for various relief organizations. 
Record-breaking flooding has inundated Pakistan since June, with Pakistani officials calling it the worst deluge in the nation's history. By the end of August, more than 33 million people had been affected, and roughly one-third of the country was underwater. As of Sept. 15, the floods had killed over 1,500 people. Scientists have said that climate change has likely worsened the disaster.
The teach-in began with an open house where attendees could mingle, speak to the organizers, and purchase drinks traditionally served in Pakistan. SASA and MSU will donate all proceeds from these purchases to Pakistan-based organizations that are working to mitigate the humanitarian and environmental impacts of the floods — including The Citizens Foundation, which helps build schools in Pakistan; the Edhi Foundation, which is providing flood relief; and the Akhuwat Foundation, which is providing rations and cash to flood survivors. SASA and MSU raised a total of $1,078.95, with $500 of the total amount being raised by selling leftover drinks in Paresky. 
After the open house, Jahnavi Kirtane '24, MSU co-Chair Palvasha Khan '25, and SASA Chair Priya Rajbhandary '25 gave a presentation on the current crisis in Pakistan and climate disasters elsewhere in South Asia and the world.
[Editor's note: Khan is an opinions editor at the Record and was not involved in the writing or editing of this article.] 
Kirtane, who is a member of SASA and an environmental studies major, spoke first. She noted that South Asia is highly vulnerable to climate change and climate-related disasters due to its weather, geography, and high population density. 
"Around 750 million people were impacted by one or more climate change … disasters in the last 20 years," she said during the talk. "Because a lot of South Asian countries are just so populated, there are going to be millions and millions of [South Asians] suffering the consequences of climate change." 
Factors such as poverty and other social concerns often exacerbate the effects of climate-related disasters when they occur in South Asia, according to Kirtane. "There are a lot of different social issues in a lot of places in South Asia that make the consequences of climate change especially realized," she said. "When you are poor, you don't have the infrastructure and resources [that] help deal with these issues." 
Khan also highlighted limited health care access as a particularly important effect of the flooding. Roughly 800 health care facilities in Pakistan have been damaged or destroyed, leaving people with little recourse against rampant waterborne diseases and other sanitation issues. People who menstruate have also struggled to access menstrual hygiene products, Khan added. Additionally, approximately 650,000 pregnant people have been displaced or otherwise affected by the flooding — meaning they may not be able to access medical care necessary for safe births due to the destruction of health care infrastructure. 
Rajbhandary added that the destruction in Pakistan hits particularly close to home for her. "I'm from Kathmandu, Nepal, which also has a lot of floods yearly due to monsoons," she said in an interview with the Record. "It's an issue that is really close to my heart as well, [because] it could happen in Nepal." 
Student presenters at the event criticized the College for not publicly responding to the crisis in Pakistan, arguing that it must do more to raise awareness and support Pakistani and South Asian students. "It's absolutely crazy to me that one of the worst climate disasters is happening, and no one is talking about it," Khan said during the talk. "It's not getting enough news coverage, especially on campuses like Williams… When it comes to Brown people dealing with the climate crisis, [the College is] silent." 
Rajbhandary echoed this sentiment, saying that the lack of discussion on campus is part of what inspired her to host the teach-in. "The fact that one of the most devastating floods this year has not been talked about on campus was quite disheartening to me," she told the Record. "I wanted to do my part and do more outreach about this issue, which is affecting millions of people." 
Presenters were not the only ones who said they felt that the College could do more to educate the community on the flooding in Pakistan. Zayneb Moin '25, an international student from Pakistan, called on the Zilkha Center in particular to increase its communication about the flooding. "I still feel like the College could do more," she told the Record. "Especially the Zilkha Center. It does so much programming, but has not even mentioned this."
In an email to the Record, Dean of the College Gretchen Long expressed sympathy for those suffering from the disaster in Pakistan, emphasized the importance of supporting community members who may be affected by the flooding, and offered some resources that students can use. 
"The floods have been awful," she wrote. "Our hearts go out to the people of Pakistan." She characterized the College's role as one "in terms of concentric circles of care," beginning primarily with caring for community members affected by the disaster, followed by providing spaces for student activism, and ending with public statements.
"Our first concern has to be for any community member who is personally affected," she wrote. "International students with loved ones in Pakistan should reach out to Associate Dean and Director of International Services Ninah Pretto." She added that non-international students facing similar concerns can talk to the chaplains' office, class deans, area coordinators, and other College staff.
"In the next wider circle, the College wants to make it possible for people or groups to rally, press for meaningful change, [and] explore underlying issues," she continued. "The administration's role is to make resources available for these efforts."
She explained that the College tends to issue official statements only when it is taking actionable steps to combat a particular issue. "We tend to [issue a statement only] when there are relevant major initiatives or resources to announce. Otherwise, statements can create an illusion of action, without actually accomplishing anything for the people involved." 
Deputy Director of the Zilkha Center Mike Evans said that the Zilkha Center seeks to collaborate with — and support — students who are interested in or affected by the crisis. "The catastrophic flooding in Pakistan this summer and fall has been a horrific series of cascading extreme weather emergencies," he wrote in an email to the Record. 
"We encourage students who are interested in co-hosting/co-creating programming to respond to climate disasters (or just creating space to process and debrief climate disasters) to reach out to [Sustainability Coordinator] Christine [Seibert] and the Zilkha Center," he continued. He also pointed to resources and classes that the Zilkha Center offers to discuss climate disasters, including two Winter Study classes: one focusing on coping with the impact of environmental disasters and another on climate science, communication, and solutions. 
Pakistan is not the only place to suffer an environmental disaster recently. Rajbhandary pointed to examples such as widespread flooding in India and Nepal last year; record-breaking flooding in Bangladesh this June; and the recent impact of Hurricane Fiona on Puerto Rico, the Dominican Republic, and other islands in the Caribbean. Students in Vista — the College's Latinx and allies student group — the International Students Association, and Students of Caribbean Ancestry similarly hosted a fundraiser in the wake of the hurricane.
"Countries that have historically been affected by imperialism and colonization are facing more repercussions because of climate change," Rajbhandary told the Record. "Williams is a bubble in that way, and I feel like events like these burst that bubble and create a tether with movements across the globe." 
While it's important to recognize the devastation caused by the flooding, Rajbhandary said, she also argued that we must not portray South Asia as a place of upheaval and destruction. "These are not static images of South Asia," she told the Record. "South Asia isn't just ridden with destitution, devastation, and political unrest. There are a lot of historical, geopolitical factors that have caused this, and we need to look at this in a more nuanced way." 
To close the event, Rajbhandary emphasized the importance of outreach and donations to on-the-ground organizations that are working to mitigate the disaster. 
For attendees, the event was essential for raising awareness of the calamity and tools to help. Angela Hsuan Chen '23 said she was grateful to SASA and MSU for raising awareness and donations. "I'm really glad that … SASA and MSU organized this, so that we have an avenue through which to donate," she said.
Moin said efforts should not end with this event. "People can keep donating," she said. "[The flooding] is a very ongoing and prevalent thing. I hear so much from people back home every single day about how it's affecting them."
Correction: A previous version of this article incorrectly stated the amount of money that the teach-in raised. It raised $1,078.95, with $500 of the total being raised by selling leftover drinks in Paresky.