College hosts open houses to gather feedback on campus plan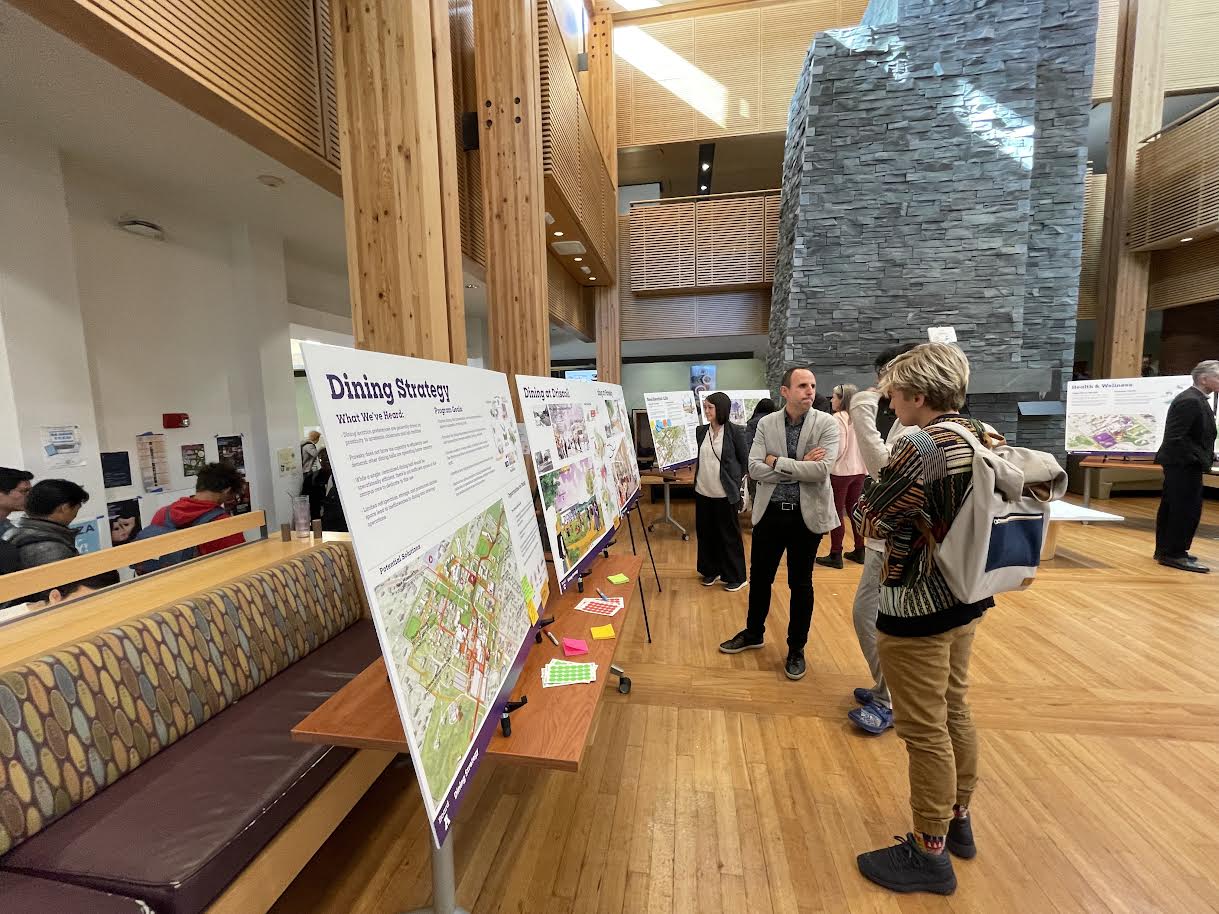 The College hosted open houses for students and faculty to review and share their feedback on its long-term campus plan, a set of projects that would reimagine the College's physical space. 
Provost Eiko Maruko Siniawer '97 stressed that the plan is not a definitive blueprint. "We are not embarking on a flurry of construction right now or even in the next several years," she wrote in an email to the Record. "The point of the campus plan is to help us think in a deliberate and principled way about why we build what we do, where, and when."
The open house invited students to discuss the plan with representatives from Sasaki, the consulting and design firm with which the College has partnered for the plan's creation, in Paresky on Friday. Students could provide feedback directly to Sasaki representatives or leave Post-it Notes with their thoughts on posters that explained aspects of the plan, including dining, residential life, and health and wellness.
"We want to hear the campus community's thoughts on these ideas and continue developing the plan relative to what we're hearing today," Sasaki urban designer Mary Anne Ocampo said. "We want as much feedback as possible." Though the firm does not have plans to host other in-person campus forums for students, it welcomes students to submit feedback virtually, Ocampo added. 
Sasaki urban designer Ruben Sannen added that none of the ideas within the campus plan are set in stone, but feedback has been positive so far. "We've come up with pretty bold, dynamite ideas," he said. 
The plan proposes to demolish Driscoll Dining Hall and Prospect Hall, establishing a higher-capacity, accessible dining facility where Prospect now stands. It also suggests implementing "small satellite operations" in areas of campus more removed from current dining locations that offer to-go dining options for students and faculty.
Josh Bruns '25 said he has mixed feelings about the possible utility of the new facility. "I think Driscoll is just way too small for the number of people who live in Currier Quad — that line at 7 p.m. every night is horrendous, and it doesn't move," he said. "Building a new dining hall there would really help, but it'd be unfortunate that Prospect would be the casualty of such a construction project." 
Paresky could also be remodeled to function better as a dining hall, according to Ocampo. "The design of Paresky was not intended to be only dining — it was all of these other services," she said. "We would potentially renovate each of the floors to accommodate Paresky as a major dining hub." 
However, Shoshie Hemley '25 voiced concerns about where organizations on the second floor of Paresky — such as the Williams Student Union, the Office of Accessible Education, and the Office of Campus Life — would relocate. "My biggest concern is that, while I understand we need to make Paresky fully for dining, that means that we just won't have a student center anymore," she said. "The fact that we already have limited student-centered offices and now we're taking them away is something I want to make sure the [organizers] are considering." 
The plan further proposes that Goodrich and Sewall houses could be repurposed into faculty office space and that two new mid-sized residence halls in Dodd Circle could be created in place of Parsons and Hubell. It also advocates for enhanced accessibility within and improved efficiency of other residence halls across campus. 
"Parsons and Hubbell are inefficient to operate and maintain as residence halls and do not actively contribute to the campus fabric," a poster at the event read.
However, Sasha Snyder '25 said she greatly appreciates the close-knit environment of Hubbell, where she lives this year. "Because it's a smaller community of people, it doesn't make me feel like I'm one of a million," she said. "The general feeling towards these houses is that they really add to our college experience." 
The plan also proposes building more accessible routes throughout campus and introducing more spaces across campus to promote collaboration, socialization, and wellness, according to other posters. The plan should be released this winter or spring, Ocampo said.