Introducing Dan Hudson, the new Images Cinema Executive Director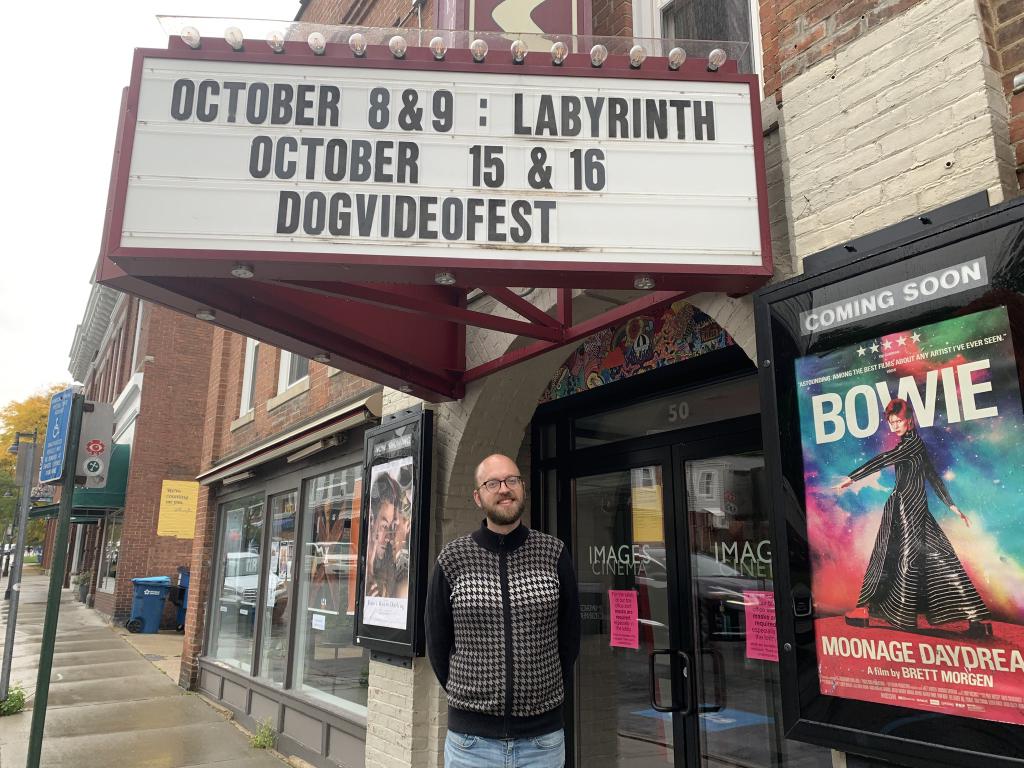 Peering out the window of Tunnel City, Dan Hudson, new executive director of Images Cinema, remarked that the cold, rainy morning reminded him of his previous home of Seattle. Though he now lives across the country, Williamstown feels like home to Hudson for another reason: his previous movie theatre was next to a university whose colors are the familiar purple and gold. 
Hudson moved to Seattle over 10 years ago after finishing his undergraduate degree. He said, "I got involved at a single-screen arthouse theater similar…to Images." He would tear tickets and hand out popcorn, before shifting to managerial roles. "I just kind of stuck around the film community, worked in a bunch of different marketing, roles, operations roles, I managed a couple of movie theaters around town." He added, "I loved working for small film nonprofits so much that I eventually enrolled in Seattle University in a graduate program that is specifically… for arts nonprofits." Since graduating, Hudson has been taking on executive director roles, most recently at the National Film Festival for Talented Youth (NFFTY). Hudson decided to move across the country to Williamstown for his interest in the arts and cultural scene in the Berkshires, and due to the COVID-19 pandemic. Like many at the onset of lockdown, he began to reconsider,  "Where do I want to live? What do I want to be doing right now?" He continued, "I had been just looking around the country, learning about different states and communities and seeing what opportunities were out there, when I saw the job come up for Images."
Although Hudson has only recently arrived in the Berkshires, he said he is already gaining insights from community members. "My leadership style is to try to really meet a lot of people and listen and just hear what they value about the organization," Hudson said. Hudson added that one of his main goals at Images is to collaborate on programming with other arts organizations in the area. "My personal philosophy is that nonprofits and arts organizations should not be in competition with each other," he said. "[They] should hopefully be having a dialogue which also is responsive to community hopes, dreams, fears…That's what good art is for, right?" He added that Images has previously collaborated with the College's film faculty and students, saying, "that's the type of thing I'm really looking forward to."
Hudson has been faced with new challenges during his first weeks as executive director. One is the theatre's storefront property next door that used to be subleased to other tenants, which since the last tenant moved out a couple months ago has been largely unused — besides displaying posters for upcoming films. With his coworkers at Images, Hudson plans to devise additional longterm uses for the space. Another problem Hudson plans to address is  the decline in movie theatre attendance, a problem experienced by many movie theatres due to the COVID-19 pandemic. 
Hudson has participated in film festivals at destinations such as Telluride, and sees Williamstown as operating as an arts hub in a similar way. "There's a lot of local people that really love this community and live here year round, but you can also tell there's…people that come to this area to experience arts and culture." For such tourists planning trips to the valley, Hudson said, "I would love for people to think…I'm going to go to a museum during the day, and then I'm gonna go grab lunch here, and then we're gonna go see a movie at Images." Hudson also sees Images as a potential key player in the local film community. "As far as I look around, there [are] no other major film organizations in the immediate area," he said. "So maybe there's an opportunity to do more to showcase local filmmakers or, in some other way, be some sort of hub or support for people that want to do filmmaking." 
Hudson expressed his hope to expand Images' reach by taking advantage of the communal space that movie theatres uniquely provide. "I think because there's so many streaming options available to people nowadays, sometimes there are movies where if someone watched on their laptop, yeah, fine," he said. "But sometimes there are movies where I'm like, whoa, you gotta see it [in the theater]. To truly experience it at its full potential." As the sites for communal gathering spaces continue to decline, Hudson said he believes in arthouse theatre as an opportunity to immerse people in a simultaneous, emotional experience that often sparks further dialogue about the movie and its themes. 
In terms of the types of movies he prefers to show, Hudson said he "loves it all." Back in Seattle, he selected films ranging from blockbusters to important classic films and notable foreign language and international films. At Images, Hudson plans to provide a similar mix. "I think it's very clear that Image's audience and community really looks to us to bring the biggest and the best films," Hudson said. "We'll probably continue to primarily showcase stuff like that, but I'll be looking for ways — maybe it's a festival, maybe it's a series or something like that — to bring in some other things." One such series is in the works for Halloween. "I'm a big horror fan," Hudson said. "We have a couple late-night Halloween-time horror movies coming up." 
Until very recently, Hudson could only consider these plans in the abstract. "I've been thinking about things a little bit…the last couple of months have been moving and packing," he said, adding that arriving and getting to work has brought his goals and priorities into focus as he embraces Images and Williamstown in the weeks ahead.