Incoming first-years find community through digital platforms before arrival to campus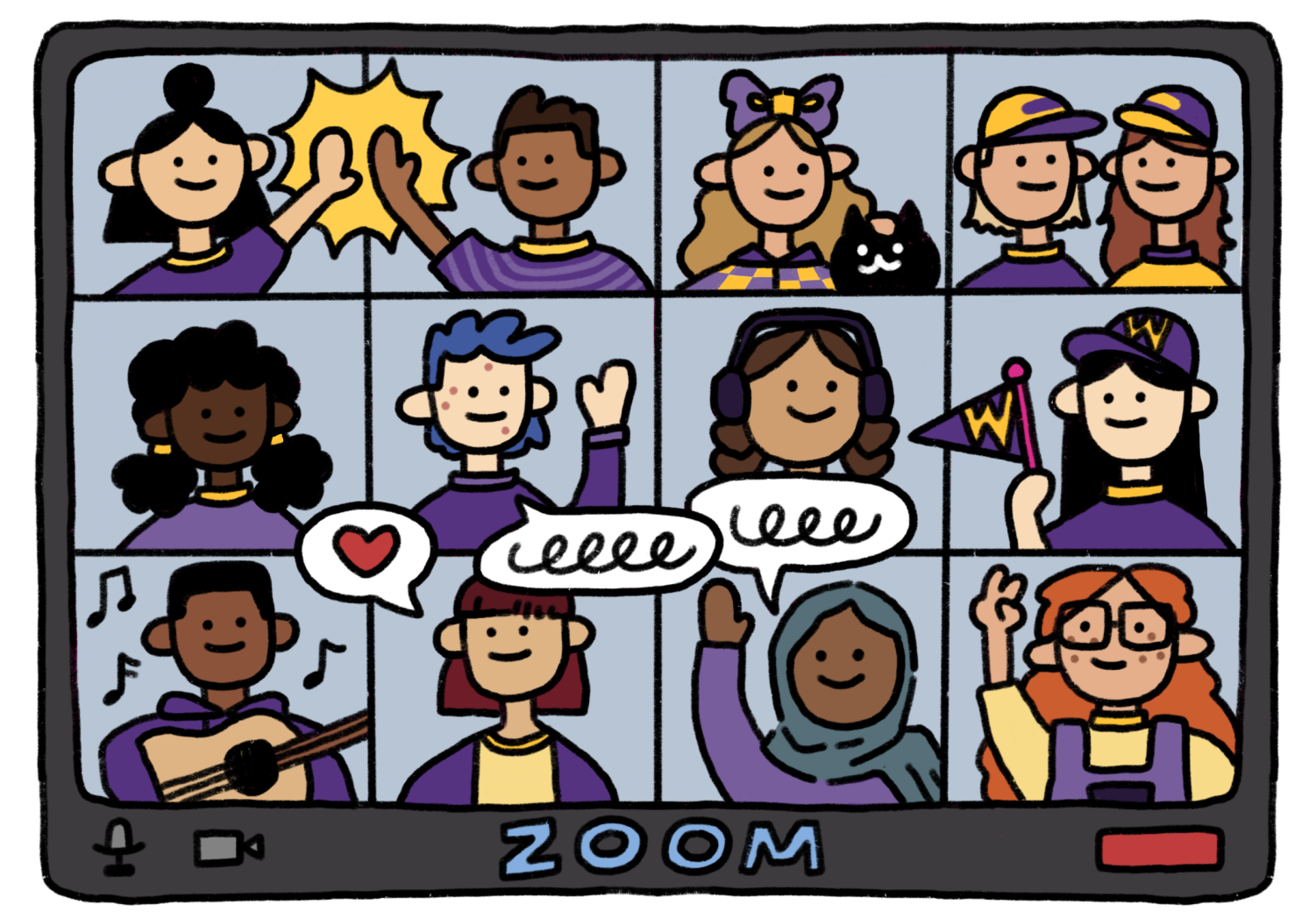 When incoming first-years are accepted to the College, many turn to social media to make contact with their future classmates. Particularly since the onset of the COVID-19 pandemic, some students form robust social networks before ever setting foot on campus. And while some thrive on the availability of this online networking, others choose to avoid it altogether. 
After acceptance decisions were announced in the spring of 2022, the College hosted an official Zoom meeting where incoming first-years could ask upperclass students questions. First-years said they found these calls helpful, though a little forced at times. 
This Zoom meeting in itself is a product of the pandemic. "I think Zoom calls and things like that feel a lot more natural than they would have if we didn't have the COVID experience," said Ariella Scheer '26, who was on the Zoom call. 
Even before the pandemic, incoming students still used digital platforms to connect before arriving on campus. "Being familiar with people's names and getting glimpses into their personalities from the chat made it easier to talk to people during First Days," Veronica Kao '23 said, remembering her conversations with other incoming students over GroupMe. Since then, she has maintained friendships with people she originally met online. 
The nature of online communication has remained largely the same despite the pandemic, though students have developed more sophisticated ways of social networking. Even with College-organized online meetup events, most digital interactions between students were organized independently. 
Jeffrey Zigbuo '26 fully embraced interacting with his new classmates online, creating group chats and hosting Zoom meetings for his peers. "For me, it was more that I had to get out of high school," he said. "I hated high school, so I needed those immediate group chats."
Others, like Wes Morrison '26, were more hesitant about connecting through online platforms. "I don't use social media that much,  so it was a little harder," he said. "You've kind of got to put yourself out there."
Online spaces for incoming first-years could sometimes become overwhelming. "It's stressful because you get into college, and it seems like you have to start making friends right away, which isn't how it works," Scheer said. Morrison agreed, saying that the pressure to engage in online interaction could, at times, "build a lot of anxiety." 
In contrast, Asher Leavy '26, a member of the squash team, said he felt more comfortable starting at the College because of the built-in community he already had through athletics. "I knew I had people to fall back on, so I didn't really care as much about the relationships outside of the team," he said. 
Morrison said that not being on a sports team made him feel "out of the loop" at first. Instead of finding community through a team, he found a group of students online from the Chicago area. Morrison said that he enjoyed breaking the ice by speaking with other incoming first-years about dorm choices, EphVenture selections, and other particulars of college life. "One of those guys was actually one of the first people that I recognized on campus … [and became] one of the first people that I was friends with," Morrison said. "It was really nice that that connection came back into the real world."
Upperclass students also play a role in building online spaces for incoming first-years. In a GroupMe for the Class of 2026, various upperclass students fielded questions and offered advice for students. Lamia Haque '25 joined this GroupMe with a few friends because of her involvement with Williams Firsts, a College program that supports first-generation students.
"[I remember] how confused I was as a frosh, and I know how difficult it can be to ask for help sometimes," Haque said.
Not everyone's experience with online interaction before coming to campus was always positive. When students construct their own online communities, those with bad intentions can take advantage of the anonymity that platforms like Zoom provide, causing serious harm in the process. 
During a casual Zoom meeting where Zigbuo and other incoming first-years were bonding through a game of Pictionary, an anonymous person entered the Zoom and began directing racial slurs and antisemitic insults at students. "I don't know who they were," Zigbuo said. "Their camera was off. That was the last of the Zoom meetings."
Zigbuo emphasized a need for the College to provide resources for minoritized students, specifically Black students, to get to know each other early on, since once first-years are split into different entries and EphVentures groups, these students may struggle to connect. "Williams needs to facilitate Black pre-frosh meeting other Black pre-frosh," Zigbuo said. "If we're not facilitating our own functions, they just won't happen." 
Regardless of how they chose to interact online before arriving on campus, most first-years agreed that Zooms or group chats could  not compare to seeing their peers in person. "I feel like meeting people online kind of takes away from the glamorous first impression," Zigbuo said. 
"There's an importance to rebuilding your human-like, interactive social skills, like the ones that we had pre-COVID," Morrison said.