Staff Spotlight: Rami El-Aasser, internationally touring musician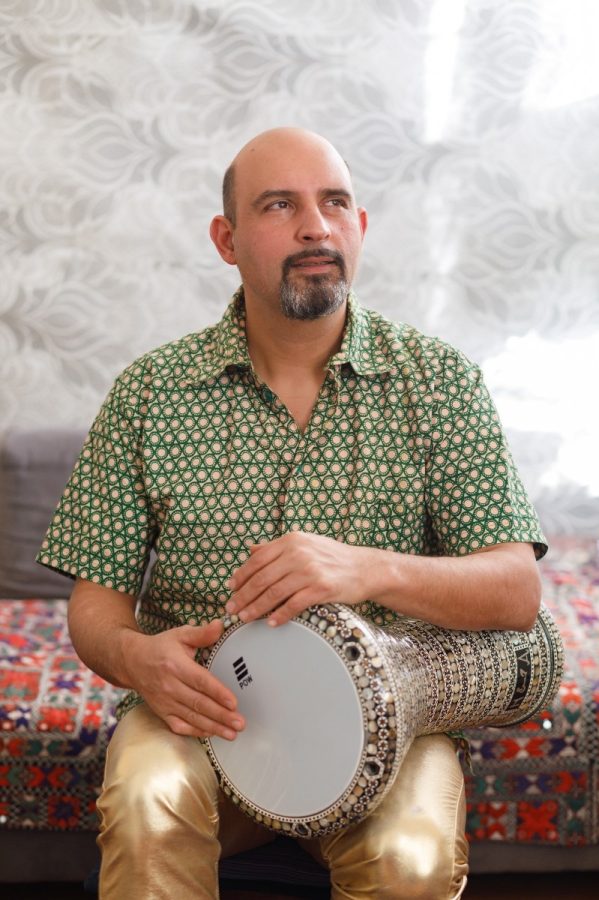 Rami El-Aasser, a familiar and friendly face behind the Driscoll buffet, might be best known by students for his culinary talent, but his skill set stretches far beyond the kitchen. He is an internationally touring percussionist, with an impressive musical resume that includes a stint on Broadway, performing at the Glastonbury Festival, and even an NPR Tiny Desk concert. El-Aasser's primary instrument is the tabla, a hand drum used in some musics of the Middle East and North Africa.
El-Aasser grew up in Bethlehem, Pa., with his French-Canadian mother and Egyptian father. He recalled his immigrant parents wanting him and his sister to fit in since "[his parents] were new to the country." Although, according to El-Aasser, "every Egyptian family has a tabla in [their] closet," his early music education focused on Western styles of music. He "started on piano, and then, in school, sort of was pushed to percussion." Eventually, he became drum captain of his high school's marching band. 
El-Aasser continued drumming in college at Northwestern University, but it was not until he moved to New York City for graduate school that he started playing the tabla. 
While in graduate school, El-Aasser found teachers that led him down the path of playing tabla. El-Aasser did eventually go to Egypt and Turkey to practice under tabla masters there, but he still feels "really lucky that [he] actually did it in New York" due to the city's diversity.
Over the years, El-Aasser explained, many waves of immigration to New York City resulted in a talented and diverse music scene. As a result, his band "was very composite," comprising a Greek oud player, Arabic singer, Turkish musicians, Palestinians, and American Jews, who realized that their various backgrounds all used similar scales and rhythms. El-Aasser eventually took six years off of his graduate studies to focus on recording and playing music. 
Upon his return to graduate school, he started a project with a friend called "Alsarah & the Nubatones." Inspired by the multiculturalism observed in Hell's Kitchen's nightclubs in the 1980s, El-Aasser's group emphasized that music transcends both language and borders. They saw music as "a point of a kind of cultural jelling," El-Aasser said. Alsarah & the Nubatones included "guys from Togo and Paris, the bass player … who was one of these old-school Armenians," and "this guy from Ohio," El-Aasser said.
This diversity epitomized what El-Aasser found most beautiful about music.  "[Music] really speaks a lot to how culture moves," he said.
El-Aasser recalled how language barriers were made inconsequential by the ability to communicate through music, stating, "[the tabla] really allowed me to move through a lot of barriers." 
Alsarah & the Nubatones have been on several tours across Europe, playing at events like the U.K.'s Glastonbury Festival and "all the big rock festivals," such as Roskilde in Denmark. They are now opening for Violent Femmes, a folk punk band, on its U.S. tour.  
However, the effects of the COVID-19 pandemic made El-Aasser uncertain about his future in music. Travel restrictions put a dramatic halt on his usually busy tour schedule. With this source of income blocked, El-Aasser decided to find alternative work, landing a job with the College's Dining Services. 
But this change of scenery has not stopped El-Aasser from engaging with music. In collaboration with Visiting Assistant Professor of Arabic Studies Nicholas Mangialardi, he started the Middle Eastern Music Ensemble (MEME) at the College — which Mangialardi now directs. The group remains in its infancy, as El-Aasser said that they are still building interest among students. He said he believes the group's appeal comes from the fact that "it's still the same instruments people use but it's different scales, different rhythms, and a chance to kind of put their hands on these drums while we're here." 
So the next time you're in Driscoll and hear the music of Lebanese singer Fairouz or other Arabic singers playing in the kitchen, know that El-Aasser is probably behind the counter, paying tribute to the musical traditions that have changed the trajectory of his life.