Free detergent sheets see high usage but face shortages, barriers to access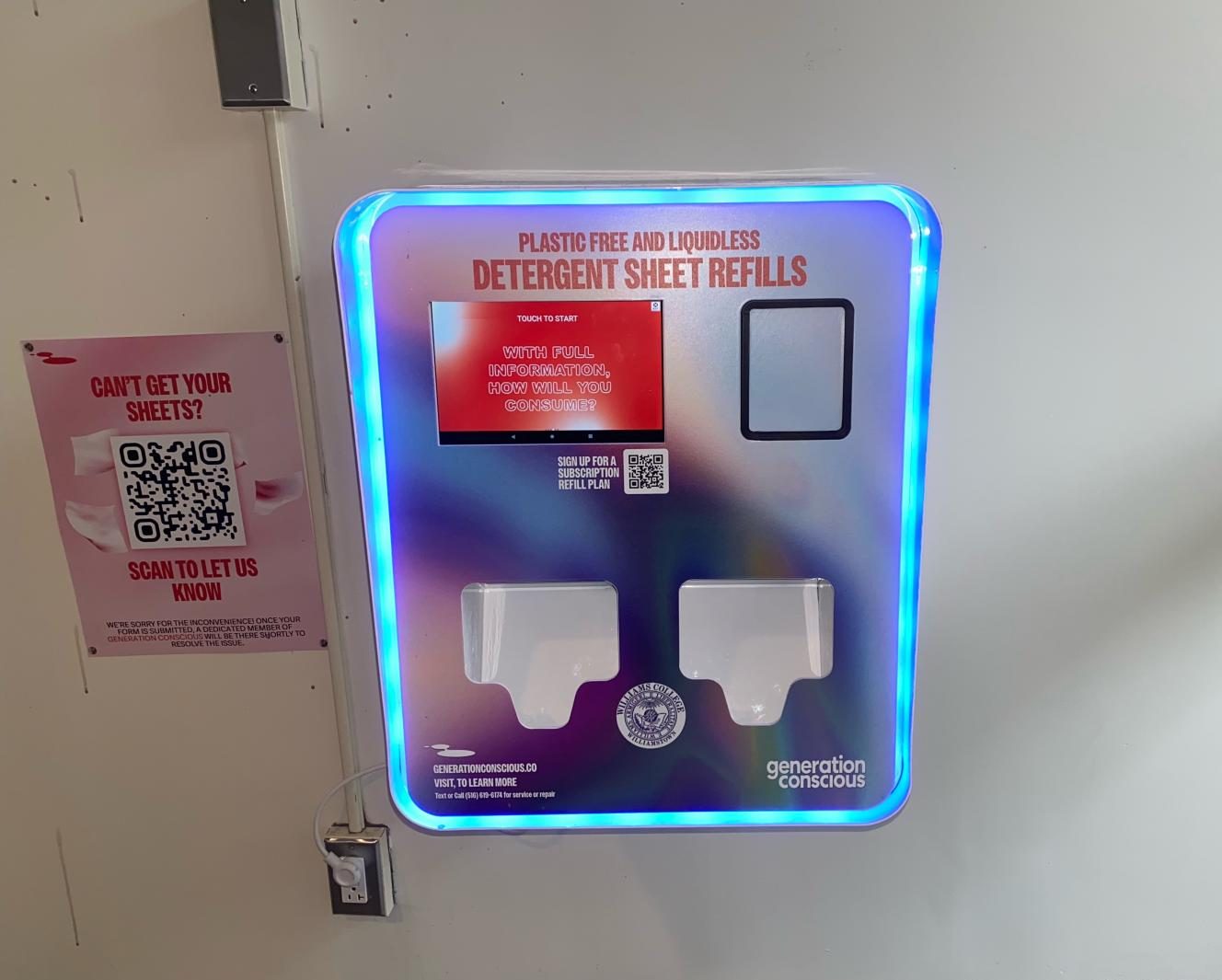 The College launched a pilot program aimed at first-years this year to provide students with free eco-friendly laundry detergent sheets. The sheets are available at a dispenser in the lobby of Mission Park, but many first-years said they are not using them because of their distance from other first-year dorms, widespread shortages, and confusion about the need to create an account in order to use the machine.
Former Zilkha Center Zero-Waste Intern Ali Hashim '25 organized the program last spring with assistance and funding from the Office of Institutional Diversity, Equity, and Inclusion; the Office of Campus Life; and other College offices. The detergent sheets are made by Generation Conscious (GenCo), a company that provides eco-friendly products to college students.
According to Hashim, previous Zilkha Center interns Jacob Chen '23.5 and Simon Kissam '23 connected with GenCo during the summer of 2021 and tested several of their products, including the detergent sheets. GenCo also offered the College toothpaste tablets, but they were not as well received by students, according to Hashim. "I tried [the toothpaste tablets] myself, and I wasn't a big fan," he said.
However, Hashim told the Record that "the detergent sheets were super successful." According to the Zilkha Center, they are 20 percent cheaper and involve 97 percent fewer carbon emissions than Tide Pods.
After a successful pilot program over the summer of 2021, GenCo installed a machine dispensing their detergent sheets for free in Mission Park lobby before the beginning of the current academic year.
In an Oct. 6 update on the pilot program, GenCo reported that the machine had been used over 600 times, more than at any of the other 14 colleges and universities offering GenCo's detergent sheets.
The sheets' popularity, however, has led to frequent shortages. In the Oct. 6 report, GenCo noted that the machine was empty during 17 of the program's first 30 days. As a result, many first-years have struggled to use it.
The first time Mission Park resident James Shuffelton '26 tried to use the machine, it was empty, he said, and he scrambled to borrow detergent from someone else. Since then, Shuffelton has been able to use the machine once and, since it dispenses 10 sheets at a time, has not had to reload. Given that the machine has been out of sheets for about half of the days it has been open, "I had assumed that there would be a bit more consistency when I was packing for college," he added.
Leo Levine '26, who also lives in Mission Park, does not use the sheets because, beyond the outages, he feels that there are "a lot of extra steps," such as the need to create an account, involved in using the machine. While communications from the Zilkha Center to first-year students have suggested that, effective Oct. 16, students would need an account in order to use the machine, this change has not yet been implemented. However, students were never notified about the delay, leading to confusion. In an email to the Record, G.L. Genco, the founder of GenCo, attributed the delay to "a later than expected start on software development for user accounts" and suggested that accounts would start to be required later in the semester.
Bainon Hart '24, a Junior Advisor to Sage 1, said she was excited that the College is offering free detergent sheets that minimize the mess and environmental impact of laundry. For Hart, the sheets are a welcome alternative to liquid detergent, given its environmental impact and the risk of spillage.
However, Hart added, the machines are "pretty far away." Cassandra Aretsky '26, a Williams Hall resident, mentioned that "it would be nice if there were another [dispenser] in Frosh Quad." Garrett Makosky '26 and Brij Howard-Sarin '26, both Sage Hall residents, said that they did not know of anyone who had made the trek to Mission from Frosh Quad for the sheets.
Hashim said that he originally intended to place the dispenser in Paresky Center, a highly trafficked and central location where all students could easily access the free detergent sheets. However, he said the Zilkha Center decided to place them in Mission instead, both to focus the program squarely on first-years and also since GenCo noticed that on other campuses, the sheets saw the most use when placed in student dorms.